WHITEHALL — Matt and Rita Sunday have been pleased with the success of their Sweet Temptations Cafe and Baking Co., which they opened in 2012 at 36396 Main St. in downtown Whitehall.
So last week, they opened their new Outright Affair restaurant and pub across the street, in a century-old building they've renovated at 36387 Main St. At press time, it was expected to open last Thursday — during the annual Whitehall Beef and Dairy Days celebration — with a limited menu.
The Sundays bought the 1898 building two years ago, after the owner of the business that was in it decided to retire. "We bought it because it was an old, historic and unique building and we didn't want to see it disappear," Matt said. "It was old and needed a lot of work."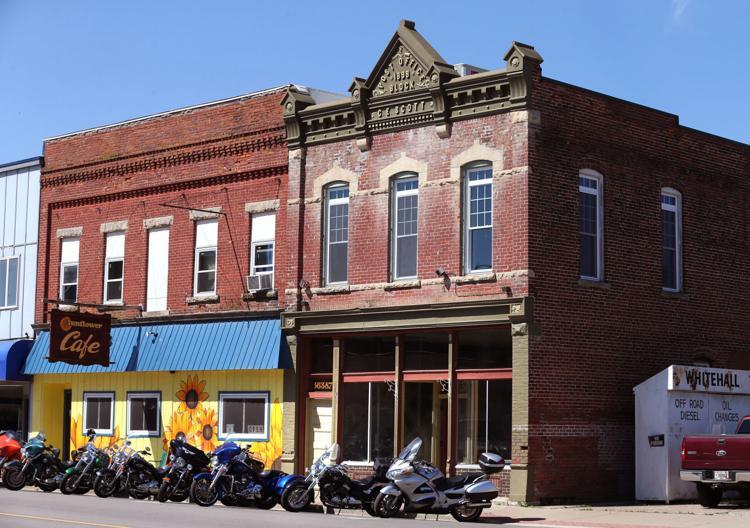 Last fall, he and Rita decided to turn the building into a restaurant and pub. "We decided there was a need for a pub with a quieter atmosphere" in town, he explained. While many pubs have high energy and loud music, he said, "There's nothing wrong with that – it's just not something that I seek anymore."
Some of the wood the Sundays used in the building's renovation goes back as far as the late 1800s. There's a party room on the second floor of the two-story building.
The Sundays plan to add a courtyard with outdoor seating to Outright Affair in about a year. "That's next summer's project," Matt said.
Outright Affair features draft and bottled beer, wine, liquor and soda pop. The pub-type food menu includes a variety of appetizers and burgers, as well as chicken sandwiches, flatbread pizzas and entrees such as Homesetter Steak and Potato Salad, Asian Sesame Salmon Salad and Bruschetta Chicken Pasta. There also are desserts such as deep-fried candy bars, Italian doughnuts and cheesecake.
Outright Affair's food menu is different from that of Sweet Temptations.
Rita described Sweet Temptations' menu as "basic and unique food with a twist."
Among other things, Sweet Temptations is known for its own breads and other baked goods, such as cinnamon rolls, caramel rolls, scones, cookies, cakes and cupcakes.
"Our breads are more of a European style; they're heavier and denser," Matt said. Sweet Temptations' sandwiches are made with its own breads.
Sweet Temptations serves breakfast, lunch and dinner items. Some of the most popular items are poppyseed chicken salad; reuben sandwiches; chicken, bacon and ranch sandwiches; and a variety of pizzas.
The restaurant also offers a variety of cold and hot drinks, such as fruit smoothies, juice, soda pop, Italian soda, malts and shakes, tea and coffee drinks. And it serves Chocolate Shoppe ice cream from Madison, Wis.
Sweet Temptations also offers catering.
Its building was constructed in 1897, just a year before the building that houses Outright Affair.
The Sundays, who still live in Osseo, opened their first Sweet Temptations in 2010 in Osseo. It began as a sweet shop selling cakes, cupcakes, cookies, breads and a lunch special. Within a few months, the business had expanded to selling soups, sandwiches and ice cream.
The Sundays opened their second Sweet Temptations location in a former Whitehall coffee shop in 2012, not knowing whether they would keep both restaurants going. They closed the Osseo location in 2013.
Before they opened the original Osseo location, Rita had been a cook and baker for other businesses for 24 years. And Matt had been a union carpenter, a job he gave up a few years after the first Sweet Temptations opened.
"I love to bake and I love to cook," Rita said of her interest in starting Sweet Temptations. She also likes being her own boss. "And I enjoy seeing the look on people's faces when they take that first bite," she said.