GALESVILLE — Rachel Perez says the custom cake, other sweet treats and coffee business she named after her daughters has received a warm welcome since opening Sept. 1.
"Business has been really good" at Lylli & Ivi Cakes & Sweet Treats Cafe, Perez said. "I didn't expect it to be this busy."
She owns the cafe at 16846 S. Davis St., on the town square in downtown Galesville. It's in the former location of Jackie O's Coffee House, which closed during the summer after 11 years in business.
Perez, who had been decorating cakes for about eight years as a hobby, runs the new business with help from her mother, Kathy Bell, who has baked for a living for 50 years.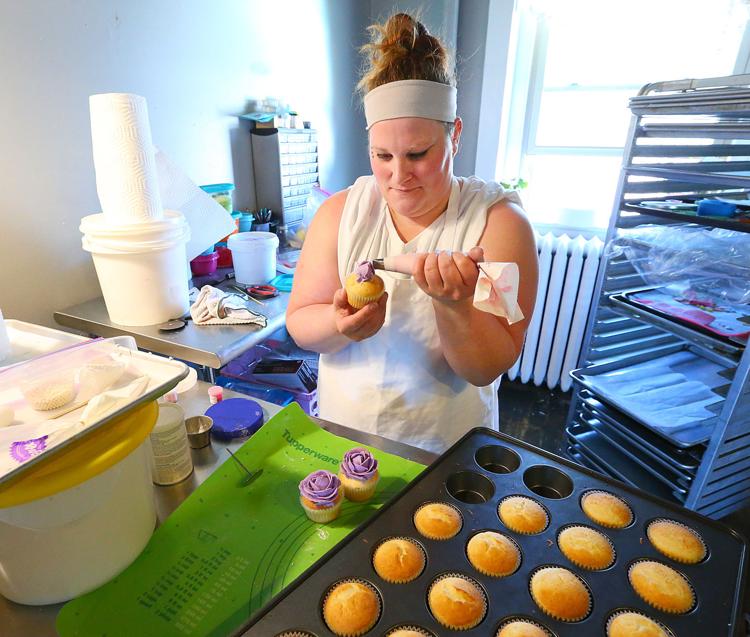 Some of Perez's cake-decorating experience was at Simply Cakes Bakery in the Eau Claire area, which Bell operated from 2008 to 2014. Bell then operated Buttons Bakery in Rock Falls, Wis., until November 2015.
"She's the baker and I'm the decorator," Perez said, pointing to Bell.
"But she does some baking and I do some decorating," Bell added.
"She's very artistic," Bell said of her daughter. "She always has been."
"I feel like this is not work," Perez said of operating the cafe. "I'm doing what I like to do."
"I like getting to spend more time with my daughter," said Bell, who over the years has been best known for her custom cakes.
Besides fancy cakes for weddings and other special occasions, Lylli & Ivi Cakes & Sweet Treat Cafe makes and sells cake slices, cupcakes, cake pops, cake truffles, cinnamon rolls, pecan rolls, turnovers, doughnuts, brownies, cookies, dessert bars, cheesecake, caramel popcorn, fudge and butter cashew brittle.
It also has a large selection of coffee drinks such as espresso, lattes, regular coffee and frappes, as well as other beverages such as chai tea. Its coffee comes from the Torke Coffee Roasting Co., a specialty coffee roaster in Sheboygan, Wis.
Last week, the cafe added free wireless Internet for customers.
It has some seasonal items, such as pumpkin dessert bars.
"We may do some pies like pumpkin pie during the holidays," Bell said, but she and her daughter don't plan to have pie on the menu year-round.
"They're all made with butter and love," Bell said of the cafe's cakes and cookies. "Over the holidays, we'll have over 40 kinds of Christmas cookies."
Many of the Christmas cookies will be featured at a Nov. 18 open house at the cafe.
Perez and Bell also plan to promote their products at the annual Divafest event Nov. 17 at the Radisson Hotel in La Crosse.
"We've had a lot of local people," Bell said of the cafe's clientele. "But we've also had a lot of travelers here, like people coming out to pumpkin patches and apple orchards" in the area.
So far, carrot has been the cafe's most popular cake flavor. But its triple chocolate cake also has been very popular.
The cafe's most popular cupcake flavors include peanut butter and maple bacon. And so far, salted caramel has been the most popular cheesecake flavor.
The most popular cookie varieties have been decorated sugar, molasses and chocolate-dipped peanut butter cookies.