ONALASKA – While growing up in La Crosse, Diane Reinhart never dreamed of going into the quilt shop business.
But in January, she will mark the 10-year anniversary of her Olive Juice Quilts at 1258 County Road PH in Onalaska. It's a business that continues to benefit from being featured as a Top 10 quilt shop in the fall/winter 2012 issue of Quilt Sampler magazine, published by Better Homes and Gardens.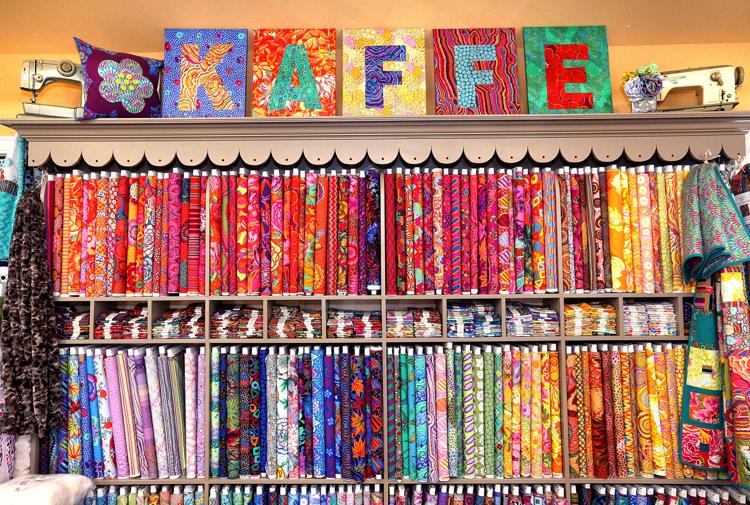 "We'll probably have a celebration (of the 10-year anniversary) in the spring," Reinhart said in an interview at her shop.
She has enjoyed operating the quilt shop for the past decade. Reinhart said she most likes "the people" part of the business.
"You get to be friends with a lot of the regulars, and it's fun," Reinhart said. "You know you have a common interest."
Olive Juice Quilts sells BERNINA and Baby Lock sewing and embroidery machines, and repairs all models of machines. It also sells sewing cabinets, fabrics (it has more than 5,000 bolts of fabric), notions, books and patterns, and offers longarm quilting services.
Part of the quilt shop features more traditional fabrics, while the other part features newer and brighter fabrics that have been gaining in popularity.
Olive Juice Quilts offers sewing and quilting classes throughout the year. Each spring and each fall, it also offers a weekend sewing retreat with catered meals, for up to 18 people.
The quilt shop has an Embroidery Club that meets monthly for a class on a new technique, new media and in-the-hoop projects, followed by open embroidery. Other area sewing and quilting clubs also meet at the shop.
Olive Juice Quilts also offers a Totally Stitchin' Tuesdays open sewing event from 10 a.m. to 5 p.m. and a Midnight Madness open sewing event from 5 p.m. to midnight on the third Friday of each month.
Classes, club meetings and other events are held in a large classroom that was created as part of a 2009 expansion of the building.
Reinhart had purchased A Stitch in Time Quilt Shoppe on Jan. 1, 2008.
She had started taking quilting lessons at the Onalaska shop in 2007, as a way of healing from a tragedy. A close friend of one of her two sons had been accidentally killed by a hunter while on her family's property. The quilting class gave her something to focus on, and a place to talking about quilting with others in the class.
About a year later, the shop's owner announced that she planned to retire.
"I bought it because I wanted it to stay in business," Reinhart said, adding that she also wanted to maintain and build the community of quilters who go there. "It's a stress reliever, it's social and you're always learning. Quilters are really friendly and nice people."
In 2009, she added and remodeled the building and changed the business name to Olive Juice Quilts.
"It's been a family joke for a long time," Reinhart said, explaining how she arrived at that name.
When her two sons were young, they were taught to apologize and say "I love you" if they had been naughty. But then an uncle told them a secret – if they mouthed the words "olive juice," it would look like they were saying "I love you." When Reinhart and her husband caught on, they thought it was funny.
Reinhart, who has a bachelor's degree in education and psychology from the University of Wisconsin-La Crosse, was a stay-at-home mom until she took over the quilt shop.
The shop's manager is Karla Peterson, who began working there as a sales associate in 2009.
Most of Olive Juice Quilts' customers are from the greater La Crosse area. But being featured as a Top 10 quilt shop in the fall 2012 issue of Quilt Sampler magazine, published by Better Homes and Gardens, continues to draw some quilters from far away. One of the Onalaska shop's quilts was featured on the magazine cover.
"That has helped us quite a bit," Reinhart said of the honor. "A lot of quilters are travelers" and like to journey to quilt shops that have made the magazine's Top 10 list, she said.
Reinhart also is proud about Olive Juice Quilts finishing first in the Quilt/Craft Shop category in both the 2016 and 2017 Best of La Crosse County contests.