Forty-five years after their father opened his first shop there, sisters Dani, Azia and Tara Peterslie and their new Drift Mercantile store are continuing the family's legacy of bringing retail life to the 200 block of Pearl Street in downtown La Crosse.
Their new shop opened Nov. 10 at 211 Pearl St., in one of three connecting buildings revitalized since the 1970s by their parents, T.J. and Michelle Peterslie.
The street was known as a rough part of town with deteriorating buildings when T.J. Peterslie opened T.J.'s Apparel, a clothing boutique, in 1972. He married Michelle in 1983.
T.J., who is 67, and Michelle, who is 56, aren't ready to retire. But they've started to gradually turn over responsibilities at the shops in their Pearl Street West buildings to Dani, who is 29; Azia, who is 23; and Tara, who is 20.
The shops include from east to west — TJ's souvenirs and gifts at 215 Pearl St., Drift Mercantile at 211 Pearl St., The Pearl Ice Cream Parlor and The Pearl Coffee House at 207-209 Pearl St. and The Grand Hotel Ballroom event venue on the second floor of 207 Pearl St.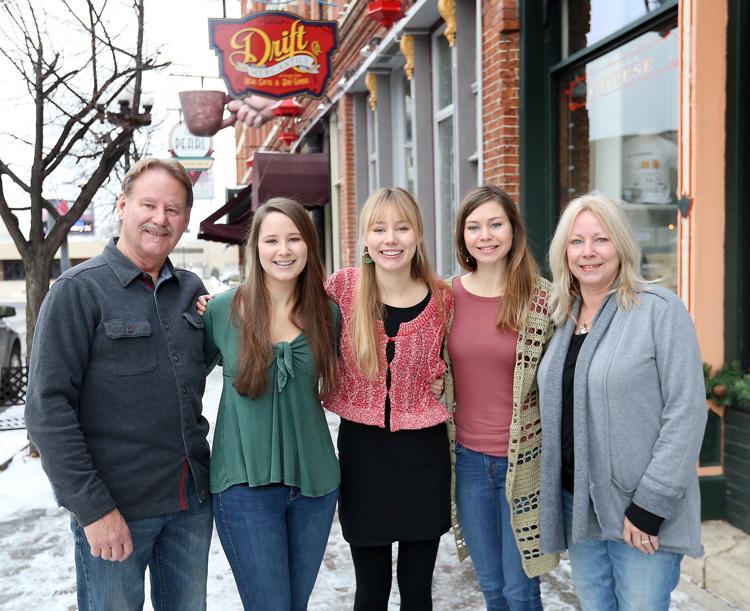 Drift Mercantile took the place of the former Art 211 Pearl art gallery. It features a combination of locally-made and locally-inspired goods, Dani said. "We wanted to have unique things that can't be found anyplace else," she said.
The new shop's merchandise includes such things as books; apparel; jewelry; bath and beauty products; travel essentials such as purse lights, nail clippers and travel kits; cheese-themed gifts; themed dog items such as bandanas and handmade leashes; greeting cards; music; maps of La Crosse and the region; specialty foods and artwork.
Drift Mercantile also sells Pearl Street Brewery beer and soon will carry more regional beers. And it soon will have Wisco Pop soda pop made in Viroqua.
Although Drift Mercantile is the first business owned by the three Peterslie sisters, they also help run the family's other shops. They've helped their parents select merchandise for the other Peterslie shops, partly by attending trade shows and conventions.
The sisters, who grew up helping their parents at the family's shops, also specialize to an extent. Dani is event coordinator for The Grand Hotel Ballroom and handles management duties for The Pearl Ice Cream Parlor and The Pearl Coffee House. Azia does the bookkeeping for the family's shops and Tara makes most of the ice cream and chocolates sold at The Pearl Ice Cream Parlor.
In February, Tara said, she will spend a few days at the University of Wisconsin-Madison for a course on ice cream making and ice cream industry trends.
"When we saw what (the sisters) did with Drift Mercantile, it was very inspirational," T.J. said. "We're going to be doing a redesign and take other stores to the next level."
In 2018, T.J. said, the family will remodel the T.J.'s souvenirs and gift store, and expand its specialty food section, especially its cheese selection.
"We're always looking for ways to make the businesses better," Dani said, adding that they've always been well-run.
"They always talk about taking things to the next level," T.J. said of his daughters. "And they work as a team."
"They're very entrepreneurial, so they'll do other things" in the future, Michelle said. "Drift Mercantile is just their first."
Their mother added, "The girls have always been very close. They're able to work together, and stay together."
T.J. and Michelle said they're glad their daughters have decided to gradually take over the family businesses and continue them.
"I think it's wonderful," Michelle said. "Particularly since we didn't ask them to, or expect them to."
"We're trying to get (T.J. and Michelle) to take a vacation just so they can take one," Dani said.
T.J. and Michelle haven't taken many extended vacations. "We've taken a lot of short and day trips," T.J. said. And during those trips, the family has been on the lookout for merchandise to sell in their shops. "We gather inspiration from other places," T.J. said.
"We're all thankful for the support we've received in the community over the years," T.J. added.
The daughters share their parents' feelings about downtown La Crosse.
"We're positive and optimistic about how the block is going, and how downtown as a whole is going," Azia said. "And we're lucky we have this legacy to continue" with the Peterslie family's shops.