HOKAH, Minn. — Three days a week, Debbie Olson displays unique vintage items outside her downtown Hokah store to draw in passersby who otherwise might not know it's there.
Uncommonplace is the name of the store she opened in 2008 at 101 Main St., in a building that she and her husband Jeff bought and renovated in 2007. It was built in 1922 as a barber shop.
The outdoor display of vintage items does attract passersby. And the store's name gives first-time visitors an idea of what to expect inside.
"A lot of visitors from big cities tell me this store is incredible for a small town," Olson said. She added that she offers two floors of unique, one-of-a-kind vintage items that she's hand-picked and in many cases repurposed.
"I chose the name Uncommonplace for my store because of its meaning to me," Olson said. "It's the opposite of common. To me, Uncommonplace means remarkable, surprising, extraordinary and unique."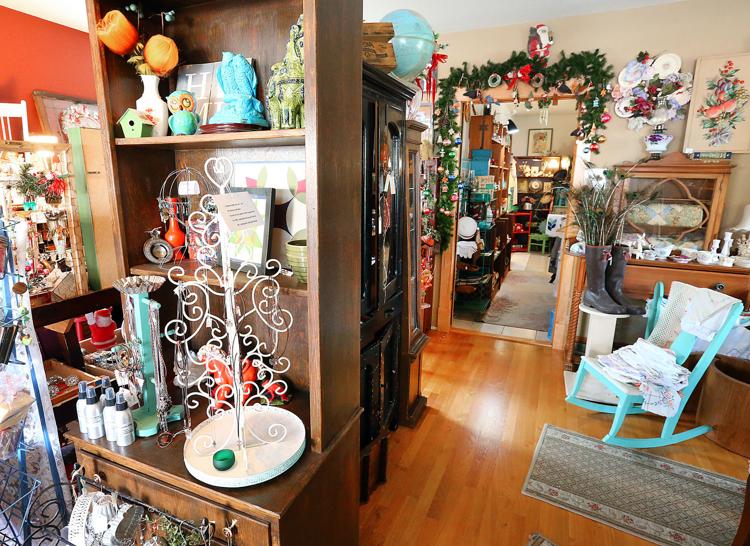 She said her mantra is recycle, repurpose and relove. She especially enjoys repurposing vintage items.
For example, Olson said, "I picked up this ceramic bowl at a garage sale and knew immediately that it would make a unique garden flower."
She repurposed the bowl by drilling a hole through it, attaching a copper piece on the back as a holder, and then setting it atop a metal pole to create a garden flower.
Olson also pointed out a three-tiered garden flower that she made with a glass plate, a deviled egg plate and a candy dish.
"You can expect the unexpected here," Olson said. "Such as wreaths made from neckties, yarn balls, vintage cookie cutters and china. A tree decorated with everything vintage including silverware, pewter napkin holders and china pieces. And a flower arrangement held in the pocket of a man's tool belt, just to name a few."
Olson tells visitors that repurposing can help people enjoy things that once belonged to their parents or other loved ones, in a different way. "I call it sentimental repurposing," she said. "Bringing those items out of the boxes and drawers, attics and basements to give them a new purpose and enjoy them once again – such as turning old linens into curtains and valences and old dishes into wreaths and garden flowers. Old doilies and hankies can be used to embellish a quilt or a tree at Christmas.
"Just think outside the box and don't throw your memories away," said Olson, who is glad to offer ideas on how to repurpose things that had belonged to a loved one.
Among other things, Olson has Christmas items available year-round. "They are either handmade or vintage – no imports," she said. She also has other seasonal items.
Olson has been a quilter for 20 years, and has some of her quilts for sale at the store. "I also 'rescue' discarded quilts in various stages of completion and will finish them and offer them for sale as well," she said.
Besides her vintage items, the store sells items made by a few artists.
"I have a candle maker with over 30 years of experience; an artist from Colorado who creates only owl art; a knitter from Colorado that uses the owl motif in her mittens, hats and cozies; and living art or wall decor made of barn and driftwood and embellished with river rock, pebbles, tree bark and moss," Olson said. "A local sign maker supplies my store with Pinterest-inspired wording on reclaimed wood."
The artists' creations complement her own items.
Uncommonplace is open only on Wednesday, Friday and Saturday because Olson also has a full-time job. "I have worked full time with young adults with developmental disabilities for the past 15 years at ABLE Inc. in La Crescent," said Olson, who is a lifelong La Crescent resident. She added that she loves both of her jobs.
Most of her store's customers are from the greater La Crosse area. But its guest book has been signed by people from many states as well as the United Kingdom, Germany and Japan.