After decades of wrenching, two La Crosse bike mechanics are ready to bring the shop to their customers.
Based in a Dodge Ram ProMaster cargo van, Blue Steel Mobile Bike Shop will hit the road this week, offering service throughout the La Crosse area by appointment and at food truck-style pop-up events.
Co-owner Paul Reardon said he and his partner, Josh Kenworthy, are responding to market shifts.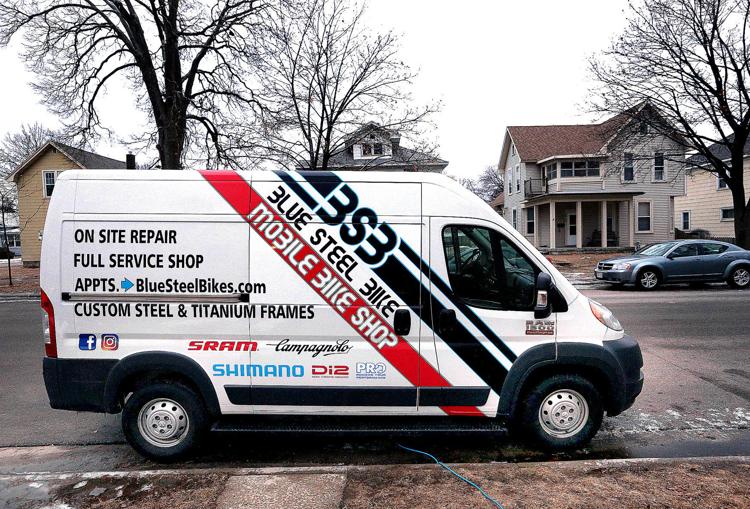 "The internet is a thing. We have to take that into account," Reardon said. "One thing you can't buy on the internet is service and experience."
Blue Steel will order parts from the same suppliers that serve local shops and is exploring the possibility of becoming a distributor for some bike brands. In the meantime, Reardon said, they will build bikes for customers who order them from online retailers.
Reardon and Kenworthy plan to spend a half hour with each new customer getting to know them and their bikes. They say they want to avoid the bike shop atmosphere, which some customers find intimidating.
"We can come to your place and chat with you no matter what your capabilities or knowledge," Reardon said.
Kenworthy and Reardon, who have worked together periodically for more than a decade, share a lifelong love of cycling.
Reardon, 43, traces his fascination with bikes to a childhood spent on Army bases in Europe. He remembers looking out a bus window as professional cyclists pulled up their arm warmers and went "ripping down a mountain" in Spain. Cycling was also a way to get around.
"Over there, we rode our bikes everywhere," he said.
As a middle schooler in Hawaii, Reardon started sweeping floors in a bike shop and honed his repair skills through a series of jobs during the past three decades.
"I've always been a mechanical guy," he said.
Kenworthy, 28, grew up racing BMX bikes and working in his parents' Tomah bike shop, Sprockets Bike and Board.
"We had Josh on two wheels at 3½," said his father, David Kenworthy.
After moving to La Crosse in 2006, Reardon met Kenworthy at the Jellystone Skate Park in Tomah.
"He'd always bring a grill," Kenworthy said. "All these little skate park rats would hang out with him."
Kenworthy moved to La Crosse when he was 17 and saw a "help wanted" sign at Bikes Ltd., where Reardon was working as the service manager.
"It just kind of ended up being perfect," he said.
Reardon left the shop to work as a welder, while Kenworthy went on to purchase the skate park where they'd met.
In 2015, Reardon was laid off by Chart Energy, which he says is "the best thing that ever happened" to him.
He turned his hobby pursuit of building bike frames into a business called Blue Steel Bikes, while wrenching on the side for local bike shops and organizations like JDRF, which flew him around the country to support its "Ride to Cure" events. He studied business management at Western Technical College and earned a USA Cycling race mechanic certification.
That same year, Kenworthy sold the skate park and went back to fixing bikes.
Kenworthy said he and Reardon spent much of the past two years talking about how to open their own shop but couldn't find a location that was feasible and affordable.
The mobile model — which has been gaining popularity in larger cities — struck them as a way to keep overhead low.
So Reardon got to work on a van while Kenworthy built a website.
Reardon wired the 6-by-10-foot cargo space for power and outfitted it with tool and part racks, a workbench and bike stand. He's also got a string of unicorn Christmas lights — "for mood lighting." For more complicated jobs — or welding — they'll use Reardon's shop, though they plan to offer same- or next-day service on most repairs.
While Blue Steel will be competing with brick and mortar businesses, Bikes Ltd. owner Ben Leach said he's not worried.
"We all play nice together," he said, noting that Reardon still has a key to the shop.
For Kenworthy and Reardon, the mobile shop offers the flexibility to work around family obligations and their other business ventures while building their own business.
"I don't have to check my soul at the factory door anymore," Reardon said. "That's nice, too."