Confidence radiates from Noah Skifton.
The 6-foot, 160-pound senior at Onalaska High School carries himself in a manner that shows he knows the responsibility he takes on his shoulders as the football team's quarterback this season.
Skifton was part of a highly-talented quintet of receivers that caught passes from quarterback Brayton Duin last season, and the Hilltoppers' high-flying offense lit up scoreboards on the way to the program's first MVC championship in 10 years. This season, Skifton takes over under center.
It's not completely new to him. Skifton played quarterback — either to give a defense a different look or because Onalaska was running away with the game — in nearly half the team's games last season. The challenge of taking over as the team's decision-maker on the field is right up Skifton's alley.
"It's been really fun," Skifton said of the transition to full-time quarterback. "I've played a lot of quarterback growing up, and being able to see what Brayton did last year helped a lot. I'm looking forward to seeing what we can do."
In limited usage last season, Skifton completed 31 of 48 passes for 406 yards, with five touchdowns and four interceptions. He added 188 yards and three touchdowns as a rusher, along with seven catches and 81 yards as a receiver. While he'll primarily be under center, Skifton's versatility and athleticism will be used often by Onalaska coach Tom Yashinsky, who enters his sixth year as coach.
The Hilltoppers are young on the offensive line, so expect to see Skifton utilizing a mobile pocket and designed rollouts to attack defenses with his arm and legs. That combination of skills has Onalaska players confident in their new signal-caller.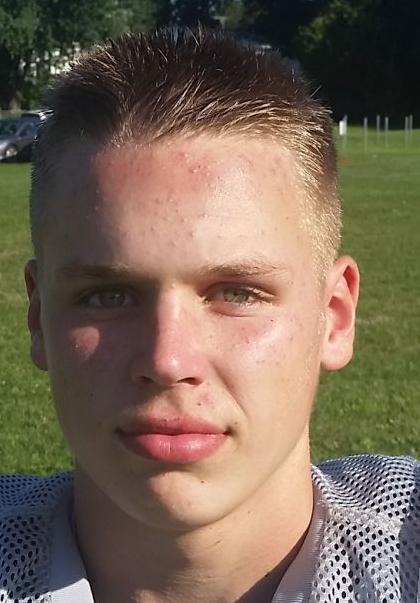 "Noah's an outstanding athlete," said Carter Melby, a senior receiver. "He can throw the ball and he can run, so it's going to be exciting to see what he can do with the ball this season."
Melby and Landon Skemp will be primary targets for Skifton when he does throw the ball. Skemp caught nine passes for 114 yards and a touchdown last season, while Melby played mostly at defensive back, recording a pair of interceptions. It was difficult to get touches last season with the monster campaigns Jalen Sample (72 catches, 1,408 yards, 22 touchdowns) and Tyler Hughes (77-1,316-15) had, but both of them graduated this spring, so opportunities will be there.
Multiple players and Yashinsky said Skifton's leadership is his top quality, and the area in which he adds the most to a team that returns just two starters on offense.
"He knows what everybody on the field's supposed to do and if they're not getting it done, he'll let them know," Yashinsky said. "He's not going to just go tell the coaches, he'll go tell the kid what he needs to fix."
Skifton's experience as a receiver, quarterback and defensive back give him good perspective on the game from multiple angles — things he's able to share with his teammates.
"He's been a great leader for us," Skemp said. "He's always there for his teammates."
ONALASKA — The players donning the purple and white of the Onalaska High School football tea…
Joining Skifton in the backfield often will be sophomore Nate Lubinsky, a 5-9, 185-pound running back that's a load to bring down. Lubinsky averaged 8.7 yards per attempt (28 carries for 243 yards) last year, and scored two touchdowns. Lubinsky figures to be a bruising, between-the-tackles runner while Skifton and others attack the edge. After a season of throwing nearly 36 times per game, the Hilltoppers will likely be a bit more balanced this fall.
"We're going to have to be a little more run, but we're going to surprise some people," Skifton said. "We've got threats outside that people don't know about, and they've been working hard. Hopefully we put up similar numbers to last year."
Expecting a group of players — many of whom will be playing their first varsity snaps this week — to match a team that scored 41.7 points per game might be a stretch, but that's the type of belief Skifton has in himself and his team.