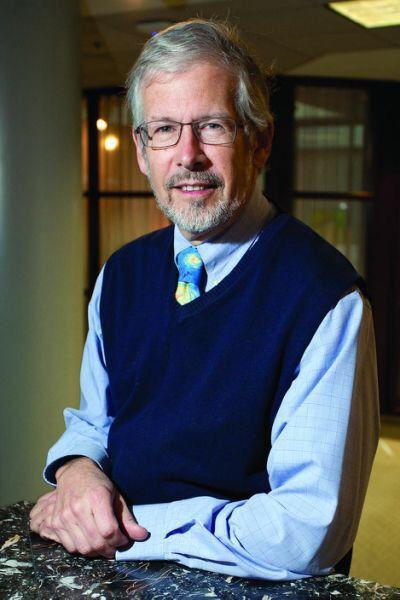 Gary Gunderson was a bit possessive of the Cass Street Bridge when he used it to make a point about the importance of being connected to others during his address at the annual Healthy County La Crosse Summit Friday.
Gunderson, of Winston-Salem, N.C., said his father, Roy, was the engineer with the Wisconsin Department of Transportation who designed the bridge over the Mississippi River nearly 80 years ago.
"The bridge you think of as your bridge is my father's bridge," he said, evoking ripples of laughter among the 145 people attending the 10th annual summit in the Lunda Center at Western Technical College.
"My dad was a civil engineer," the native of Aurora, Wis., said in an interview during a break. "I'm not an engineer — I can hardly add. But he gave me a very powerful admiration for the mundane work of building community."
Building a bridge is an ideal metaphor when discussing a community's health, said Gunderson, an ordained minister who describes himself as a "recovering preacher" and is vice president of faith and health ministries at Wake Forest Baptist Medical Center in Winston-Salem, N.C.
People involved in health care often talk about catching problems upstream, before they become bigger difficulties, while "a bridge doesn't care about upstream or downstream," Gunderson told the audience, which included doctors, nurses, public and private health care workers and public officials.
A bridge's only concern is connecting with the other side. And engineers don't design bridges to be built from just one side, which would add increasing amounts of weight and stress to the starting point, he said.
Eventually, the steel would crumble, the span would topple and the fish would have bounteous structure to elude anglers.
Instead, bridges are built from either side to connect in the middle, Gunderson said. The sides reach toward each other until they near the midpoint, where what is called the "suspended span" is lowered into place.
That final piece is installed in the cool of the morning so it can expand as the day heats up, helping hold it in place with all of the rivets and other connectors, he said.
The metaphor for a bridge to health includes both the technical side, with health science and technology on one bank and the human side, anchored in what he calls the "Leading Causes of Life," which echoes the title of a book he wrote with Larry Pray, with the subtitle "Five Fundamentals to Change the Way You Live Your Life."
Those fundamentals include:
Connection, which Gunderson said is a "vital phenomenon that occurs wherever there is life." Humans thrive in complex social connections, as long as they aren't steeped in friction and fear.
Coherence, based on humans' need to find meaning. This could be in the lives of the individuals or the organizations to which they belong.
Agency, which Gunderson explained is not referring to "an agency," but rather the "universal capability to do and act."
Blessing, an example of which he drew from attending the regular meeting of the Downtown Rotary Club Thursday. Club members acknowledged the 49 years of dedication of member Elmer Grassman.
The fifth cause of life is hope — not just in people's heads but in their bodies as well, he said.
Gunderson cited an example of blessing that his daughter Catherine impressed upon him when she was a child.
Before his mother died, she was vocal about planning her service, he said.
"I knew Mom was dying, and she knew she was dying," and she told him she wanted him to deliver the eulogy, he said, adding the quip, "She didn't want her preacher to do it because she thought he was kind of an idiot."
His mother was strong, he said, noting, "I'm kind of a tender and soft and even crying just thinking about it.
"But she wasn't crying," instead directing that grandchildren be involved and asking what Bible verses he might select, as well as what version of the Scriptures he would use.
"She didn't want me to use a liberal Bible that would upset people," he said.
At that point, Gunderson and his mother alternated laughing and crying as they discussed the service.
He delivered most of the eulogy, although he said he tagged a friend to finish it toward the end when he became too emotional. When Gunderson sat down, he said, "Catherine, who was about 7, put her hand on my knee and said, 'Dad, you've been a good son today.'"
That signified the importance of building "right relationships so life can flow through you," he said.
In discussing hope, Gunderson suggested that if a patient had supreme confidence in a doctor who prescribed a medication, that patient's body probably would respond positively even if the pill were made of sawdust.
Returning to the bridge metaphor, Gunderson told the audience, "You are the suspended span." He encouraged them to determine their greatest strengths among the five leading causes of life, as well as that of their organizations.
"Don't get trapped in your identity," gauging only your job, he said.
"The point is not new skills, but knowing the ones we have are for life," he said. "What's missing in your life may be what's in the organization. "Don't worry about the gap — focus on your strengths.
"The skills you already have are relevant in ways you don't even realize," and can be major contributors to population health. It is more important to acknowledge what is right with yourself than wrong, he said.
"It is not delusional to think you're adequate to the task," Gunderson said, adding that their cooperation builds the ability to enhance population health. "You come with what each other needs."