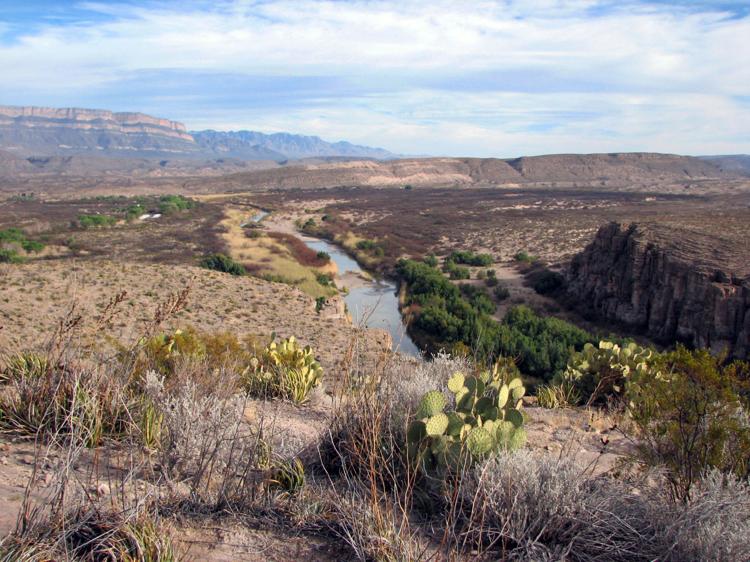 WASHINGTON (TNS) — Santa Elena Canyon, part of Big Bend National Park in Texas, is known for its red rock cliffs that drop more than 1,000 feet into the Rio Grande River. The late naturalist and Supreme Court Justice William O. Douglas once wrote that Santa Elena "is a canyon to travel with the utmost respect."
If President Donald Trump proceeds in building a wall through unfenced sections of the U.S.-Mexico border, Santa Elena Canyon will present a formidable obstacle, but not the only one. The rugged landscape of south Texas might be Trump's biggest challenge in building an "impenetrable, physical, tall, powerful, beautiful southern border wall," as he promised during his campaign in 2016.
"When you get to Santa Elena Canyon, you have a sheer wall that is hundreds of feet tall," said Scott Nicol, a resident of McAllen, Texas, and co-chair of the Sierra Club's Borderlands Campaign. "How are you going to plunk down a wall in that kind of topography?"
Texas shares more than 1,200 miles with Mexico, but only 110 miles of that is fenced. Much of the rest is either private property or protected public lands, such as steep cliffs at Big Bend, marshes at the Santa Ana National Wildlife Refuge or the braided channel of the Rio Grande as it empties into the Gulf of Mexico.
In November, a video team from the Brookings Institution visited the border region and brought back a bird's-eye view, using a drone camera. The video captures a landscape that meanders with the Rio Grande, passing through numerous habitats, alternately stark and lush.
"It was breathtaking," said Ian McAllister, one of the Brookings videographers. "We covered a lot of miles on that trip, and the terrain varied so widely."
Chris Peters, also part of the video team, said he was surprised the topography was as daunting as it was.
"If you see it in person, it so much more clear how challenging it would be to build a wall there, and how unrealistic it is," said Peters.
Trump clearly intends to try. Last year, Nicol, using a Freedom of Information Act request, obtained a U.S. Army Corps of Engineers map of where the government plans to build 33 miles of wall in 15 segments in the Rio Grande Valley.
According to the documents, first published by the Texas Observer, the corps has recommended building the wall through Bentsen-Rio Grande Valley State Park, a 797-acre bird preserve. The wall would also run through the nearby National Butterfly Center, a private nature sanctuary that, in December, sued the Department of Homeland Security over its border wall plans and alleged trespass onto its property.
The corps also rated the Santa Ana National Wildlife Refuge, south of McAllen, as an "easy" location for the wall, because the land is already owned by the federal government. Building the wall there would potentially cut off the hunting territory of the ocelot, an endangered wild cat that has long crossed the Rio Grande in search of prey.
So far, the administration hasn't said whether it intends to extend a wall or fence through Big Bend National Park, which covers more than 800,000 acres south of Marfa, Texas. But Nicol suspects it may try. This month, the administration sent Congress a budget document requesting $33 billion for border security over the next decade.
The document, first reported by The New York Times, asked Congress to "clarify and expand" Homeland Security's authority to waive federal laws to quickly build border walls. It also asks for permission to bypass consultation with other federal agencies, such as the National Park Service, on using federal lands for security purposes.
Nicol said it is no coincidence that the government is selecting public lands for the first stages of the wall.
"They are targeting federal lands, because they don't want to sue anyone" over use of eminent domain, he said. A decade ago, ranch owners fought a Homeland Security attempt to condemn their land for border fences. At least 90 of those cases are still pending.
Over the past several months, the White House has repeatedly attempted to clarify that a border wall will not be built from "sea to shining sea," despite Trump's past pledges.
White House adviser Kellyanne Conway said on CNN this month that the president had found several solutions to enhanced border security. "There are rivers involved, I'm told, mountains, terrain that isn't conducive to building an actual physical structure in some places," she said.
White House chief of staff John Kelly said on Fox News last week the Trump "has changed the way he's looked at a number of things" after listening to experts who warned that there are places along the border "where, geographically, a wall would not be realistic."
Kelly's comment, however, prompted an immediate response from Trump.
"The Wall is the Wall, it has never changed or evolved from the first day I conceived of it," the president posted on Twitter. "Parts will be, of necessity, see through and it was never intended to be built in areas where there is natural protection such as mountains, wastelands or tough rivers or water."
Nicol said Trump's comments are confusing, but he expects a White House attempt to build the wall through protected parks and refuges, which would lead to new litigation. "This administration has very much underestimated the kind of pushback they will get if they push forward," he said.