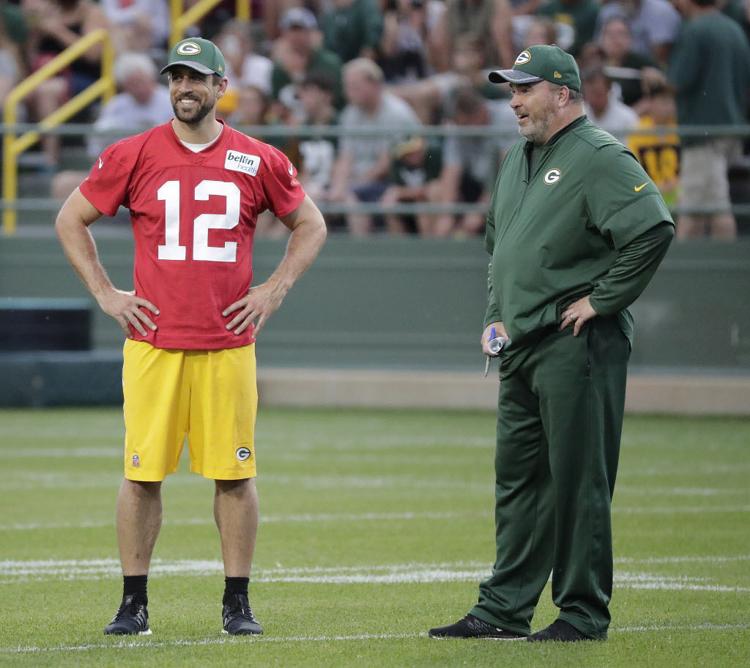 GREEN BAY — While the entertainment media was focusing on the Hollywood breakup and snooping for more family drama, and the gossip sites were worried about who he was golfing with, Aaron Rodgers was quietly going about his football business this offseason, building in the process another relationship that's probably more vital to the Green Bay Packers quarterback's happiness than anything.
His connection with head coach Mike McCarthy.
While the two haven't always seen eye-to-eye in their previous 11 years together, their bond appears to be stronger than ever these days.
Of course, that doesn't mean the two did any male bonding this winter in Los Angeles, where Rodgers makes his offseason home and McCarthy's oldest daughter, Alex, lives.
"We go out there every year (because) Alex is out there. We went out there for Easter, had a really nice family vacation," McCarthy recounted in a lengthy interview with ESPN Wisconsin's "Wilde & Tausch" late last week. "With Aaron, it's always, 'Hey, let's get together in L.A.' But I don't think he really wants to hang out with me and I don't think I can keep up with him."
McCarthy laughed heartily when he said that. For while they may not be riding the teacups together at Disneyland or shopping on Rodeo Drive together — and they don't do much more than exchange occasional February or March text messages, giving each other some offseason space — they seem to be in a very good place as the Packers get set for organized team activity practices, which kick off Monday.
"I look at him now and it's just amazing, not only what he's accomplished professionally but just what he's done in his personal life," McCarthy continued. "He's obviously very talented, but I always get a kick out of all his different interests. He's clearly one of the most intellectual individuals I've ever had the opportunity to coach. His insight is always appreciated. I enjoy talking football, but I just always enjoy our personal conversations. You know, he has a lot going on, and he has that active brain that just doesn't shut down."
Since Rodgers returned to Green Bay on April 18 for the start of the offseason program, he and McCarthy's football conversations have focused on aspects of the "pure passing game, going back to basics, going back to some of the old West Coast principles," McCarthy explained. "I think it's definitely going to help everybody involved."
Both McCarthy and Rodgers were keenly disappointed in some of the team's offseason losses in free agency — they were particularly troubled by the departures of Pro Bowl guard T.J. Lang, legendary veteran pass rusher Julius Peppers and steady, underrated defensive back Micah Hyde because of those players' locker-room presence and on-field production — and they seem to recognize that their team needs them to be on the same page more than ever.
For the strong-willed Rodgers, who acknowledges he and McCarthy have butted heads from time to time over the years, last year's four-game losing streak — followed by the team's run-the-table eight-game winning streak to reach the NFC Championship Game — was crucial to the growth of their relationship.
"In tough times, you look at a lot of times the quarterback and the coach. You want that consistency in approach and vision and confidence, and Mike has been that unwavering guy for us," Rodgers explained. "With his attitude, with his approach, with his energy, with his competitiveness, to come into work every day and cast a vision for us every week — obviously he demands a lot out of us — and we responded very positively to that. So I think Mike did an exceptional job of continuing to grow in his leadership, and being that steady rock for us when we needed to look to him for leadership at 4-6."
Rodgers' play was also a major reason for the turnaround — he completed 68.9 percent of his passes for 2,384 yards with 21 touchdowns and only one interception (117.9 rating) during the Packers' eight wins before their season-ending loss to the Atlanta Falcons on Jan. 22 — but don't discount the role intangibles like chemistry and interpersonal relationships played.
McCarthy's new challenge will be to continue working on that chemistry while also experimenting in his football play-calling laboratory with new components to integrate into the offense. The Packers added veteran tight ends Martellus Bennett and Lance Kendricks in free agency, added five rookie running backs (three draft picks, two undrafted free agents) to the backfield mix with converted wide receiver Ty Montgomery, and need to spread the ball around to top wide receivers Jordy Nelson, Randall Cobb and Davante Adams.
That's a good problem to have, but it means that quarterback and play-caller will have to be on the same wavelength — again.
"It's definitely a two-way street," McCarthy said. "I've learned early in my years of calling plays that it's important for the quarterback to be as comfortable as I am with the play. I've called a lot of great plays, and plays that I really liked, and the quarterback wasn't comfortable with. You're sitting there on Monday, and it's just like, 'Hey, this wasn't quite right.'"
"You have to have that honesty about where the quarterback is in every particular call. Because when you're getting ready for game day, there's not a play call on the call sheet you haven't discussed, that you haven't talked about why you're going to call it, when you think you're going to call it. So obviously there's a time commitment to that, an understanding, but there's a discipline to call plays. When you get to the level Aaron got to, he has to have that same discipline too, and understand why I like it, why I'm calling it and so forth. If your quarterback is not comfortable with the call — and I've made this mistake — you shouldn't call a play.
"Aaron had an MVP season. Statistically (he) didn't have a great start, but I think it was more of a reflection of how we were playing on offense. Great players make people around him better, and Aaron Rodgers makes everybody better. I think he did it probably at the highest — or one of the highest levels — of his career in the second half of his season."
"In tough times, you look at a lot of times the quarterback and the coach. You want that consistency in approach and vision and confidence, and Mike has been that unwavering guy for us." -Packers quarterback Aaron Rodgers on coach Mike McCarthy