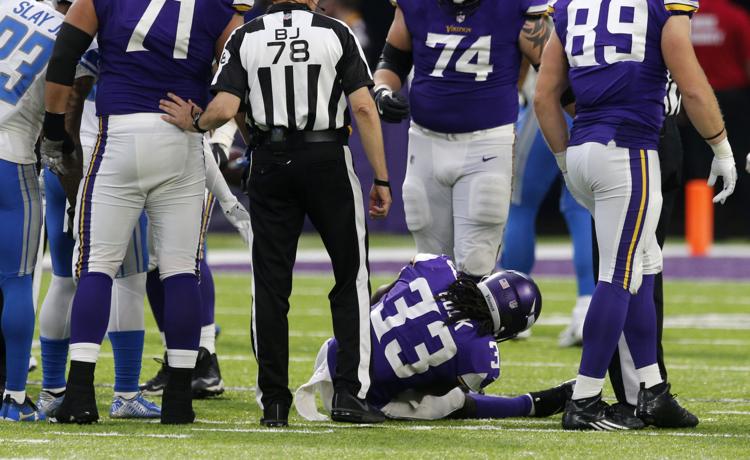 MINNEAPOLIS — The Minnesota Vikings were braced for the news and on Monday their fears were realized. Rookie running back Dalvin Cook is out for the season with a torn left ACL.
Cook was hurt in Sunday's 14-7 loss to Detroit at U.S. Bank Stadium. An MRI on Monday confirmed the damage to the knee.
"It's obviously a terrible thing for him and for us but we'll move forward and go from there,'' said Vikings coach Mike Zimmer. "But he's a great worker and I have no doubt that he'll come back from this."
Cook, third in the NFL in rushing with 354 yards, suffered the injury in the third quarter against the Lions. He went down without contact during a 10-yard run when his left foot gave out and he then lost a fumble after being hit.
"He's a great kid,'' Zimmer said. "I'm extremely impressed with what he's done to this point. ... The biggest thing was Dalvin had unbelievable big-play ability in a lot of different ways. We are going to have to continue to look for more ways to implement some big plays in the offense.''
Taking over for Cook next Monday at Chicago will be Latavius Murray, who has 14 carries this season for 38 yards.
Murray was considered the leading candidate to start at running back when he was signed as a free agent last March after the Vikings elected not to bring back Adrian Peterson. But that changed when Cook was taken in the second round in the draft in April out of Florida State.
Peterson suffered a torn ACL in 2011 and bounced back in 2012 to rush for 2,097 yards and be named NFL MVP. Zimmer touched upon that in a conversation with Cook.
"I talked to him... about doctors we have here and the medical staff, and how they were able to rehab the last great runner here," Zimmer said. "I expect him to come back and be the same that he was."
Zimmer said after Sunday's game it was believed Cook had an ACL injury but an MRI was needed to before a final determination was made. Zimmer said Cook also has some cartilage damage and perhaps some meniscus damage, and will have surgery at some point after "the swelling goes down.''
Zimmer said the Vikings (2-2) will consider signing another running back. It's unlikely, though, anyone can be found to challenge for the starting job.
"Now, if it's a lot more (carries), I need to be productive, be really productive,'' said Murray, who made the Pro Bowl in 2015 when he rushed for 1,066 yards with Oakland.
Murray underwent surgery March 22 on his right ankle, and didn't practice with the Vikings for the first time until Aug. 7. He was asked Monday when he returned to being 100 percent.
"To be honest, I'm still getting to that point,'' Murray said. "It's not going to quite feel the same for awhile. ... But I feel good enough to be out there and that I'm confident in myself that I can play at a high level.
"I think at this point, really, it's been general soreness after the game. During the game, not really. There's so much adrenaline going on.''
Murray, though, stressed that few players are "100 percent in this game,'' and he's now "able to handle any work load.''
Zimmer said Murray is "ready to go,'' and that Jerick McKinnon also could have an increased role.
"Nothing changes for me,'' McKinnon said of his mindset.
Cook going down is the latest of many key Minnesota injuries the past two seasons. In 2016, quarterback Teddy Bridgewater was lost for the season in August with a knee injury, Peterson missed 13 games with a knee injury and the offensive line was hit hard by injuries.
This season, quarterback Sam Bradford has missed the past three games with a knee injury. Zimmer said he remains "day-to-day" and didn't rule out that Bradford could play against the Bears.
"It stinks,'' guard Joe Berger said of Cook's injury. "It's an unfortunate part of this business, and it seems like we've had our share of it.''
Defensive end Everson Griffen stressed that the Vikings can't have a feeling they're been snakebit with injuries.
"The train's going to keep on going, baby,'' Griffen said. "We've got guys who are going to step up in that role. ... We don't like that negative energy. We're going to think positive and we're going to keep it going in a positive way.''