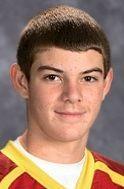 DARLINGTON, Wis. — With about six minutes left in the game Friday, the possibility of a season-opening victory for the Westby High School football team seemed bleak.
On the road against a Darlington team that had appeared in the past four WIAA Division 6 state championship games, the Redbirds were driving looking to add to their 14-12 lead. But then the Norsemen defense came through, forcing and recovering a fumble on their own-15 yard line to give their offense one last shot.
Alex Gluch and the offense grinded it out and gave their kicker Grant Dayton a chance to win it in the final seconds. Dayton returned the favor by drilling a 25-yard field goal as time expired to give Westby the 15-14 victory.
Gluch had tossed three interceptions before the final drive, but the junior still showed poise and with help from his run game drove the Norsemen (1-0) down the field.
"I got them together, let's try and get a drive together and run some option. We had some time to run the ball," Westby coach Andy Hulst said. "Chevy Knight and Alex with our half backs got about 6 to 7 yards a crack. Gluch displayed a lot poise, made a lot of good decisions with the option."
All the kids are excited. Any time you can beat Darlington (0-1) one of the better programs in the state it's a boost of confidence."
Holmen 34, Chippewa Falls 28
HOLMEN — Drew Becker ran for 165 yards and a touchdown and returned a kickoff 91 yards for a score to open up the second half to help the Vikings pull out a win in a game that featured seven lead changes.
The Vikings (1-0) trailed at the half 21-19 before Becker gave them the lead with his return.
After the Vikings fumbled the ball inside the 10 in the fourth quarter, the Cardinals drove the field to score and go up by two. But Holmen countered with a game-winning drive, which ended with a Mitch Torud 13-yard dash into the end zone.
"We hung tough, ground it out, and pulled together as a team," Holmen coach Travis Kowalski said. "The guys played with a lot of resilience."
Sparta 28, Black River Falls 13
SPARTA — Sparta scored 21 points in the first half en route to a season-opening win.
The Spartans (1-0) scored on their first two possessions.
Greg Jacobs opened the scoring with a 41-yard touchdown run, then Bryce Edwards scored on a 6-yard run.
Cole Wisniewski led Sparta with 138 rushing yards, and he scored a touchdown in the fourth quarter. Edwards ran for 67 yards; Jacobs had 68.
West Salem 37, Arcadia 0
ARCADIA — West Salem rushed for 205 yards against Arcadia, including 171 from Brendan Holt.
Holt had a 52-yard score with 10:44 remaining in the first quarter. He had 15 carries.
Ryan Beirne nailed a 50-yard field goal in the first quarter, and in the second quarter, John Glassmaker had a 36-yard fumble return for the Panthers.
West Salem (1-0) held Arcadia (0-1) to 101 rushing yards.
Tomah 32, Mauston 21
TOMAH — Tomah's Kyle Kroener had a big night on both ends of the ball.
Kroener had six catches for 129 yards from quarterback Connor Prielipp.
Kroener also had a 98-yard interception in the second quarter, and picked off another Mauston pass later in the game.
Prielipp had four passing touchdowns. He had 176 passing yards on 12 completions.
His longest TD pass was to Kroener was for 54 yards, and found him again for a 10-yard score.
The Timberwolves (1-0) had 126 rushing yards.
Onalaska 41, River Valley 19
SPRING GREEN, Wis. — The Hilltoppers showed shades of their high-flying attack from a season ago in blowing out last season's Division 4 runner-up.
Onalaska (1-0) tallied 563 yards of total offense to River Valley's 200. Sophomore running back Nathan Lubinsky scored three rushing touchdowns and more than 100 yards on the ground. Senior quarterback Noah Skifton also had more than 100 yards rushing, and hit receiver Ray Heilman for an 82-yard touchdown pass.
The Hilltoppers scored 21 points in the fourth quarter after holding a 13-7 lead at halftime.
Onalaska Luther 24, Blair-Taylor 14
ONALASKA — Junior Emery Byus ran for two touchdowns, one of which was a 70 yard kick return, as the Knights topped the Wildcats. Erik Rogers ran for a 63 yard touchdown for the Knights, who added a field goal in the fourth quarter.