Ken Koelbl, who grew up playing basketball in his hometown of Onalaska, starred at Viterbo University, dabbled briefly in a pro hoops career, then went on to coach in the college ranks, seemed like he was in it for the long haul.
Or so many folks who follow UW-La Crosse men's basketball thought.
That all changed on Thursday afternoon as Koelbl resigned as the Eagles' coach after 14 seasons and a 201-161 (.555) record. With the start of the 2017-18 season exactly one month away, the timing — and the decision — caught many by surprise, including UW-L athletic director Kim Blum.
Koelbl will remain with the university and continue to work in the admissions department, where he has been since 2003. He will become a full-time admissions counselor.
Koelbl and Blum met with the team late Thursday afternoon to inform them of Koelbl's departure.
"The timing isn't great for the basketball side of it, leaving at this point in time, but a position in the admission's office opened up," Koelbl said. "An email came last Friday about the position they have, so I talked to our director of admissions about it, about sliding over to that if it would work out.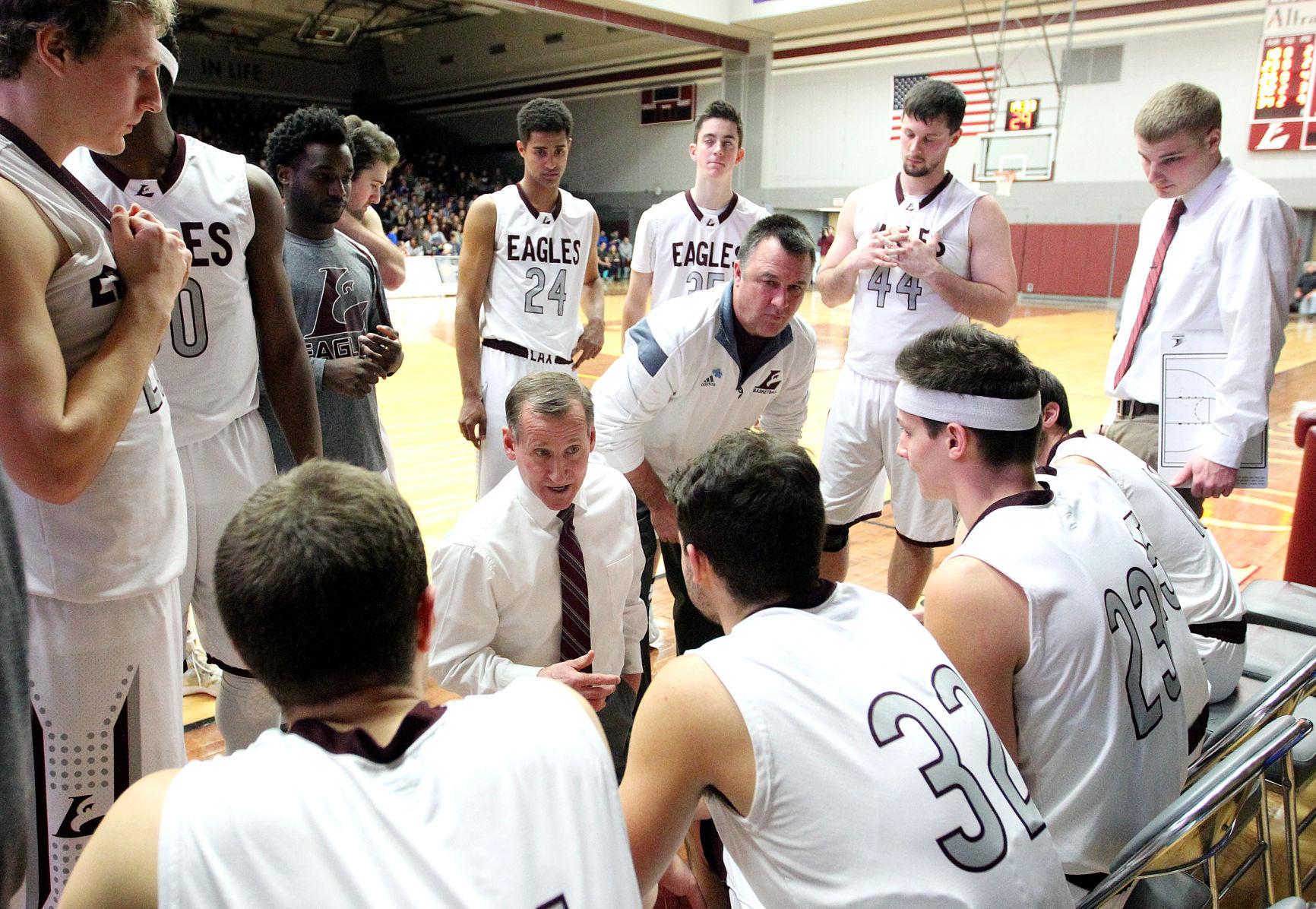 "I had conversations with my wife, Ellen, about it to see if this was indeed the right move. I have always enjoyed my time there (admissions) as it is different from coaching. It was almost a release from the coaching side of things."
It what turned into a whirlwind three days, Koelbl went from one of the longest tenured coaches at UW-L to leaving a program he turned into a competitive one year in and year out.
Blum said she and Koelbl on Thursday afternoon, but she said she was surprised when the topic of the meeting was Koelbl's resignation.
"Ken and I met today for the first time (this fall). I wasn't expecting to have that (resignation) conversation today," Blum said. "I certainly didn't know it was coming. As I understand it, it was an opportunity (in admissions) that came up very recently. I know Ken really enjoys his admissions position and the admission folks think very highly of his work. Apparently they talked through it and it ended up making sense for Ken."
Those surrounding the basketball team, they are still trying to make sense of losing a head coach that led the program to a WIAC title in 2016, its first since 1965. A coach that led the Eagles to nine winning seasons in the last 12 years.
"I actually did not know about that," said Ryan Kruser, who played basketball for Koelbl for four years and is now a wide receiver on the Eagles' football team. "That is news to me, so yes, it definitely caught me by surprise.
"I would have not expected that. He really had a passion for the game. He has put in the time to be a great coach and he gave it his all. I am still trying to let it sink in. He never gave off the vibe that he was thinking about leaving."
While the timing was right for Koelbl to expand his role in the UW-L admissions department, it leaves the basketball team facing a full-court press in terms of replacing him. Division III teams can begin practice on Oct. 15, in accordance with NCAA rules.
Bobby Wheet, who has been one of Koelbl's assistants the past four years while also serving as director of the Eagles' camps and clinics, found out about Koelbl's departure Thursday afternoon.
"I did not have any idea. I was just as shocked as anybody when I found out today (Thursday)," Wheet said. "I really didn't see anything that would suggest it was coming. Coaching is a pretty stressful job and a tough profession, and when you are Division III and juggling multiple jobs that makes it even more stressful.
"I don't know what my role will be moving forward. My job right now is to make sure out guys stay together and continue to work hard as a team."
Blum said plans are still being formulated on exactly how to proceed, but she said there will be an interim coach for the 2017-18 season.
"We will have to have an interim coach for the season. I don't believe going forward with a national search at this point in time will produce a quality pool," Blum said, noting most coaching staffs are already in place for the upcoming season. "That will have to happen at the end of the season.
"We have to think about the long term of the program, not the here and now. We want to do the very best we can. I don't think a knee-jerk reaction is what is best, long-term, for the program.
"I think Bobby and Kris (Risch, assistant coach) will be able to provide some consistency for the guys, a friendly face, somebody they can go to in this time period."
Koelbl said one of his personal philosophies, one he learned from former longtime Viterbo men's basketball coach and athletic director Rod Popp, is to leave something better than you found it.
"I don't have any regrets. I have a personal philosophy — and it doesn't always work out — to try and leave things better than when you found them. I am proud of where the program is at. It is at a position where it can compete at a high level.
"There are more things I wish we could have accomplished here. We did put the basketball program on the map."
"I would have not expected that. He really had a passion for the game. He has put in the time to be a great coach and he gave it his all. I am still trying to let it sink in." Ryan Kruser, who played for Koelbl for four years