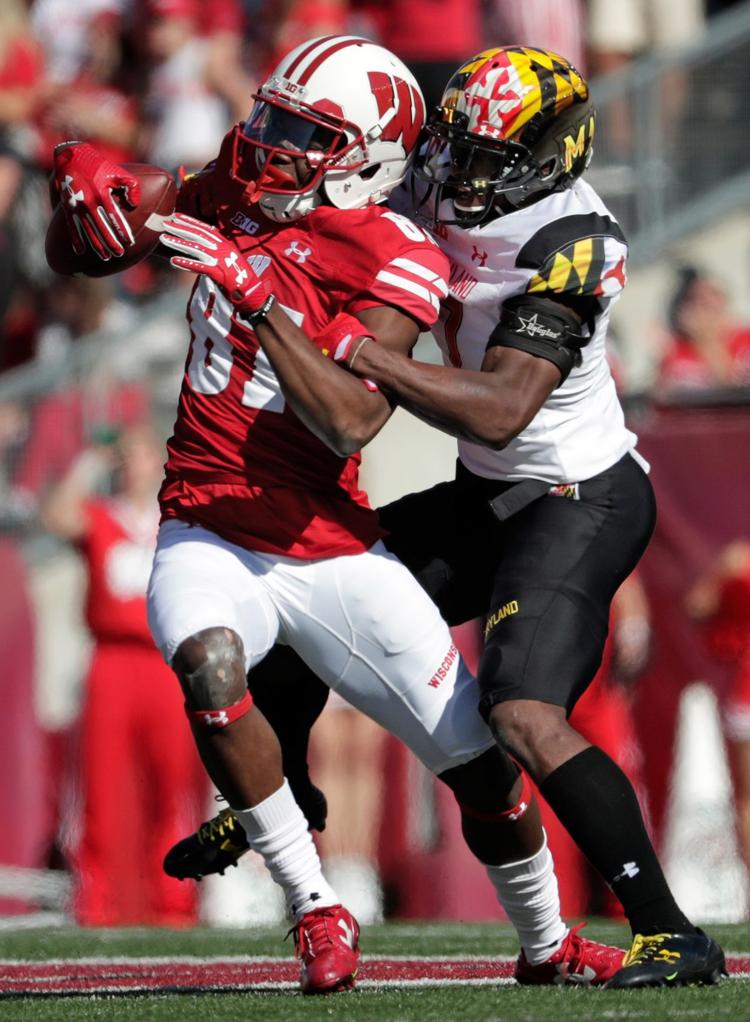 MADISON — The University of Wisconsin football team will be without its top wide receiver for the rest of the season.
Sophomore Quintez Cephus had surgery on his right leg Tuesday, Wisconsin coach Paul Chryst said Thursday.
"For every player that misses (time), you feel bad for them," Chryst said. "And yet, (Cephus) will bounce back. One of the fun things about coaching is seeing these guys play and grow and develop, and football's a vehicle we get to use. He'll bounce back from it."
Cephus suffered the injury with 11 minutes, 1 second left in the third quarter of last week's game at Indiana, when his leg got caught under right guard Beau Benzschawel. He appeared to be in excruciating pain and could not put any weight on his right leg.
Cephus leads Wisconsin with 30 catches for 501 yards and six touchdowns. He was dedicating this season to his late father, Andre Taylor, after he was murdered in April.
"He's been an X-factor spreading the field for us this year," Badgers tight end Troy Fumagalli said Monday. "You'd like to step up in his honor, but prayers up to him. He's done a great job not only making plays but being a positive energy guy, things like that. We'll definitely miss him."
With wide receivers Jazz Peavy and George Rushing both still out and with no timetable for their return, the Badgers are left with A.J. Taylor, Danny Davis and Kendric Pryor at the position.
Redshirt freshmen walk-ons Jack Dunn and Adam Krumholz could also see playing time.
"Excited for them and their opportunity," Chryst said of the receivers available to play this week. "Every time you say that, it's not like you're not going to miss (the injured players). But I absolutely feel confident in the guys in that room stepping up and those around them stepping up."
Fumagalli, who has 30 receptions for 401 yards and three touchdowns this season, also has the skill set to split out wide, as do other tight ends and backs on the roster.
It may be impossible to completely replace Cephus' production.
"I thought he brought a ton to this offense, and really the team," Chryst said. "Guys like him and appreciate the competitiveness in him."
Injuries are nothing new for the eighth-ranked Badgers this season, they've overcome them to remain undefeated at 9-0.
Cephus became the seventh Wisconsin player ruled out for the season, a group that also includes star inside linebacker Jack Cichy, who tore his anterior cruciate ligament during fall camp in August.
Peavy (right leg, personal), Rushing (left leg) and inside linebacker Chris Orr (left leg) are among those who will miss this week's game against No. 20 Iowa, while safety D'Cota Dixon (right leg), defensive end Isaiahh Loudermilk (left leg), running back Chris James (left leg) and nose tackle Garrett Rand (left foot) are questionable.
"I think you've got guys that care," Chryst said. "I think there's a care around the players that they're going to help that individual that gets his opportunity, to help them come in and help them do their best. I think the guys that do step in, they've been working for this opportunity. ... In the end, it comes down to people choosing and then trying to make the most of that opportunity."