Most look at a small or largemouth bass and think of a spunky, green-colored fish that can create quite a stir in the water or when dancing on top of it.
Guys like Andy Morgan, Bryan Schmitt, Matt Stefan and Tom Monsoor see green all right — as in cash.
Morgan could see a lot of green, in the form of a first-place check for $125,000, if he keeps catching Mississippi River bass at the rate he has been the last two days. Morgan, of Dayton, Tenn., didn't match his bag-busting first-day total, but he caught five bass with a combined weight of 14 pounds, 9 ounces Friday at the FLW Tour event on the Mississippi River.
That put Morgan atop the 160-pro leaderboard with 31 pounds, 4 ounces, and made him the man to beat as the field was cut to the top 20 anglers for today's action.
A crowd estimated at 150, some covered in blankets and all wearing coats or hooded sweatshirts, made its way to Veterans Freedom Park near the Clinton Street bridge to watch the weigh-ins.
Bryan Schmitt of Deale, Md., caught five hefty bass on Friday that weighed 16-4, giving him a two-day total of 31 pounds. Matthew Stefan, a Junction City, Wis., pro who led after Day 1 with an 18-pound catch, fell to third despite a second-day total of 12-14, leaving him with a 30-14 total.
"I didn't know if I would have a whole lot of fish left (in his spots)," Stefan said, "but I can't complain too much. People said, 'He's a local, he should be able to win this event.' I don't know if I had any advantage.
"I will say if somebody would have told me before the event you will have a top 20, I would have taken it."
There is a reason for that.
Only the top 20 pros get to fish today, and that field is cut in half for Sunday, the final day of the four-day event. In order to get a shot at the big prize, you have to be fishing on Sunday.
La Crosse's Tom Monsoor will be fishing on Sunday, but for fun. The 68-year-old Monsoor had a much better second day, as he caught five bass with a combined weight of 12-15, giving him a two-day total of 22-9. That missed the top 20 cut by 5 pounds, 2 ounces. Just as important, it left him in 89th place, or just 2 pounds, 14 ounces, out of the top 50. Ounces equate to dollars, as the top 50 pros pocket at least $10,000.
"Actually I found one little spot that was clear on one of the 18 spots I had and I caught 15 keepers. It was on then," Monsoor said. "Then I caught one down (near the launch area).
"I tell you, the last few days I can't believe what happened with this rain and mud. I went to the first spot today and got my biggest fish. I was so bummed out it was muddy that I fished it anyway, and got my biggest fish. It took me two hours to get one bite. It had to be 3½, and it was spawned out, so it would have been 4 pounds at least."
Monsoor, like many of the pros and co-anglers, found themselves battling changing water conditions throughout the first two days, and temperatures that feel more like early April than late May— the high Friday was in the low 50s.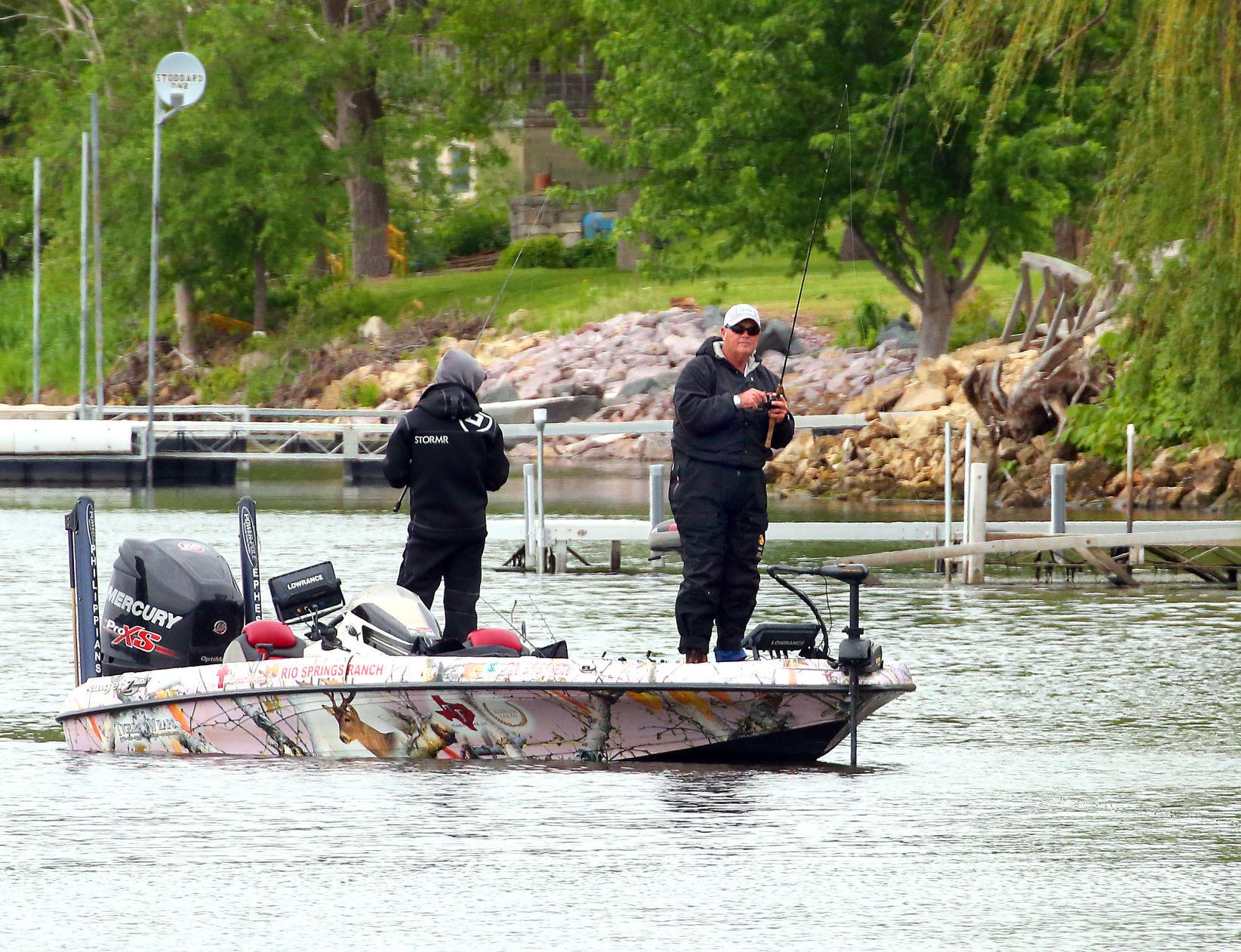 "I wore my shorts yesterday and wore my long britches today (Friday)," said Lendell Martin Jr., of Nacogdoches, Texas.
Matt Greenblatt, a Port St. Lucie, Fla., angler who was in fifth place after Day 1 (16-1), struggled in Day 2, catching just three bass with a combined weight of 6-5. That left him in 90th place with 22 pounds, 6 ounces, and well out the running for the cut.
"What is there, a 40-degree difference? I had a tug-o-war with Mother Nature all week," Greenblatt said, "and she is one, tough Mother."
The challenge for the remaining 20 anglers that are competing today is not only changing water and weather conditions, but whether or not they have fished too heavily on their pre-determined spots. Or, did they save some spots in case they advanced this far?
"I caught them all in the first hour before (conditions) changed," said Austin Felix of Eden Prairie, Minn., who had a five-bag limit that weighed 15-10 on Friday, leaving him with a two-day total of 30-11 and in fifth place.
"Then I left because I didn't want to burn anything up. I tell you what, fishing close to home is awesome."