Horseshoes & Hand Grenades recorded its fourth and latest album, "The Ode," a little over a year ago, but when guitarist Adam Greuel talks about the recording process, he exudes such a strong sense of just how great a time the rootsy quintet had making the record, you could swear it just happened last week.
The band blasted through the recording in five days at Pachyderm Recording Studio in Cannon Falls, Minn., which Greuel described as a magical and charming place. "It's got this old-school energy," Greuel said by phone from Nashville where he was working on his first solo record. "It kind of put all of our heads into the moment. We were just all really present."
This was the first time the band had worked with a producer, but it was Dave Simonett of Trampled by Turtles, a good friend of the band, so they felt very at ease with him and the recording engineer.
"For whatever reason, the seven of us just kind of had this vibe, where it just flowed," Greuel said. "The way that we recorded it was super, super live. We cut all of these tracks, sitting in a giant room, looking at each other."
The band also includes Russell Pedersen on banjo and fiddle; Collin Mettelka on fiddle and mandolin; David Lynch on harmonica, accordion and spoons; and Sam Odin on bass. They all knew right away after the sessions, Greuel said, that they had captured something special. "Almost more than any of our other records, it encapsulates this raw, organic approach to music," he said.
The band planned to release the album six months ago, but a variety of factors kept popping up. It turned out for the best in the end. The week before the Grammy Awards, The Infamous Stringdusters, a band Horseshoes has toured with extensively, announced it was starting a new label — Tape Time Records — and Horseshoes and Hand Grenades was the first band signed to the label.
The excitement of the label announcement was soon compounded when the Stringdusters won a Grammy for best bluegrass album.
"So here we are, finally releasing this record in a time and way that finally feels right," Greuel said. "If there's one thing that I've slowly learned as I've gotten older, it's that things tend to unfold on their own schedule."
All of the previous Horseshoes & Hand Grenades records have been self-released, Greuel said, "in part because the modern paradigm for record labels isn't the most band-friendly circumstance." Signing with Tape Time was an easy decision, he said, because "to us, it made more sense to work with a label by musicians, for musicians. … Our relationship with those guys has always been really strong. We look up to them musically but also as people too. They're truly good folks."
The band is celebrating the album, the first for the band to come out on vinyl, with a pair of Feb. 16 release-day shows in one evening at Leo & Leona's Tavern and Dancehall, a favorite venue for the band, in part because of its association with the folks responsible for the annual Larryfest. The next day, the band has a big show at Central Waters Brewery between Waupaca and Stevens Point, Wis., where the band started in 2010.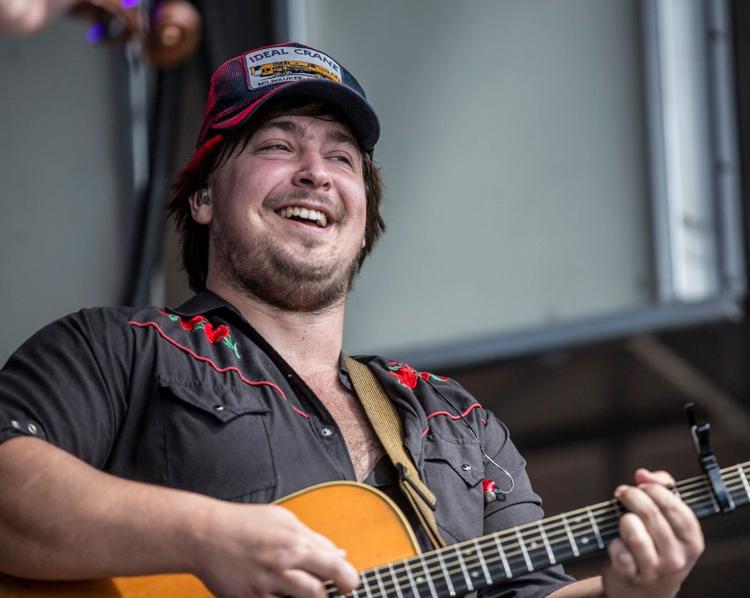 "We wanted to go back to a couple of the places where our roots kind of formed, and one of those was Leo & Leona's, which has this sense of community we happened upon through the Larryfest family," Greuel said.
The first show at Leo & Leona's will have seating set up, while the late show will have the chairs cleared out. "The second show will be our barnburner," Greuel said with a laugh.
The new album features three songs each by Greuel, Pedersen and Mettelka, one by Lynch and one instrumental that Greuel described as a group composition. Even though they were only at Pachyderm for a week, the band actually got quite a few more songs recorded than what would fit on the album, which was constrained by the limits of a vinyl LP.
Greuel's "River Time" is special to him because he wrote it on a rare break from touring, settling back on a sandbar back home. "It's wildly pertinent now, traveling and being on the road as much as we are," he said. "It's about missing home and the sandbar where I spend most of my time when I'm home."
Another of the Greuel songs on the album is just as personal but with a different vibe. "American Dream" was inspired by the oil pipeline protests at Standing Rock, N.D., he explained. "I couldn't get that out of my head, and I still can't. That whole thing punched me in the face and I have to talk about it."
Greuel said his favorite song on the album is one Mettelka wrote called "Home Again." "It just makes me smile. It's got this family aspect to it," he said. "We're all blessed with families that are really supportive of our musical adventures."
The band members aim to spend more time with their families this year, Greuel said, cutting back its touring schedule to 80 to 100 shows. "We're working on slowly but surely decreasing the number of days away from home," he said. "The road can have its taxing aspects. But I love touring. I think I'm rejuvenated by new people and new places. It kind of just turns me on."