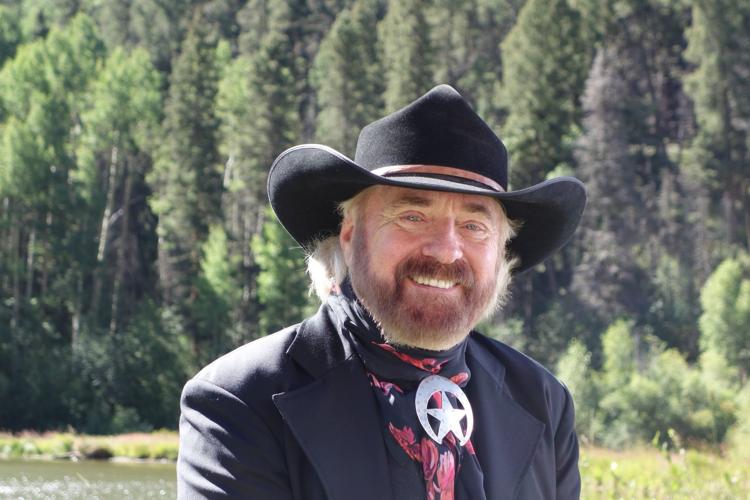 For singer/songwriter Michael Martin Murphey, coming to Westby for a concert is a homecoming — until about five years ago he had a ranch in the area. But his May 19 show will be in a setting unfamiliar to Murphey.
Murphey will perform songs from his half-century music career next weekend in the Westby Area Performing Arts Center, a 450-seat theater dedicated in February.
A native of Texas and cowboy to the core, Murphey has fond memories of the times he spent in the Westby area.
"I'm a westerner by nature and by upbringing, so I never thought I'd cross the Mississippi River to live somewhere," Murphey said in a recent interview, calling the Coulee Region "absolutely one of the most underrated areas of the country in terms of scenery."
Murphey raised quarter horses, paints and even Texas Longhorns on his ranch here, and living and ranching here inspired many of the songs he wrote during that time, particularly the ones on the "Heartland Cowboy" album.
The new album he's working on, "Austinology," draws on songs written in and inspired by another place, Austin, Texas, where Murphey was one of the early lynchpins of a music scene that had wide-ranging influence and spawned albums
After cutting his teeth on the Texas folk scene, Murphey moved to Los Angeles in the early 1960s, where he performed in a band with a fellow Texan, Michael Nesmith. Murphey got a break in his songwriting career when Nesmith asked Murphey to write him a song for his new band, The Monkees. Murphey obliged with "What Am I Doing Hanging Around," and he was on his way up the ladder on the L.A. music scene.
But Murphy missed Texas and in 1968 started dividing his time between L.A. and Austin, and a couple years later he'd had enough of L.A.
"In 1970, they had an earthquake there, and with my sensitivity to the air pollution in Los Angeles, I bailed out and moved to Austin for good," Murphey said, noting that he was soon joined by fellow songwriter Jerry Jeff Walker. "That just kind of started a chain of people moving there."
Letting his hair and beard grow, Murphey created the "Cosmic Cowboy" movement that gave rise to outlaw country. "We were country singers who had a little bit more of a western influence," Murphey explained. "We were more related to the Texas culture of cowboys, and we were a bit rebellious against Nashville because we didn't like the control of the big record companies."
Legend has it that after clean-cut establishment Nashville cat Willie Nelson came to a Murphey show in Austin, he was inspired to go cosmic cowboy himself. Other people on the Austin music scene with Murphey in the early 1970s included Waylon Jennings, Guy Clark, Gary P. Nunn, Kris Kristofferson and a young Jimmy Buffett, who used to open shows for Murphey.
Murphey's time in Austin produced some of his most enduring and endearing work. His 1972 debut album, "Geronimo's Cadillac," inspired Rolling Stone to call him "the best new songwriter in the country."
His Austin days were a prolific period as a songwriter, and in 1975 his fourth album, "Blue Sky — Night Thunder," made Michael Martin Murphey a household name, thanks to the haunting "ghost horse" ballad, "Wildfire," a monster hit, along with another hit, "Carolina in the Pines."
The "Austinology" album he's working on revisits the songs of that fruitful era. He's recording new versions of his songs with a little help from his friends. The album, which has a July 1 release date, will feature Steve Earle on "Geronimo's Cadillac," Lyle Lovett on "Drunken Lady of the Morning" and Amy Grant on "Wildfire," with contributions on other songs from Willie Nelson, Bruce Robison, Los Bandoleros, and Jerry Jeff Walker and his son, Django. The album will include cosmic cowboy songs from other Austin scene denizens, including Walker and Guy Clark.
For his Westby concert, Murphey said the first half of his show will include songs from the first half of his storied and varied career, while the second half will focus on the music celebrating the culture of cowboys and the West that he has mainly focused on since 1990.
With at least 34 albums to his credit (not to mention EP and single releases), Murphey has an almost mind-boggling amount of material from which to choose to put together his Westby show, a concert he said he's really looking forward to. "It's always special when I come back there," he said.