Confession: I've not really been a big fan of metal – the music, not the hard stuff that you can use to build bridges and cars and skyscrapers. My two favorite remotely metal bands are Spinal Tap and AC/DC, which I'm sure true headbangers will dismiss as lame. I saw AC/DC in concert at the Met Center on Sept. 11, 1980, on the Back in Black tour, and that was the peak of my metallic musical experiences … until last Sunday.
I decided it was time to expand my horizons and snagged a pass to shoot photos at the Five Finger Death Punch/Shinedown show at the La Crosse Center. Two words sum up my experience: "wow" and "ow."
It was a relatively minor "ow," actually, just some diminished hearing for a day. Even though I wore earplugs, my photography workspace between the stage and the barricades holding back the fans at the sold-out show had speaker stacks that would give me a sonic blast if I made the mistake of standing in front of them at the wrong time. Rookie mistake.
Photos: Five Finger Death Punch and Shinedown at La Crosse Center
The La Crosse Center was the first stop on the Five Finger Death Punch/Shinedown tour that was sold out, and the bands gave the crowd their money's worth and then some. Opening the show were Sixx: A.M., featuring Nikki Sixx of Motley Crue on bass guitar, and As Lions.
The concert was a major "wow," though, totally blowing away most of my preconceived notions. Maybe it was my proximity to the players, but they didn't come across as the self-absorbed show ponies I expected. Yes, they were a lot more costumed than the bands I usually like to see, but it's not hard to top flannel shirts and jeans.
Shinedown shone, both musically and in showmanship, with the band's light show and pyrotechnics topping anything I've ever seen at a rock show. Shinedown singer Brent Smith belted out the band's thoughtful songs with a powerhouse roar and stalked the stage like the unstoppable menace in "Terminator 2," but he also oozed love and appreciation for the audience. He even waded through the crowd to sing a song on a small stage toward the back of the arena behind the sound board, bringing the show a little closer to the folks in back. Nice!
Five Finger Death Punch's name gives the band a scary aura, and the band's pugnacious singer Ivan Moody came out with a blood-red handprint planted on his shaved scalp. But the band's often anthemic explorations of life's struggles drew me in – the band's dual-guitar bravado didn't hurt one bit, either – and the band members seemed like they were having the times of their lives.
After that show, I'm thinking I might actually like metal more than I thought. I guess old dogs can learn new tricks.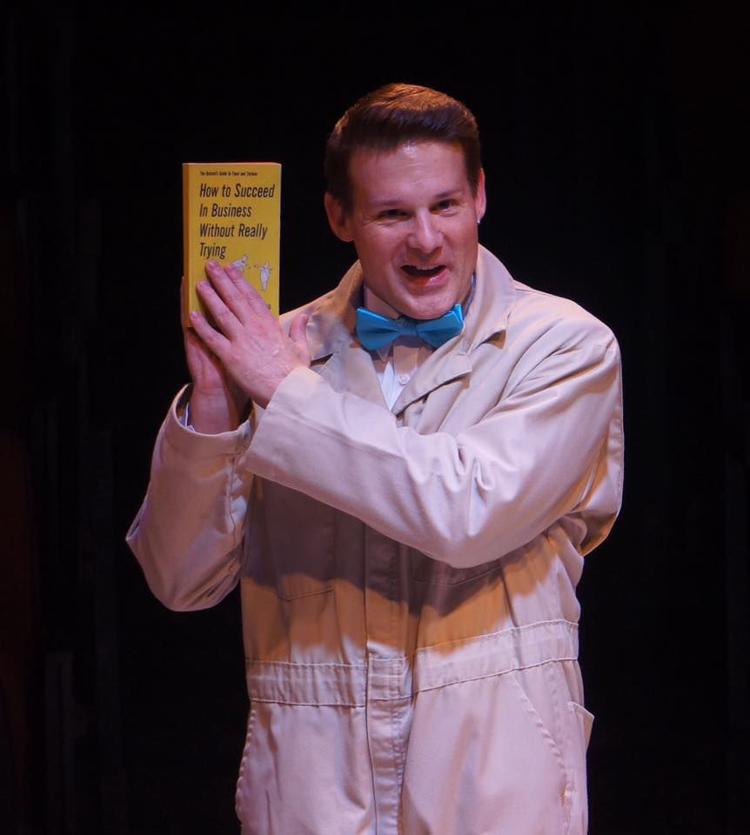 Raising Cain
Tomah native and Viterbo University graduate Kent Cain is up for an acting award in Los Angeles, and we can help him win. The former fixture at the La Crosse Community Theatre is nominated for best actor in a musical for his starring role as J. Pierrepont Finch in the Glendale Centre Theatre's production of "How to Succeed in Business Without Really Trying."
He's up against 15 other actors (including veteran film and TV star Gedde Watanabe) for the award from Broadway World Los Angeles, and there's an online voting component. It's OK if you didn't actually see him perform in the show. You can still vote. How could he be anything other than great – he's one of us.
Check out this link to vote for Kent, who actually has succeeded in business. He's chief operating officer of a company that supplies ATMs. A word of warning: The chance to vote for Cain doesn't come until the 27th screen, about two-thirds of the way through, and you have to go through every screen to vote. And sorry to say, there's no "I voted" sticker at the end.
Good cause
Boot Hill Banquet Hall (1501 Saint Andrew St.) on Saturday hosts the annual Fall Harvest Dance, which offers the chance to hear music from the ever-entertaining Studebaker 7 as well as Jan-Arden Peterson & 4th Demension and Radio Flyer.
Admission is $15 in advance or $20 at the door, which gets you a full evening of music, pulled pork and barbecue sandwiches, soft drinks and Lost Lake beer on tap. Advance tickets are available at Boot Hill Pub and Festival Foods stores, and proceeds benefit Living for Liz, a group dedicated to fighting lung cancer. Doors open at 5:30 p.m. and the music starts at 6:30.
Goodnight Irene
Meanwhile on Saturday, right next door to the Fall Harvest Dance at the Boot Hill Pub, Irene Keenan Jr. will perform her final show in La Crosse as a solo performer. I sure hope this doesn't mean she's done with Skeleton Crew, but you might want to catch this show, just in case. She's playing from 6 to 9 p.m.
Good tidings
We're coming into the most wonderful time of the year if you love Christmas holiday music (and I don't see how we can possibly be friends if you don't). If your school, church, civic organization, motorcycle gang or whatever is putting on a holiday music concert in the next month, please let me know about it right away by email and I'll share it in an upcoming issue with Tribune readers (and the whole world through the Interwebz).