One of the premier Irish music bands in America is coming to the Marie W. Heider Center for the Arts this month. Fittingly, it's on Sunday, March 18 — the day after St. Patrick's Day.
The Irish Music Association once named Brian FitzGerald and Martin McCormack as the Top Irish Music Duo in America and Europe. FitzGerald—who now lives in Lansing, Iowa — learned mandolin from Jethro Burns and was touring with zydeco king Clifton Chenier in 1986 when he met McCormack, an award-winning voice student at the American Conservatory of Chicago.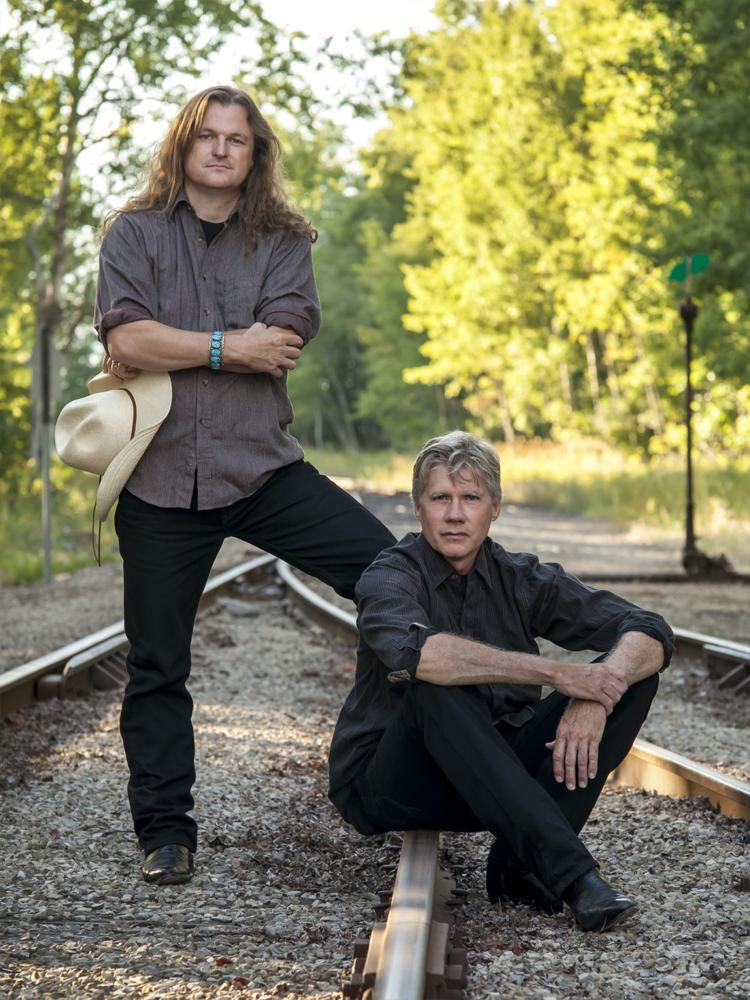 After a stint in an Irish band led by legendary County Kerry composer and concertina master Terrence "Cuz" Teahan, the two formed Switchback in 1993.
The band specializes in original Americana music that reflects their Midwestern roots and in traditional Celtic music — which one might say, reflects their Irish roots. McCormack, who holds dual citizenship in the United States and Ireland, noted that Switchback has had three PBS TV specials aired nationally.
They've also produced 10 albums and continue to tour heavily, both in this country and in Europe.
"We easily do 200 shows a year," McCormack said. "We have a pretty solid following in Europe. They love this weird combination of solid roots music — blues, country and folk — with that wild unhinged Celtic stuff. It's a good fit for us."
For the past 14 years, Switchback has led tours to Ireland that involve music sessions in pubs like the one owned by Matt Malloy of The Chieftains. "He's a good friend of ours, " McCormack said.
Although it's been years since they've played La Crosse, they are familiar with the area. "We used to play at the Freighthouse at the same time Bill Miller was in town, but that was a long time ago," FitzGerald said.
"We don't do bars anymore. We're usually in performing arts centers," McCormack said.
They also appear in many Irish festivals, but never the one in La Crosse. "We're not sure why that is," McCormack said, "but we're looking forward to the day we play Irish Fest in La Crosse."
For this show at the Heider Center they'll be joined by Takeshi Horiuchi on a traditional Celtic drum called a bodhran.
So how did a native of Japan end up playing a traditional Irish instrument?
"We owe it all to Rochester, Minnesota," McCormack said. "Takeshi was working for a subsidiary of IBM and while on a business trip to Austin, Texas, he stumbled across an Irish music session and fell in love right there."
Horiuchi was so fascinated by the bodhran that he had one custom made for him in Texas. Although McCormack and FitzGerald often play as a duo, the drum opens up wider musical horizons.
"The neat thing with the drum is that you will hear a little more of that tribal feel in the music," McCormack said. "The more skilled a bodhran player is, the less you need a full drum kit."
Besides their work in traditional venues, Switchback continues their longtime tradition of "outreach" sessions. They try to get into communities where there is no music or small-town schools where they can offer songwriting workshops, although they've also visited unorthodox venues like juvenile detention centers and church camps.
According to McCormack and FitzGerald, it's one of the most fulfilling parts of their jobs. "When you walk into a retirement home or a nursing home you've played before and people tell you they couldn't wait for you to come back, that's a pretty good feeling," McCormack said.
"Our music," FitzGerald said, "is about lifting spirits and bringing communities together."