Since 1990, the La Crosse Dance Centre's annual production of "Nutcracker Ballet" has become as much a holiday tradition in the La Crosse area as candy canes and mistletoe, and that's likely to continue far into the future.
"As far as I'm concerned, it will always be here," said Nikki Balsamo, owner of the La Crosse Dance Centre and director of the production. "For me personally, the holidays would not be the same. … It's like all the good things of the holidays rolled into one."
A third "Nutcracker Ballet" show has been added this year, with 115 dancers hitting the stage at the Viterbo University Fine Arts Center on the evening of Friday, Dec. 8, and afternoon shows on Saturday and Sunday, Dec. 9-10.
Balsamo hasn't been involved in every year's production, but she has been in on it from the start in 1990, when her parents owned the La Crosse Dance Center and she was a freshman at Onalaska High School. That year and the next, she danced the part of Maria, the heroine of "Nutcracker Ballet," then played the part of the wicked Mouse King the next two years.
"I loved that role a lot. It was a great challenge to have to be that present throughout the entire show," Balsamo said of playing Maria. "But then, the other years it was super fun to play something completely evil and dark with an entirely different movement vocabulary. Both of the experiences were really fun."
After setting a new high mark for size of cast last year, this year's cast sets a new high, and the added third show is a good indication that the audiences continue to grow, too. "People are definitely not losing interest, which I think is wonderful for all sorts of reasons," Balsamo said. "I think it's great to have traditions that are full of creativity and imagination."
Based on a fairy tale, "Nutcracker Ballet" came to life 125 years ago, with dancers first kicking up their heels to Pyotr Ilyich Tchaikovsky's score in 1892 in Moscow. It was not exactly an immediate hit in Russia, but it become a staple of American holiday culture after Russian dance master George Balanchine brought it to life through the New York City Ballet.
The ballet centers in the beginning on a Christmas party where a mysterious and magician-like toymaker, Drosselmeyer, gives a young girl named Maria a nutcracker in the form of a toy soldier, a gift that thrills her. She falls asleep under the Christmas tree clutching the nutcracker, and a fantastical dream follows — with an epic battle, evil rodent monarchs, a visit to a magical land of fairies and candy, and the lifting of a prince's curse.
This year, the role of Maria is danced by Emma Iremonger, a senior at La Crescent High School who understudied the role last year, when she also danced in another prime role, the Sugar Plum Fairy. It's a role that Iremonger, a self-professed "bunhead," has wanted to play for as long as she can remember.
"I knew as soon as I started dancing that Maria was the goal, the thing that's held out for most girls," Iremonger said. "I knew that if I was given the opportunity I would take it."
One of the biggest challenges in dancing the part, she said, is the pressure involved in the partner dances with the Nutcracker. Iremonger has an experienced partner this year in John Divney, a senior at the University of Wisconsin-La Crosse dancing the part he previously danced as a senior at Aquinas High School.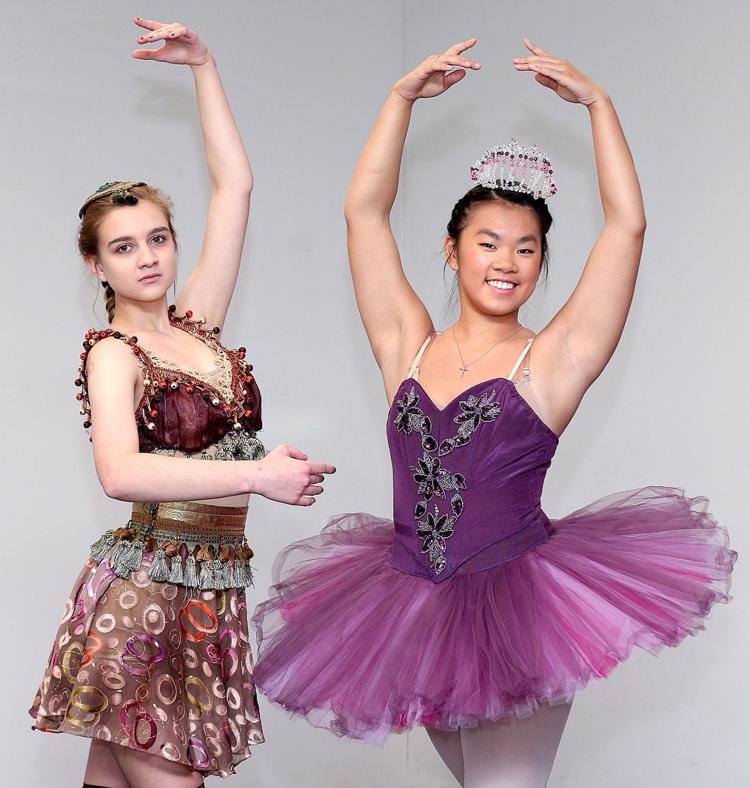 Balsamo remembers Iremonger's first performance in "Nutcracker Ballet" as a 7-year-old, playing a little mouse who bumps into Maria, and she has been impressed with Iremonger's approach to the role.
"Her technique is very solid and she's also very passionate about the story. Every moment she's playing Maria, she is Maria," Balsamo said. "She's really invested in the story and wants to bring the best story to the audience."
Iremonger's longtime friend Zoe Glise, who last year played Maria, agreed that Maria is a plum role. "The first time I saw Maria, I was like, I want to do that," Glise said. "I think it's just the transformation that she goes through throughout the story. She starts out as a young girl, playful, a little immature, but not in a bad way. Throughout the story she grows up a lot, and I think that's very cool."
Glise, a senior at Holmen High School, also has long wanted to dance the Sugar Plum Fairy role, and that's what she's doing this year. She worked on the choreography for the solo with her mother, Kathy Gorman, who was a partner to the Balsamos in getting the "Nutcracker Ballet" tradition started.
Considering this could well be the last "Nutcracker" performance for Glise, she figures some tears will flow for her mother and maybe for her. "I definitely think it's going to be bittersweet for both of us," she said. "It's been a big part of our lives for so long."