As a sixth-grader, Matthew Erickson stumbled upon Austin Kass jamming away on a drum kit in the band room at Logan Middle School and had two questions. First, he asked, "Can you play 'Enter Sandman?'" the Metallica classic that Erickson was learning on guitar. Kass indicated he could, prompting the second question.
"Hey, you want to start a band?"
They did form a band, recruiting Zach Mayer to play bass guitar, and they got pretty good at playing what Erickson likes to call "high-energy rock 'n' roll." So good, in fact, that two years in a row the band — which they dubbed Zammek — did well enough in the Wisconsin School Music Association's battle of the bands that they won the opportunity to perform at Milwaukee's Summerfest and were included on two statewide "Rockonsin" high school rock band compilation CDs.
"'That's a lot of sound for three guys,'" Erickson recalled "Rockonsin" organizer Dennis Graham saying after hearing the band, which frequently draws comparisons to Green Day because of the combination of buzzsaw guitar attack and old-school melodic pop sensibility.
That band battle success was a bit of vindication for the band after a rather unenthusiastic initial reception from their classmates in middle school. "No one really cared, I guess," Erickson said. "I wasn't a rapper, so I wasn't worth their time."
Roughly six years after they formed Zammek — named by rearranging the band members' initials — the band is releasing its first full-length album, "Doing Swell," and celebrating with an album release show Saturday night at The Warehouse. Zammek will be joined by four other pop punk bands, including 1000 Miles of Fire coming all the way from Denver.
The idea behind doing this album, Erickson said, was to have something to offer venue owners as an idea of what the band sounds like. "We really just want to play a bunch of shows. That's why we made this record," he said.
They started working on the album last November at Jesse Wolf's Groundbreaking Studios. Mayer had gone off to Luther College, so Erickson and Kass recruited former Of the Fact bassist Kyle Hauser to join the band.
The recording process got off to a good start, thanks to Kass's percussion skills. "Austin is an amazing drummer," Wolf said. "He was just dead on. It made for a really quick drum day."
The process was slowed a bit, though, because Wolf was being kept so busy with recording projects by other bands, including The Homeland Conspiracy, SpaceHeaters, Monkey Wrench and The Phantom Dream. By the time the final mixes were ready in April, Hauser had to drop out of the band, leaving Zammek with an album but no bass player.
That's when Wolf volunteered his services, offering to play bass for the band for as long (or short) as they want.
"When we were recording this I wasn't expecting to be playing with them. But I'm like, 'Hey, I like your music, I might as well," Wolf said. "I like how aggressive and poppy it is at the same time. The thing I really like about the guys is they remind me of myself at that age."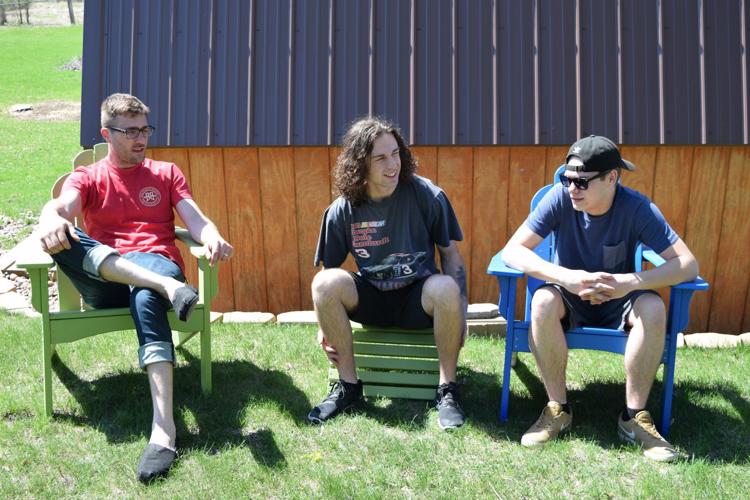 Zammek gets an experienced hand in Wolf. He used to play in a band called Hang 'em High, and now plays bass in a countryish band called Rivertown Revival and performs occasional solo acoustic shows under the name Misgenre Mixtape.
Wolf is pumped about playing with the band for its album-release show. "This will be the first time for me to get up and get rowdy with them," Wolf said. "I'm excited to get up there and jump around a bit."
Wolf's zeal fits right in with Erickson's philosophy about playing in a rock band. "People just want to see you having fun. If they see you having fun, then they have fun," Erickson said.
Some of the songs on "Doing Swell" have been around for a few years. From Erickson's perspective, they all have something in common. "They're all about lust for something," he said.
Thanks to his parents, Mark and Annora, Erickson got a solid appreciation for rock. One of his earliest memories is sitting on the living room floor and listening to Blink 182, and when he was barely able to talk he kept saying to his parents, "guitar hat." Eventually, they figured out that was his way of asking them to play Stevie Ray Vaughn.
Erickson also is a huge fan of AC/DC and the band's home country. "Australia is stuck in the '90s, and I want to go so bad," Erickson said with a laugh. "I don't know how, but we do have three likes on Facebook from Perth."
One of Erickson's favorite compliments about the band came when someone said Zammek sounded like Green Day on "Kerplunk," the band's last indie album, but he also appreciated it when someone said the band sounded like a mix of early Dead Kennedys and Sugar Ray.
On "Doing Swell," Wolf captured the live energy and swagger of the band, and having that document in hand has Erickson practically giddy. "It's starting to feel real, and I like that," he said. "It kind of puts a pep in my step knowing that I've got an album out there."