Despite population decline, Houston County predicts bright future
Haley Vanderohe has loved growing up in a small town. But that won't keep her here after she heads off to college.
The Caledonia High School graduate plans to attend North Dakota State University in Fargo this fall to study fashion and business. After finishing her studies, she said she'll likely look for a bigger city in which to build a career, perhaps Chicago.
Vanderohe isn't alone. According to Minnesota State Demographic Center data, Houston County saw a 4.8 percent decline in population from 2000 to 2015. More than 1,400 people left the county during those years.
The smallest towns in the county have been the hardest hit, with Brownsville and Hokah reporting about a 10 percent drop in population. Rural Houston County has not been immune either, with Blackhammer Township reporting a 38 percent population loss and Houston Township a 17 percent population loss.
Things may be stabilizing, as 2016 population estimates by the U.S. Census Bureau showed a small increase in the number of people in Houston County, but still more than 900 people fewer than at the turn of the century. Despite these challenges, the county's communities and residents remain optimistic, especially as millennials move home to share with their young children the small town values they grew up with.
"Living in a small town, you just kind of know everybody," Winona State University student Cassidy Bauer said during an evening shift at the Wired Rooster in her hometown of Caledonia. "Everyone is here to help each other out."
Declining populations
The data from the demographic center was featured in a January report, Greater Minnesota Refined & Revisited, that focused on the trends and issues facing Minnesota counties. The report placed Minnesota counties into four categories from entirely urban to entirely rural, with Houston County falling into the Urban/Town/Rural mix category due to its proximity to La Crosse.
According to the demographic center's analysis, Urban counties in Minnesota experienced almost 80 percent of the population growth during the 15 year period. Urban counties and many counties in the Urban/town/rural category saw population growth and net migration into their counties between 2000 and 2010 according to the report, with that trend continuing between 2010 and 2015 for strictly urban counties.
According to the data, Houston County lost 698 people between 2000 and 2010, mainly due to a loss of 1,039 migrants outpacing the natural population growth in the county. Migration out of the county was slower between 2010 and 2015, with 386 people leaving the county compared with a 113 person natural growth in the county, or the number of births minus the number of deaths.
Neighboring Fillmore County lost about 1.4 percent of its population over the same time period while Winona County saw a growth of 1.8 percent. Olmsted County, the largest metro county in Southeast Minnesota saw its population grow more than 20 percent over the 15-year period.
Houston County
| Geography Name | Population | Households | Population Change | Households Change | % Change Pop. |
| --- | --- | --- | --- | --- | --- |
| Black Hammer township | 235 | 107 | -91 | -4 | -38.72% |
| La Crescent township | 1177 | 512 | -310 | -6 | -26.34% |
| Crooked Creek township | 273 | 109 | -50 | -6 | -18.32% |
| Houston township | 373 | 153 | -65 | -9 | -17.43% |
| Hokah township | 475 | 189 | -70 | 0 | -14.74% |
| Wilmington township | 414 | 155 | -58 | -14 | -14.01% |
| Sheldon township | 254 | 110 | -35 | 1 | -13.78% |
| Yucatan township | 315 | 142 | -36 | 9 | -11.43% |
| Mound Prairie township | 599 | 243 | -62 | 15 | -10.35% |
| Spring Grove township | 383 | 152 | -39 | -4 | -10.18% |
| Brownsville city | 470 | 220 | -47 | 4 | -10.00% |
| Hokah city | 560 | 271 | -54 | 0 | -9.64% |
| Winnebago township | 239 | 91 | -18 | -3 | -7.53% |
| Mayville township | 399 | 149 | -28 | 15 | -7.02% |
| Houston city | 964 | 418 | -56 | -16 | -5.81% |
| Caledonia city | 2823 | 1245 | -142 | 22 | -5.03% |
| Union township | 375 | 135 | -10 | 1 | -2.67% |
| Brownsville township | 454 | 186 | -8 | 21 | -1.76% |
| Spring Grove city | 1309 | 603 | 5 | 22 | 0.38% |
| Jefferson township | 131 | 52 | 2 | 6 | 1.53% |
| Caledonia township | 635 | 223 | 10 | 29 | 1.57% |
| Eitzen city | 237 | 111 | 8 | 3 | 3.38% |
| La Crescent city (part) | 5100 | 2153 | 177 | 213 | 3.47% |
| Money Creek township | 594 | 232 | 47 | 29 | 7.91% |
| Total | 18788 | 7961 | -930 | 328 | -4.95% |
This decline was spread out over much of the county, but there were some cities and townships that bucked the trend. La Crescent added 177 people since 2000, an increase of nearly 4 percent, and Money Creek Township added 47 people, an 8 percent increase.
The cities of Caledonia, the county seat, and Houston each saw about a 5 percent drop in population — a loss of about 200 people all together. Despite the population loss, the number of households in the county actually increased by 328, as family size shrank from about 2.5 people per household to 2.36.
A number of national trends contributed to these changes. Like many rural counties, Houston County has seen the size of its farms increase — by six percent between 2007 and 2012, according to the most recent USDA Census of Agriculture. And the number of farmers declined by 12 percent during the same period as operations consolidated.
Urbanization is also a factor, as the rate people migrate to larger cities nationwide has increased. There are also economic factors to consider, Caledonia city administrator Adam Swann said, with the stock market crash in 2000 and the 2008 crash of the housing bubble putting economic pressures on families to look for better opportunities.
"More than 1,000 other counties in the U.S. experienced a decrease in population during this time," he said. "Hence, the decline in Houston County's population from 2000 to 2010 was not abnormal or indicative of an underlying problem."
Shrinking schools
With smaller households and fewer people, school districts in the county have also taken a hit. According to Minnesota Department of Education enrollment numbers, three of the four school districts in the county saw between a 20 percent and 34 percent decline in enrollment from 2000 to this past school year.
Caledonia saw the biggest decline in enrollment, dropping more than 33 percent from 1,030 students in 2000 to 680 in 2016, followed by La Crescent, which saw a 30 percent enrollment drop. The only district to see growth was Houston, which added the Minnesota Virtual Academy in 2002 and educates about 1,700 students each year through the online program.
Houston had about 480 students attend in 2000, which has declined by about 5 percent to 420 in-district students this past year. But combined with the online students, Houston has seen its enrollment numbers more than triple from an era where the district was in statutory operating debt and administrators were looking for a way to stop the bleeding.
Superintendent Krin Abraham was the director of curriculum at the time the virtual academy came into being. That first year, the school had 40 elementary-age students, and the program grew each year until peaking at around 2,000 students in 2013.
The extra enrollment has been a boon for both students attending the virtual academy and the bricks-and-mortar schools, as Houston is out of debt and able to offer improved facilities and curriculum to its students, such as online Spanish, German and Italian language programs.
"It is pretty unique for a small school district like ours to have that wealth of variety," she said. "It lets students achieve their potential in ways they couldn't without the academy."
Things were rockier for Caledonia, Superintendent Ben Barton said, as the district reeled from budget cuts due to the decline in students. Programs and course offerings were cut to the bone, he said.
Things started to stabilize in 2013, Barton's second year at the helm of the district. The district has been adding a handful of students in the past couple of years, he said, and community pride in the district, which was the 2015 state football champion for its division, has meant a lot for rebuilding morale.
"Our school serves as the heartbeat of the community," Barton said. "There is a lot of pride in the school."
A new generation of families, innovators and entrepreneurs
Despite all the heat they take from Baby Boomers, it may be the millennial generation that is having the biggest positive impact on Houston County. Many in this generation, which is broadly defined as those born between 1980 and the end of the '90s, are moving back home to raise families, start businesses and get involved in their communities.
Alisha Solum, 33, came back to Spring Grove in 2009 after moving away from home as a high school graduate. She said it was nice to be back near family and that her aunt and uncle were also thinking of moving to Spring Grove.
Communities in the county have focused on providing amenities to keep people from leaving, she said, with Spring Grove, a city with a population of 1,309 people, boasting vibrant downtown businesses, restaurants, a movie theater and an aquatic center.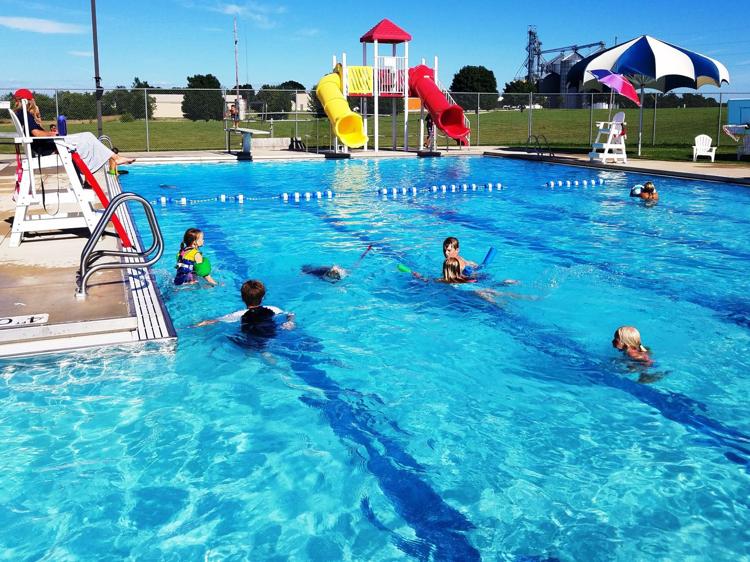 "People here really pull together," she said. "Whenever there is a need, people fundraise and give back to the community."
Courtney Bergey, a business development specialist and the part-time Houston County Economic Development Authority director, has been focusing on these amenity needs in her work with communities in the county. A millennial herself, she said the best way to attract and retain young and skilled workers is to make the county a place people want to work, live and recreate.
This work includes making communities more pedestrian and bike friendly as well as promoting the arts through programs such as a citizen artist in residency program sponsored by the Houston Arts Resource Council. All of these things help communities cast a wide net in terms of bringing new people and helping keep young adults here after graduation.
"If we can attract people and tell our story, they will want to put down roots and raise families here," she said.
Amanda Ninneman, 34, is the co-owner of the Wired Rooster in Caledonia, which she opened in 2015 with her husband, Jeremiah, 39. The couple has two kids, Aevyn, 7, and Levi, who is almost 2.
Amanda grew up in rural Houston County on her family's farm before leaving after high school to attend Luther College in Decorah, Iowa. She moved to to New York City for a while before living in Twin Cities. When she and Jeremiah had kids, they decided they wanted to get closer to a quieter life and their dream of a little house in the country and moved to Caledonia in 2014.
"When I left, I thought I was leaving for good," she said. "I feel like I am part of a large group of people who have decided to come back to raise my family."
Having family close by is a great support network for starting a business and raising a family, she said. When the two decided to move here, they came up with a business plan for the Wired Rooster, which serves coffee, paninis and soups as well as wine and beer and hosts trivia nights to bring together members of the community.
As business owners, Amanda said she and Jeremiah pay a lot of attention to the strength of Caledonia's downtown. It is not thriving, she said, and the two are working with local organizations such as the chamber and the Caledonia EDA to help build things up and promote it.
One of the reasons they opened up the shop was to bring something to the community and the downtown. The Wired Rooster gives people a place to hang out and a community space to get out of their cars and socialize.
"We hope to inspire other people to do their own business plans," she said. "We're hopeful. There is a lot of potential here. We hope to spark that interest."
Data on population and household change in Houston County municipalities between 2000 and 2015. Data from the Minnesota State Demographics office.
Geography Name Population Households Population Change Households Change % Change Pop.
Black Hammer township 235 107 -91 -4 -38.72%
La Crescent township 1177 512 -310 -6 -26.34%
Crooked Creek township 273 109 -50 -6 -18.32%
Houston township 373 153 -65 -9 -17.43%
Hokah township 475 189 -70 0 -14.74%
Wilmington township 414 155 -58 -14 -14.01%
Sheldon township 254 110 -35 1 -13.78%
Yucatan township 315 142 -36 9 -11.43%
Mound Prairie township 599 243 -62 15 -10.35%
Spring Grove township 383 152 -39 -4 -10.18%
Brownsville city 470 220 -47 4 -10.00%
Hokah city 560 271 -54 0 -9.64%
Winnebago township 239 91 -18 -3 -7.53%
Mayville township 399 149 -28 15 -7.02%
Houston city 964 418 -56 -16 -5.81%
Caledonia city 2823 1245 -142 22 -5.03%
Union township 375 135 -10 1 -2.67%
Brownsville township 454 186 -8 21 -1.76%
Spring Grove city 1309 603 5 22 0.38%
Jefferson township 131 52 2 6 1.53%
Caledonia township 635 223 10 29 1.57%
Eitzen city 237 111 8 3 3.38%
La Crescent city (part) 5100 2153 177 213 3.47%
Money Creek township 594 232 47 29 7.91%
Total 18788 7961 -930 328 -4.95%
98c017e8-7962-11e7-b726-00163ec2aa77