The Apple Capital of Minnesota has worked hard to maintain its most famous export.
That work has encouraged once small apple orchardists to wear many hats.
"We've been taking out older varieties for newer varieties to control production quality and market place presence," La Crescent's Van Lin Orchards co-owner Rick Van Lin said. "We have completely taken out McIntosh, Beacon and we have a minimal amount of Cortlands."
Van Lin Orchards, run by brothers Rick and Dan Van Lin along with Dan's wife Tina, has been around since 1959—originally run by Frank and Helen Van Lin. The orchard is 45-acres.
The orchard — which distributes most of its crops to the Twin Cities but also has a foothold in local markets in La Crescent — has increased production of new varieties like Pazzazz, RiverBelle, Sweet Tango and First Kiss.
About five years ago the orchard also started a retail portion of its business.
"By adding venues, points of interest and activities we hoped that would make people want to come out to the orchard without creating a too commercialized atmosphere," Rick said.
Those points of interest include wagon rides, a corn maze and orchard tours.
"We're trying to get as much out of our efforts as we can," Rick said.
Apples first arrived in La Crescent thanks to orchardist John S. Harris who began his Minnesota apple tree journey in 1857. His goal — which is now La Crescent's reality — was to plant trees strong enough to withstand Minnesota winters.
Once the success of Minnesota's apple trees became apparent, 40 small apple orchards popped up around La Crescent. Today, there are less than 12 orchards in the area but they are larger in size.
Another La Crescent apple orchard, Hoch Orchards has 45-acres of diverse fruit production.
The orchard — which has been run by Harry and Jackie Hoch for the last 20 years — has gone through a transition period for the last couple decades that has included harvesting other fruits like raspberries, strawberries, blackberries, blueberries, plums and apricots. The fruit production has lead the Hochs to add a hard cider and winery aspect to their business.
"It's a choice about the way to grow food. Our orchard mimics the natural system," said Hoch Orchard co-owner Jackie Hoch. "We have been fully-certified organic for about nine years…The concept of organic harvesting includes a diversification of crops. We want to have fruit year round."
Along with the diversified fruits, the Hochs regularly update an informative website.
"A majority of our distribution are food co-operations in the Twin Cities," Jackie said. "It's important to have an online presence that can tell our story and build a connection with our consumers. Our orchard is not the easiest to find. This way they can know what we are growing at the moment."
One of La Crescent's most visible ties to the apple industry has been its apple stands.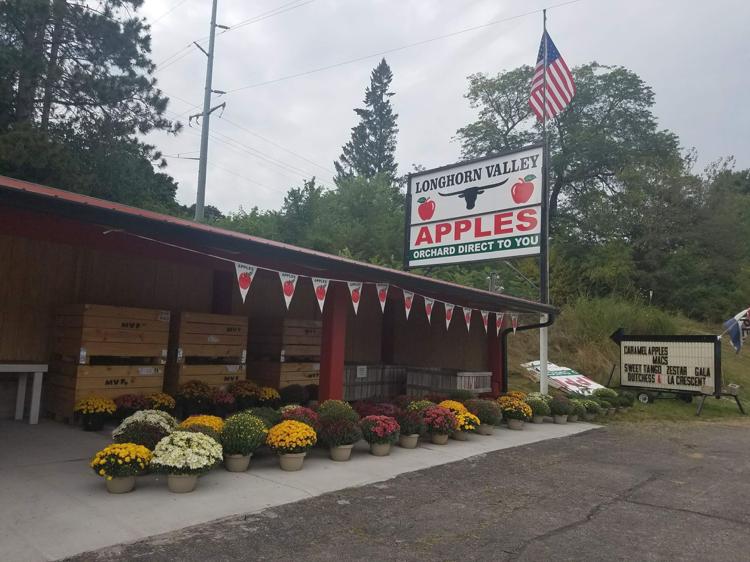 The Long Horn Valley Apple Stand — originally known as Leidel's Apple Stand— has been around since 1917 and now features more than apples.
Long Horn Valley Greenhouse and Co. owners Eugene and Lori Bauer has been running the stand for the last two years.
"We didn't really want to get involved in the apple industry but we have a food trailer to sell the beef from our farm. We rented the property with the intention of having the food truck on its location," Lori said. "We did have an orchard 20 years ago but it was bulldozed."
Although beef is a major priority for the Bauers, apples are still available for purchase at the 100-year-old apple stand.
"We buy our apples locally," she said. "About 80 percent come from Old Hickory Orchard in La Crescent," Lori said. "You meet a lot of interesting people. People who are on vacations or traveling through the area. I had a lady stop by just the other day who said that her grandmother used to come down to the stand from Rushford every year to buy her apples."
Although the established apple orchardists have maintained large decades old apple orchards, there is still room for a new generation of apple growers in La Crescent.
Kyle Johnson, a Twin Cities-transplant, has been managing the 12-acres organic Chicken Ridge Orchard for the last seven years.
"It's a unique situation," said Chicken Ridge Orchard owner Kyle Johnson. "The temperature fluctuation and geography creates a much more flavorful apple…I had never heard of the industry here. I just fell into it. I was impressed by my neighbors and the other growers' success."