A lot has changed since Riverfront was first formed 40 years ago, and to celebrate that growth, the organization is getting a new identity.
Riverfront CEO Mary Kessens announced the new Aptiv brand for the company during an event at the Black River Falls offices on Tuesday. The new brand will become official in December as the organization gets the word out about the name change.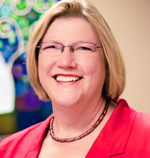 The Aptiv brand is a blend of the words aptitude, active, live and adaptable. Kessens said this symbolizes the organization's work to help its clients become more independent, learn new skills and improve their lives.
"The name change reflects how the organization has changed," she said. "We've become more collaborative. We work with people with disabilities to be more independent and active in their communities."
This change was a welcome one for the Black River Country Chamber of Commerce, which helped Riverfront with the ribbon cutting in Black River Falls on Tuesday.
"I think it is a wonderful change. I think it will really help people realize that they are not just a riverfront type of business. It will help explain what they do a little better," Black River Country Chamber of Commerce interim executive director Amanda Gunn said.
Riverfront was formed in 1976 as a day service for adults with disabilities. Originally located along the Mississippi River, the company has changed locations and expanded into surrounding communities across western Wisconsin including Black River Falls.
The ages of people served has also been expanded: Riverfront serves children as young as 3. Last year, Riverfront provided more than 6,300 educational experiences, helped more than 150 individuals with job placement and averaged 425 hours of support to people with disabilities through job coaching and internships.
Kessens said the old name has come into conflict with other businesses in the communities her organization serves. It no longer has its riverfront location, and two years ago work began on a new name that would better describe what the nonprofit does.
The organization is changing its menu of services. The new brand has been tested in some of Riverfront's communities, Kessens said, and the response has been positive. Between now and December, the goal is to help get the new name out so people are not surprised when it officially takes effect.
"Changing the signs and the logos are only a small part of the new brand," she said. "The challenge was to find a name that adequately reflected the organization and its work."