Indian Meal Kits
When we're far from home, and from Mom's cooking, we miss the dishes that used to be served at the family table. And when we meet a workmate or neighbors who hails from another country or culture, we take an interest in their own customs and traditional foods. In either situation, we are looking for common ground.
For Puja Mehta, she is establishing common ground in La Crosse, for her family and for all of us. She plans, assembles and sells Indian Meal Kits, which are what you might think: ingredients for a meal of Indian cuisine, assembled with great care for quality and authentic taste, to be prepared by you in your kitchen. Puja offers nine different meals, in a rotation, each one for two weeks. She adds a new recipe to her rotation every three months.
In India, dietary staples vary widely depending on which foods, herbs and spices are available in a given region. Its rich culinary history is heavily influenced by religious doctrine, as well as by conquering leaders and international trade, both of which brought new foods to the country.
Upwards of forty percent of India's population is vegetarian, for religious or other reasons; many Indian dishes, therefore, are vegetarian. For meat dishes, lamb and chicken are most popular.
India cuisine is flavorful! Spices common to Indian cooking include pepper, cardamom, chili, ginger, turmeric, coriander, cumin, celery, fennel, fenugreek, garlic, tamarind, clove and nutmeg. Historically, India was the destination sought out by European spice traders; today, India supplies approximately half of our global spice trade.
Puja sources all the spices in her meal kits, taking care to select them for authentic taste. For example, ginger, depending upon where it is farmed in the world, varies in taste; she may need to travel to Chicago or Rochester, Minn., to acquire Indian ginger, which lends authentic taste to her meals.It is common to temper (lightly fry) whole spices for Indian cuisine. This enhances the flavor profile and aroma of the spice and/or combination of spices. Tempering can be done in oil, but better still in ghee (clarified butter), as this would be the preferred method in India.
Introduced by the British in the 1800s, teas are very popular in India today. At the Friday Cameron Park Farmers Market, Puja has prepared teas available, as well as flavored lassi (yogurt beverage) and other beverages she knew as a girl in India. She prepares beverage, chutney, dessert and meal kits in a commercial kitchen in La Crosse. You will find her chai and kits at People's Food Coop, Fridays at Cameron Park and otherwise by arrangement.
SunRay Farmstead
Locally raised farmstead beef is the main product for sale from MYM, Mindoro, WI. Paul and Julie Larson sell SunRay Farmstead burger and beef cuts, goat meat, and eggs on Fridays at the Cameron Park Farmers Market.
SunRay beef animals are locally raised at the Larsons' farm and locally processed (and so are their goats). Their beef is meat from their Jersey cattle, fed and finished on forage-based rations, for tasty and tender lean burger, steaks and roasts. No antibiotics nor hormones are fed or injected to enhance animal productivity.
One of Larsons' goals selling meat directly to individuals and schools, is to capture dollars otherwise paid to distributors and retailers (mark-up). They offer a win-win relationship to their customers: a lower retail price for the customer and a higher profit for their farm.
Lower price doesn't mean lower quality. SunRay meats are top quality, consistent quality. No fillers or additives are packaged with the meat at processing. Packaging is plastic wrap and then waxed butcher paper, protecting the meat from light, spoilage and freezer burn.Supermarket customers understandably spend time choosing packages of refrigerated meat, as it is one of the more expensive items they'll add to their carts. "Shelf life of fresh meat at the store is really rather short," says Paul. "It's an issue for the grocer as well as the consumer." Additives to control bacterial growth and meat color are approved by the USDA, in response to huge American demands for meat in open display coolers and at all hours convenient for consumers.
Paul continues, "Our processor simply double wraps our meat, freezes it, and we store it frozen. Our customers can purchase it weeks and months ahead of time, store it in their own freezers, use it at their own convenience, and depend on its high quality once thawed."Another goal the Larsons have is to share their story with their customers. "We encourage consumers to know their farmer ... in other words, to know where and how their food is produced. And we have so enjoyed getting to know our customers," says Julie.
Paul and Julie welcome customers to their farm store, as well as their booth at the farmers market. "Whenever we get the chance," they agree, "we answer questions and even show our customers around our farm. Some want to see the cows being milked, some want to feed a calf, some enjoy reminiscing. Their satisfaction with our methods and products is positive energy which radiates to our entire community and economy."
Find Paul on Fridays at Cameron Park. For hours and directions to the farm store, visit www.sunraydairy.com.
Elements by Lori Ella
Lori Schipper has been enjoying jewelry making for a dozen years. She says she got started when she took apart one her necklaces to rearrange the beads, and from there, she was hooked. She bought beads here and there, and discovered she had a knack for design and enjoyed working with colors.
As she designed more jewelry and acquired quite an inventory of tools, supplies and finished jewelry, Lori decided to take her jewelry pieces to the Cameron Park Farmers Market. She's been a vendor there for four years. She also sells some jewelry by consignment and by commission.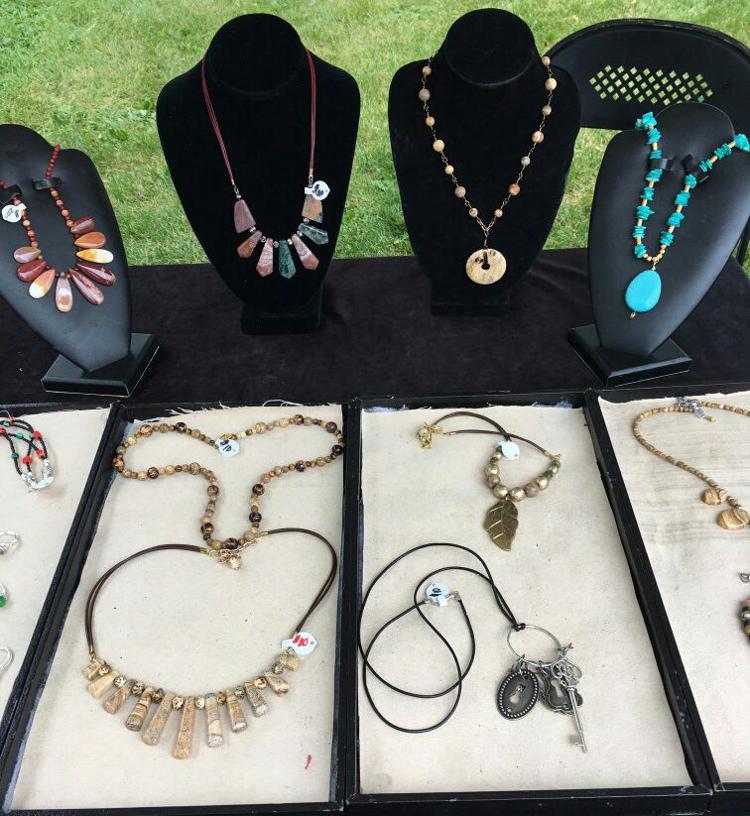 Lori says part of the reason she markets at Cameron Park on Fridays is that she enjoys the crowd. She commented that the market is so family-friendly, and that she's seen cats riding in baby strollers and a cockatoo perched on its owner's shoulder. She's right — Cameron Park's market draws a relaxed crowd, and does offer a wide variety of products for sale by vendors who enjoy meeting their customers and making friends with the other vendors there.So, Lori's colorful necklaces, earrings, bracelets and rings fit right in at the market. She makes pieces which are bold, and many would complement more than one outfit. She chooses components which are moderately priced, so the finished pieces are affordable.
Lori is enjoying recent retirement, adding activities she enjoys to her days which used to be busy with work. She loves to read and ride her bicycle, and is practicing piano now that she's taking piano lessons. Life is good.