It is getting harder and harder for Will Petska to find all the skilled diesel technicians his company needs.
Tractor Central's human resources and safety manager was one of 16 employers participating in a diesel and automotive career fair at Western Technical College's Truck and Heavy Equipment Facility on Thursday. His company, the John Deere equipment dealer in Westby and West Salem, hires between 10 and 20 technicians each year, and the supply of qualified graduates is having a hard time keeping up with industry demand.
"Service techs are one of the toughest positions to fill," Petska said. "This career fair is a way to come in and get in contact with the right people."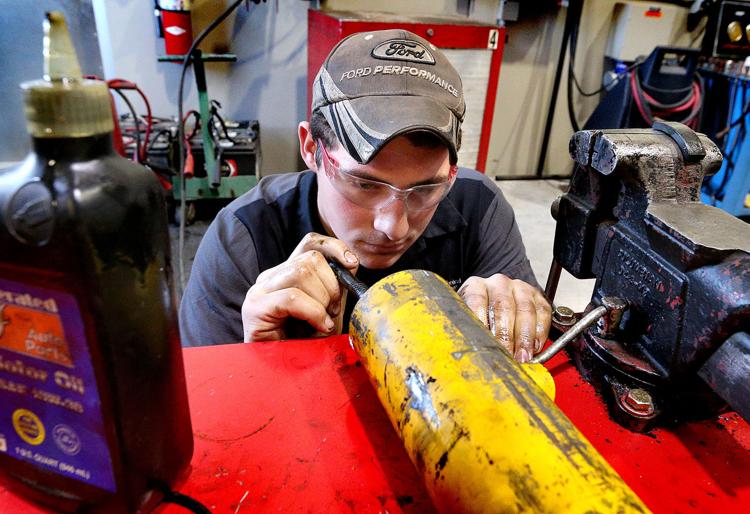 Tractor Central wasn't the only employer hoping to make inroads with Western students. Other participating companies were J.F. Brennan, River States Truck and Trailer, and U.S. Steel.
Western has offered a diesel and heavy equipment program for more than 45 years, instructor Chad Hofslien said. The program is two semesters long, and through 55 credits, students learn about electronics, electrical systems, drive trains, engine repair and heavy equipment repair.
Those who complete the coursework will have a technical diploma as a diesel technician, and there is a one-year option that can lead to careers as an assistant diesel tech. At capacity, the program can handle 32 new students each year, and graduates can earn more than $45,000 after graduating.
The field is becoming a lot more technical, as computers and electronics replace the older, simpler mechanical systems in diesel vehicles. There is something for those who want to get their hand dirty, Hofslien said, but also for those who like working with technical systems.
Hofslien said graduates' options range from repairing large construction or agricultural equipment to working on trucks or even diesel engines in boats and ships. And with Baby Boomers retiring, the need for skilled technicians outstrips the state's ability to train new workers, resulting in a spike in demand.
"Right now, employers can't get enough qualified techs," he said. "We just can't graduate enough people."
Kala Halverson was one of the first-year students chatting up employers at the career fair. She was looking for a job to complement her classroom studies and earn some extra money and was asking the employers about what kinds of hours and positions were available.
"I love being in the shop," she said. "The classroom can be a bore sometimes."
Halverson, originally from Melrose, Wis., said her older brother Clay sparked her interest in being a mechanic when they restored a truck together. She thought the diesel program would be an even bigger and better experience, and said she loved being able to play with and learn about the big toys.
"I love the field," she said. "I look forward to coming to school every Monday."