Mike Tighe: UW-La Crosse students seek romantic tales of old
Lori Reichel is lookin' for love in all the old places,
Lookin' for romance in weathered faces.
Searchin' their eyes, lookin' for traces
Of advice to give to younger generations.
OK, I apologize to Johnny Lee for tweaking havoc with his 1980 hit, "Lookin' for Love," which became the signature tune for "Urban Cowboy."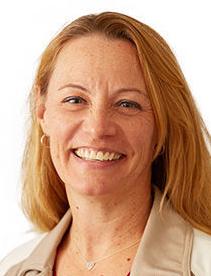 I guess I owe Reichel an apology, too, because she isn't really looking for romance. She met and married the love of her life in La Crosse, where she has been an assistant professor of health education and health promotion for five years at the University of Wisconsin-La Crosse.
Reichel's quest for romance is anchored in a project she has assigned to the 22 students in her Healthy Aspects of Aging class. The undertaking, titled "Perspectives on Romantic Relationships: Giving Advice to the 'Netflix and Chill' Generation," includes finding people from what has become known as the "silent generation" who are willing to be interviewed about their perspectives on romantic relationships.
Technically, members of the silent generation are those born between 1925 and 1945, but Reichel's parameters are people born between 1925 and 1965.
Reichel, who taught health education in K-12 schools in New York for 20-plus years before going to Texas A&M University in College Station to earn a doctorate in health education, bases the project on the belief that the '25-'65 generation harbors a treasure trove of information and experience that can help the younger generations — if only they would break their silence.
"They are children of an era where children were to be seen and not heard. They also watched what they were saying because they did not want to be seen as a Communist," she said.
"They have so much to say," Reichel said, adding, "My personal opinion is that, in the United States, we aren't as respectful of people as they age. … This is to teach students that older people have a lot to say."
Reichel, whose background includes sexual health promotion, said it's time to acknowledge that even grandparents can contribute to the discussion of sexuality.
"Why do we have this barrier about sex? We all are sexual," she said.
At the same time, she agreed with my observation that young folks don't even want to think about their parents — let alone their grandparents — engaging in sex, even though, well, that's how they got here.
"This is more about romance, though," Reichel said. "It's really to provide insider perspective on romantic relationships — how relationships developed before cellphones, without use of texting and apps."
Ideally, the project also will mine ideas on the "social aspects as we age gracefully. I want to age gracefully, to ride the ticket I bought," said Reichel, who declined to reveal her own time on earth, other than to mumble she is "middle-aged."
The students seek volunteers willing to be interviewed for 60 to 90 minutes about their perspectives for how to have a successful romantic relationship.
They also are open to chatting with people who have crashed and burned with romance, Reichel said, adding, "They don't have to be in successful relationships. Sometimes, people who have been in lousy romantic relationships can have a lot to say."
Personally, and having seen such relationships, as Joni Mitchell sings, from both sides now, I'm interested in what these students find out from my peers. I probably would learn more from them than recalling my own trail, which often hewed more to the sheet music of Judy Collins' classic, sending in the clown.
Two main purposes of the research are to determine:
"What can we learn from older generations about having healthy and strong romantic relationships?"
"How well do the recommended educational standards for healthy relationships align with what people recommend from personal experience?"
The students aren't seeking kiss-and-tell exposes but rather, advice from the silent generation on how to develop relationships without merely swiping left or right.
As a postscript, I'll note that Reichel deftly defanged the trademarked reportorial trick I use when I'm trying to get a woman's age for a story.
"How much do you weigh?" I'll ask.
It's fun to watch the reaction, which ranges from A to V — annoyance to vexation — until I tell them I'm just joshin' and all I need to know is their age. So surprised are they, and relieved, that they usually cough up that info.
Reichel wasn't as pliable, though, demanding to know why I'd want to know either number. Even when I explained that the age factoid is relevant to the story, since one of the main factors is age.
The most I could get out of her, though, was that she's "middle-aged."
Imagine my surprise, then, when she sent me an email later that day confessing her weight, but still left me in the dark about her age.
Which leaves me at an advantage because, even though I know her weight, I can't tell YOU, or she'd have to kill me.
I threatened to call her a middle-aged middleweight, which she didn't seem to mind, but I checked for boxing facts, ma'am, and came to the conclusion that the safest description — for me — is middle-aged lightweight.
I could figure out her age, estimating how long she was in schools getting degrees, where she taught for how long and similar deets, but then she WOULD kill me — knocking me from the silent generation clear into the lost generation.