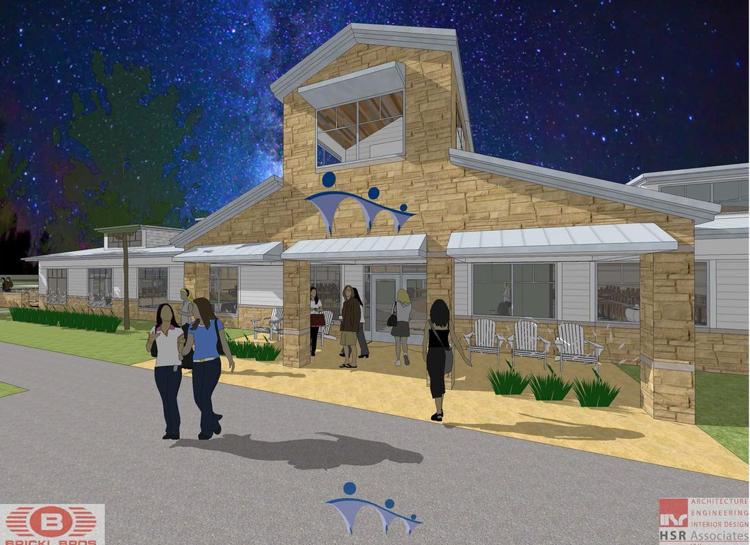 The Coulee Council on Addictions got an early gift Wednesday to help celebrate its 50th anniversary next year, when a new facility will open on land it will lease from Mayo Clinic Health System-Franciscan Healthcare.
Construction on the $2.9-million, 13,000-square-foot Coulee Recovery Center on Ferry Street between Ninth and 10th streets in La Crosse is expected to begin this fall, with completion by spring, Coulee Council and Mayo-Franciscan officials said during a press conference.
Laughter and applause from council officials and staffers, clients and Mayo-Franciscan officials punctuated the relatively raucous gathering as they celebrated the potential for the new center — to be paid for largely through fundraising.

"I've got to say we live in one of the most caring communities in the country," said an ebullient council board President Dan Radtke.
The effort began three years ago, when the board set five goals, including getting the agency's fiscal house in order, informing the community about what it does and expanding programs, Radtke said.
"We're bringing the drop-in center out of the basement and into the light," he said, crediting HSR Associates and Brickl Brothers with putting skin on the bones of the council's plans.
"The discussion didn't revolve around money, but the impact on the community," Radtke said.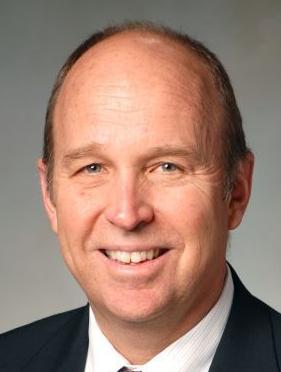 "We can't wait to put a shovel in the ground," said Radtke, who remarked with giddy enthusiasm as he and Mayo-Franciscan executive Joe Kruse signed the lease, "This is sooooooo cool."
The Coulee Council on Addictions, which provides confidential help to individuals and families affected by addiction and leads the community in prevention, education and awareness, has helped thousands of people reach and maintain sobriety for almost five decades.
The new center will replace the 6,000-square-foot house at 921 West Ave. across the street from Mayo-Franciscan, where the council has been located since 1979, completing the biggest thing on Coulee Council's bucket list because increasingly dilapidated conditions often hobbled council activities.
Coulee Council Executive Director Cheryl Hancock expressed gratitude for Mayo-Franciscan's agreement to a long-term lease for the land on its campus after the council expressed the need and criteria for such a site.
"It is a witness to their understanding of the needs of the recovery community and willingness to be a key part of the solution" to accommodate criteria that staffers, clients and visitors had outlined, Hancock said. "We appreciate their generosity and look forward to additional collaborations with them."
The pact is eminently practical for a health-care institution, said Kruse, regional administration chairman for Mayo-Franciscan.
"Our heritage with Mayo and the Franciscan sisters always has been dedicated to the whole person — mind, body and spirit," he said. "And addiction affects mind, body and spirit."
Great Rivers United Way's most recent Compass Community Needs Assessment also underscored the need to combat addiction, Kruse said.
Mayo-Franciscan "is focused on health care and meeting the needs of the community, and we know how addiction affects the health of the community," Kruse said.
"As research helps us understand more and more about addiction recovery, organizations like Coulee Council on Addictions will be even more important to communities such as ours in the coming years," he said. "This unique collaboration will provide timely and vital resources for people who are already working for a better future."
The new recovery center will feature a private waiting area for counseling services, flexible multipurpose rooms for education and support group meetings, a kitchen that will outshine the current facility's bare-bones kitchen, a resource center and library, a drop-in center, a meditation and contemplation area, a neighborhood food pantry and office space for other nonprofits to meet with and help patrons.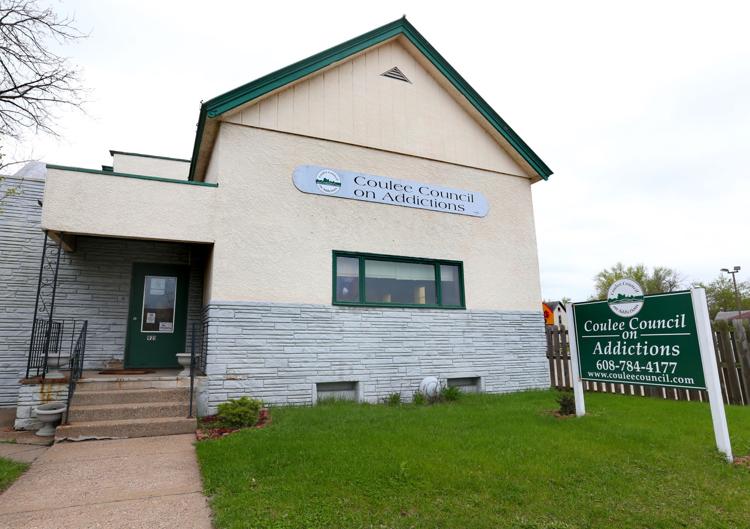 That is in sharp contrast to the house — an often-depressing structure despite valiant attempts to make it more inviting. It has a large meeting room and rooms converted into offices on the first floor, a tiny kitchen, a dining room/gathering space, a recreation area down a staircase that defies accessibility and negligible parking.
The Coulee Council board and officials recently launched a $2.9 million capital campaign to build the center, and the tally had reached $2.25 million by Wednesday morning, Hancock said.
"Seven hundred thousand is still a long way to go, but we're sure we'll be able to break ground in September," she said.
The new building's name, The Coulee Recovery Center, resulted in part from findings of University of Wisconsin-La Crosse marketing students the council enlisted to do research, develop a plan to negate any stigma attached to the organization and create a new brand.
"The funny thing is they came back and said, 'Your name has a stigma,'" Hancock said during a recent interview.
The organization began in 1968, when people concerned about alcohol abuse, including G. Heileman Brewing Co. President Roy Kumm, formed the West Central Council on Alcoholism. It eventually changed its name from the alcoholism council to acknowledge the increasing specter of addictive drugs.
The council offers meals several times a week and has outreach initiatives in four main areas: crisis and early intervention, recovery support services, education and prevention, and collaboration and advocacy.
Last year, it helped almost 700 people in crisis situations while responding to 491 crisis calls, both by phone and in person. It provided 186 assessments for alcohol and other drug abuse and facilitated more than a dozen teen intervention sessions.
The start of construction hinges on government approvals, including the La Crosse Common Council's vote set for Thursday on the Coulee Council's petition to rezone five vacant lots from 923 to 939 Ferry St. The zoning change is from multiple dwelling to public semi-public.