Police arrested an Onalaska man awaiting trial on 2016 charges with more than 12 grams of cocaine and nearly $15,000 cash at his home Tuesday.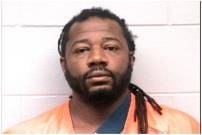 According to police reports, informants told police they could buy crack from a dealer known as "C" or "Cootie" — identified by police as 35-year-old Antjuano Green.
Green delivered 12.6 grams of crack for $700 in three separate transactions under police surveillance in late June and early July, according to reports.
Police surrounded Green's residence at 310 Troy St. where officers saw him grilling and apparently smoking inside a parked van with several other men, according to reports. When an officer pulled up behind the van and announced herself, Green took off running. A sheriff's deputy pursued with a police dog and eventually found him hiding under a pickup truck.
Green complained of shoulder pain and said he'd been shot in the legs, although officers determined he had fallen 4-6 feet off a retaining wall, according to the reports.
Officers found four bags each containing about 3 grams of cocaine in the pockets of his shorts, according to reports; inside the home they found a digital scale and $14,940 in cash. Police found a small amount of marijuana in the van and $1,474 on one of the other men.
Green faces potential charges of cocaine delivery, maintaining a drug trafficking place, felony bail jumping and resisting arrest.
Green was arrested in 2012 after police found 26.2 grams of cocaine in his car during a traffic stop. He pleaded guilty to possession with intent to deliver cocaine and was sentenced to three years probation with the possibility of eight years in prison if he violated. According to court records, a judge released him from that sentence a year later.
In October, Green was charged with conspiracy to delivery of more than 40 grams of cocaine and more than 50 grams of heroin as part of a nearly year-long investigation that netted 12 suspected dealers. He was released after posting a $7,500 cash bond and is scheduled to stand trial in August.
Judge Scott Horne on Tuesday imposed a $25,000 cash bond, agreeing to the request of Assistant District Attorney Noel Lawrence.
"He has at this point demonstrated he is not going to stop dealing cocaine when he is out in the community," Lawrence said.