A father on Thursday admitted that he neglected his 3-year-old daughter until her death in 2014.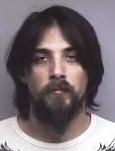 Dylan Bartsh, 33, now of Winona, Minn., pleaded no contest to party to the crime child neglect resulting in death, while a charge of physical abuse of a child as party to the crime was dismissed but will be considered by the judge during his March 21 sentencing in La Crosse County Circuit Court.
Audryna Bartsh, of Holmen, died at a hospital on Oct. 28, 2014, after a seizure three days earlier, when doctors discovered she was emaciated with bruises, scratches and scarring on her face and body, according to the criminal complaint.
Dane County Medical Examiner Vincent Tranchida ruled Audryna's death a homicide and during an autopsy discovered 22 scrapes and 28 bruises on the toddler's head, including a black eye, as well as a torn lip and bleeding in her brain.
Audryna had 70 scars on her neck consistent with an adult fingernail. Abrasions, bite marks and 17 injuries consistent with being struck with a wire hanger covered her body.
The child also was dehydrated and emaciated, with cracked lips, sunken ribs and protruding hipbones.
Audryna's sodium level reached 206 — the normal range is 136 to 146 — and Tranchida could not rule out she was forced to ingest table salt.
Circuit Judge Elliott Levine in August sentenced Bartsch's girlfriend at the time, Jaymie Rundle, to eight months on electronic monitoring after Bartsh emerged as the one responsible for his daughter's neglect and abuse.
Bartsh and Rundle, then of Holmen, took custody of his daughter in May 2013 from her biological mother.
Bartsh told investigators that his daughter's life was a "challenge" and that she stopped eating two weeks before her death, according to the complaint.
He also told police he had "checked out" of caring for Audryna and considered her Rundle's responsibility, according to testimony. He said he spanked the toddler after he noticed she was thin but did not seek medical care because he was frightened police would investigate her physical injuries.
The couple's other children reported Bartsh and Rundle forced Audryna into timeouts in the shower and spanked the child with a fly swatter, the complaint stated. Bartsh's mother, who wasn't allowed to visit her grandchild, told police Audryna was put on timeout for 10 hours.