A La Crosse man placed on probation in 2015 for a violent domestic assault faces new charges that accuse him of battering the same woman.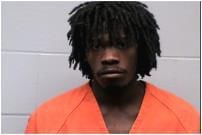 The victim told officers that Kyle Henry, 26, head-butted her during an argument mid-morning Sunday and refused to let her leave his house at 1420 Townsend St., according to La Crosse police reports.
He struck her in the face with his cellphone when she told him she was leaving, then said he would kill her "cuz (sic) I'm not going back to prison," reports stated.
She escaped to a gas station and was treated with stitches to her forehead. Police arrested Henry during a traffic stop early Tuesday for substantial battery, false imprisonment and disorderly conduct.
Henry is jailed without bond pending his first appearance Wednesday in La Crosse County Circuit Court.
In that case, she told police Henry dragged her to her living room, where he pinned her to a couch and strangled her, according to the complaint.
He then kicked her in the abdomen, causing heavy bleeding, the complaint stated. He also took her cellphone to prevent her from calling for help and struck her in the head with it seven times.
At the time of the assault, Henry was on probation for battery and prohibited from contacting the victim. His probation was revoked.
A test done at a hospital 11 days after the assault revealed she had lost the baby.
Prosecutors later dropped the homicide charge after Henry's attorney said doctors could not conclude the miscarriage was the result of abuse. The woman suffers from a blood disorder that can terminate a pregnancy.
Henry called the victim from jail and intimidated her into not cooperating, prosecutors said. The victim wouldn't testify, communicate with prosecutors or allow authorities access to her medical records.
He pleaded guilty to two battery charges and intimidation of a victim, all misdemeanor crimes.