A La Crosse man admitted Wednesday to striking a police officer with his car as he attempted to flee a December drug bust.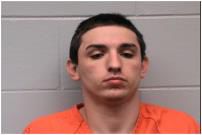 Police arrested Ritter, who had earlier sold $380 worth of methamphetamine to an informant, after he crashed into a snowbank. Investigators found another 36 grams of meth in his car.
Ritter, 25, pleaded guilty in La Crosse County Circuit Court to delivery of meth and to second-degree recklessly endangering safety as part of a plea deal that will likely result in prison time.
"I had my head down. I looked up and seen a man with a gun," Ritter told the court. "I put the car in drive and accelerated. Not knowing it was a police officer."
Another investigator said Mancuso's badge was hanging from his neck and that he yelled "police" multiple times before being struck.
Questioned further by Judge Todd Bjerke, Ritter said he was heading for the parking lot exit but acknowledged Mancuso was nearby.
"Close enough," Ritter said.
Under the terms of the plea agreement prosecutors will recommend a prison sentence, though it will be left to the judge to determine the length. The maximum possible sentence for both crimes is 15 years in prison with another 10 years on supervision.
Ritter, who was on supervision at the time of his arrest, was returned to prison earlier this month after his probation was revoked on a 2009 burglary conviction. He is scheduled to return to court for sentencing on Dec. 18.