As another winter approaches, so too do the finish lines for local road construction projects.
Two big projects are beginning to wrap up. The final, $16.3 million stage of the three-year, $70 million Interstate 90 reconstruction on La Crosse's North Side has a projected completion date of mid-November. The $5 million Holmen Drive reconstruction is expected to be finished a few weeks later.
This year's stage of the I-90 project reconstructed the I-90 interchange with Hwys. 53/35, as well as the portion of Rose Street from Livingston Street in La Crosse to the BNSF Railway tracks in Onalaska, and replaced the bridge deck of the highway over the rail tracks. Previous stages of the project rebuilt the I-90 roadway between French Island and Onalaska.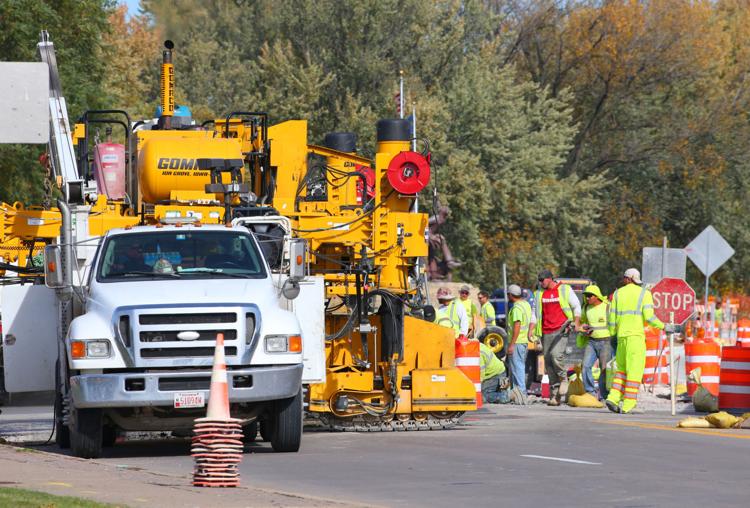 The project is also rebuilding George Street from Rose Street to Cunningham Street, as well as adding a new access road off George Street. With the new interchange, the project is adding an eagle viewing area between Rose Street and the Black River.
The Holmen Drive project began in April, with construction planned in six stages through the end of November. From Cole Court on the south end of the project to the McHugh Road intersection at the north end, the project has involved patching and replacing the roadways, as well as some intersections and traffic signals.
Raised medians, improved lighting and new sidewalks are also being installed along the length of the project. The work is nearing its final stage, according to the project's timeline, but lane closures are anticipated until the very end.
Wisconsin Department of Transportation Project Manager Rob Winterton said work was progressing this week to finish replacing the pavement on the southbound lanes of Rose Street. He said the goal was to begin curb and gutter work next week and finish with replacing the medians.
Traffic is currently down to one lane in each direction, with cars using the northbound lanes of Rose Street. After the paving work is completed, Winterton said, the plan is to switch to one lane of traffic on each side, with the lane restrictions allowing for work on curbs, gutters and medians.
Despite being slightly behind schedule, he said the forecast for good weather will help crews get caught up by the Nov. 17 deadline for the construction project. A few final touches will be added next spring, such as landscaping, and planting trees in the median and the eagle viewing area, as well as a celebration of the project's completion.
"It feels good," he said, to be nearing the end of the project. "It is good to see it completed and to finish something you have started."