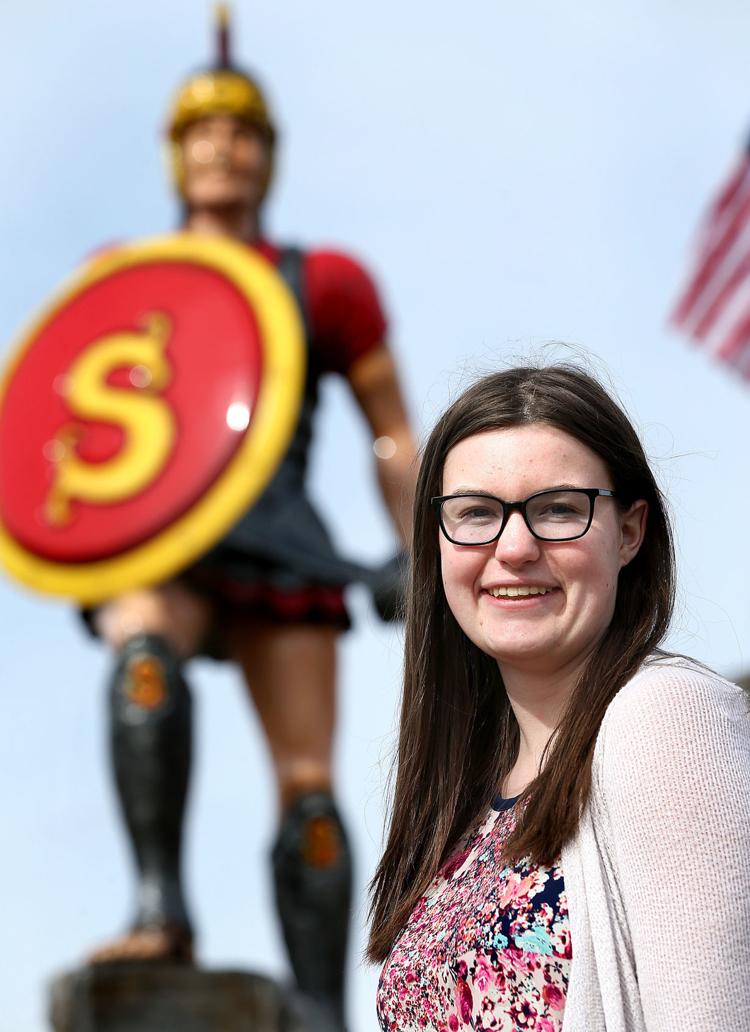 Imagine going about your day — work, class, driving, errands — when the world suddenly goes black and you fall. You can hear the people around you, but you can't move. Imagine that happening six times a day.
Marissa Fletcher, a senior at Sparta High School and her school's winner of the La Crosse Tribune Extra Effort Award, knows exactly what that is like.
In 2013, Marissa's mom, Julie, collapsed in the kitchen while Marissa, her brother and father were in the living room. Marissa's brother called 911, but paramedics could not revive Julie. Doctors were unable to determine the cause of her sudden death.
"She was my Girl Scout leader, my soccer coach, my brother's soccer coach, and she managed to do that while having a full-time job," Marissa said. "She was my main support system and she was just an amazing person."
During the next few years, life threw more changes at Marissa. Her brother, Logan, moved away to college, her father remarried and she acquired two new stepsiblings. Marissa, a quiet but driven student who is active in extracurriculars, had trouble coping with these major changes.
At the beginning of her sophomore year, Marissa began experiencing daily "seizure-like" episodes. During these attacks, Marissa could hear what was going on around her, but was essentially paralyzed. After numerous doctor's visits, she was diagnosed with conversion disorder, an illness brought on by psychological distress that can present as neurological symptoms (like non-epileptic seizure or paralysis).
On bad days, Marissa could be found more often in the nurse's office than the classroom. She had to take a break from gymnastics, a sport she loves. To keep on top of her grades, she talked to teachers outside of class and relied on a system of support from her friends and her counselor, Chrissy DeLong.
One of those systems of support was a group of students that happened to meet and become friends while in the student services office. The quotation, "Be a duck: Look calm on the surface but be paddling like mad underneath," resonated with the group and they began calling themselves the "duck" group.
The "ducks" would often have lunch together and even hold alumni lunches for graduated members and holiday celebrations. DeLong says several of the students in the group have lost a parent, making it a particularly understanding community. "It's the camaraderie and having the shared experience. Most students have no idea what it's like to lose someone and also for it to be a parent," she said.
DeLong is a big part of Marissa's support system as well as being a role model and mentor. When the stress got to be too much, Marissa knew she could always come to DeLong. Sometimes they would lie on the floor of Chrissy's office together, following guided meditations.
DeLong thinks Marissa's tendency to bottle up her emotions was a factor in her conversion disorder. She learned how to see when the pressure had built up.
"She has a look on her face that I know that if she doesn't talk to me or talk to somebody, I can see that that's just going to eat her alive," DeLong said.
Marissa was hesitant when Chrissy suggested meditation and yoga to help with the stress, but went along with it. Soon, she was doing it on her own. Using these newfound tools, Marissa was able to more effectively cope with her stress and recently marked 100 days without seizure.
But Marissa didn't stop once she found a coping mechanism that worked for her. Marissa taught yoga and meditation to other students to deal with stress, and she used that as the focus of her Girl Scout Gold Award project. After offering some yoga sessions at her own school, Marissa spent a morning at an elementary school teaching yoga to every student there. She was a hit.
"I still have kids come up to me when I'm on the bus and say, 'You're the one who did yoga with me.' I love kids coming up to me and saying 'that was cool.'"
She will receive the Gold Award, the highest achievement in the Girl Scouts, and an attached scholarship on April 7.
Marissa plans to attend Western Technical College for her general-education credits, go to the University of Wisconsin-La Crosse for a bachelor's in psychology, and graduate from Winona State University with a master's degree.
Her goal? To become a high school counselor, like Chrissy DeLong.
Marissa is DeLong's office worker and has seen the ups and downs of her job. "I'll joke around and say 'this is your internship,'" DeLong says.
"I think that this was a career that Marissa was always geared toward. To be in the helping profession in some way," she said.
Marissa says that she has always known that she wanted to have a career in a school setting. She recalls using her days off from school when she was young to help her mom, a special-education assistant, with the students.
Marissa's drive and determination are embodied in her advice to those dealing with traumatic or stressful situations. "Never give up. If I had given up I wouldn't be here today."