No one was injured but nearly every major roadway was damaged by thunderstorms that pounded the La Crosse region Wednesday night and Thursday morning with up to 7 inches of rain, winds of 60 mph and flash flooding.
Meanwhile authorities are bracing for more rain expected to fall Friday even as rivers continue to rise.
Emergency crews rescued at least three people from flooded homes, La Crosse County sheriff's Chief Deputy Jeff Wolf said.
"Some dangerous situations, but there are no injuries that we are aware of," he said.
Several residents on Kammel Coulee Road in Vernon County were rescued after they were trapped inside by the rising Mormon Creek. Emergency crews also rescued a driver stuck on a bridge in Bangor, La Crosse County Emergency Management Director Keith Butler said.
Every state and county highway but Interstate 90 and Hwy. 53 received at least some damage, from shoulder washouts to failed culverts, said La Crosse County Highway Commissioner Ron Chamberlain.
Four bridges were washed out and another four were under water Thursday. Every bridge will need to be inspected. 
Crews were repairing a washed-out portion of Breidel Coulee Road in the town of Shelby Thursday morning and clearing mud from Hwy. 33, which Chamberlain said sustained the most damage.
"We will do our level best to restore traffic wherever possible, whenever possible," Chamberlain said. 
Chamberlain said road damage could easily top $1 million, while Butler encouraged residents to report private property damages to Great Rivers 211 so that authorities can better estimate total losses, which could qualify the region for disaster assistance.
In La Crosse, storms downed tree limbs and power lines and flooded intersections. La Crosse police responded to dozens of hazard calls and 25 stranded motorists overnight, while city firefighters rescued a driver stuck in about 4 feet of water at 15th and Cass streets early Thursday.
"There were literally vehicles that were floating," Division Chief Tom Wallerich said.
Storm water washed out the intersection of 23rd Street and Park Drive in La Crosse, opening a chasm about 25 feet deep.
Utilities manager Mark Johnson said it appeared water went over the curb and began eroding the bank above the La Crosse River marsh. It ate away the earth, causing water mains, storm sewer lines and the roadway above them to collapse.
"The bank went first and it just kept working itself back," he said.
Three nearby properties were without water Thursday morning but Johnson expected to restore service with temporary hookups.
Johnson estimated it could take days to repair the damaged pipes and fill the hole. He was waiting on a contractor with large enough equipment to handle the job. Additional rainfall in the forecast could complicate repairs.
About 4,500 Xcel Energy customers in the La Crosse area lost power, and more than 1,300 remained in the dark Thursday afternoon. 
Xcel spokeswoman Christine Ouellette said crews were expecting to have electricity restored by 11 p.m. but multiple lines and poles needed to be replaced and high waters were hindering access to some places. 
Many roads and intersections throughout the region remained flooded Thursday, and motorists are reminded never to navigate water covered roads. 
A flash flood watch is in effect through Saturday morning as the area braces for another storm that could dump up to three inches Friday.
While some waters were receding Thursday, the La Crosse River continued to rise.
"We're in trouble, at least for a couple of days," Butler said. 
Trempealeau County
In the city of Arcadia, several hundred people voluntarily evacuated flooded neighborhoods and the downtown area beginning about 2:30 a.m., Mayor Robert Reichwein said. The evacuation included the overnight shift at Ashley Furniture, a major manufacturer in Arcadia, a city of 2,900 about 45 miles north of La Crosse.
Reichwein said Turton Creek overflowed its banks, also flooding the main thoroughfare, Hwy. 95, in Arcadia. The Red Cross has set up a shelter at Holy Family Catholic Church in Arcadia for evacuees.
About 75 people from from Galesville were evacuated Thursday morning.
Nearby, the Buffalo County Sheriff's Department reports roads in the southern half of the county have become impassible due to high water. There is a report of a mudslide along Hwy. 95 near Fountain City.
Vernon County
One-and-a-half to 2½ inches of rain had fallen by 10 p.m. Wednesday, and 3 to 5 inches more fell during today's early morning hours.
Hwy. 56 is closed in Liberty, and Hwy. 131 near Viola also has water over it. The assistant fire chief in Ontario said all intersections of Hwy. 131 and 33 are flooded and impassable. A rural Ontario resident was evacuated, and downtown businesses were damaged.
About 200 customers in Chaseburg will be without power until Friday morning. Power company officials say poles and wires are down in that area that simply can't be reached at this time.
Westby-Christiana firefighters helped evacuate Living Waters Bible Camp north of Westby, residents below the Jersey Valley dam and campers in Timber Coulee before sunrise.
Genoa firefighters responded to a barn fire in the town of Harmony, and a mudslide blocked a Cook Hill on Hwy. 56.
Vernon County's emergency dispatch center received more than 75 calls by 4:30 a.m. from motorists reporting a large road construction sign down in the middle of Hwy. 14/61 near Vang Road, in the town of Coon. It was struck by several motorists.
Monroe County
Water was starting to spill over the dam at Perch Lake in Sparta Thursday afternoon, and authorities advised those who live along the river to consider evacuating. Also in Sparta, Long Court has been evacuated, and portions of Walrath Street and South Water Street are closed. Residents of Riverside Trailer Park on South K Street area also were encouraged to evacuate.
Evacuation centers are set up at the Barney Center and St. Patrick's Church in Sparta. Sandbags are available at the county's dog pound site. For more information, call Monroe County emergency management at 608-269-8709.
Crawford County
Strong winds caused power outages and some damage. The areas most affected include the city and town of Prairie du Chien and the town of Bridgeport. Multiple hangars were damaged or destroyed in the storm. Sandbagging began in Steuben due to the projected rise in the level of the Kickapoo River.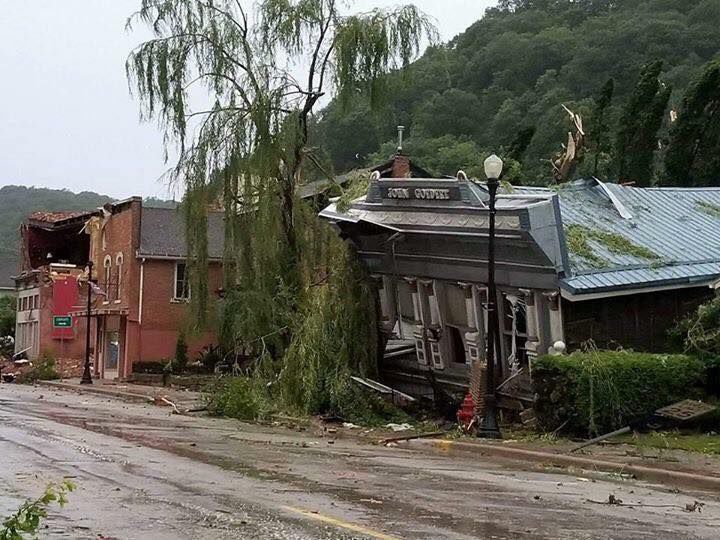 Tornado reported in northeast Iowa
An EF-1 tornado began about 5 miles west of McGregor, Iowa, at 6:08 p.m. and tore a 5.7 mile path through the city before dissipating over the Mississippi River eight minutes later, according to the National Weather Service. It brought winds of 110 mph and was responsible for two minor injuries and damage to buildings.
The storms also damaged homes, buildings and crop fields in northern and northeast Iowa.
The National Weather Service says wind gusts to 75 mph and heavy rain were reported Wednesday evening in several locations.
Residents and officials report trees and power lines have been knocked down, leaving hundreds of people without electricity. 
Authorities say a semitrailer was toppled on Interstate 35 near Hanlontown, and a man was taken to a hospital in Waukon after his barn blew over, pinning him inside until rescuers arrived.
Trails, golf courses closed
Drugan's Castle Mound golf course is closed until further notice because of flooding, while the storms left Forest Hills Golf Course littered with rocks and logs that tumbled from the bluffs.
"We basically have erosion from one end to the other," general manager Keith Stoll said. "There is mud spewed everywhere."
An underpass for golfers filled to 9½-feet of water and left about 1½ feet of mud in its wake.
Course officials hope to reopen half of the course next week, depending on when debris can be removed and weather.
"It's a lot of clean up," Stoll said.
Trails in upper and lower Hixon Forest as well as the La Crosse River marsh are closed until further notice as the La Crosse Parks Department assesses damage from Wednesday night storms.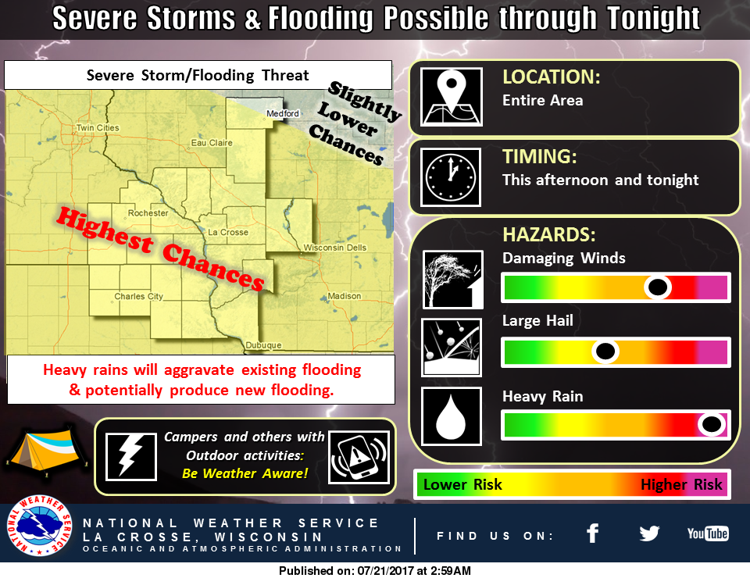 More rain in the forecast
Another round of thunderstorms, potentially severe, is likely Friday and Friday night. Torrential downpours are likely, with an increased risk for flooding, especially for those areas that have been impacted by heavy rainfall.
24-hour rainfall totals
| Location | Inches |
| --- | --- |
| Arcadia | 7.44 |
| Hillsboro | 7 |
| Galesville | 6.30 |
| La Crosse weather service | 6.26 |
| Boscobel | 6.25 |
| Trempealeau dam | 6 |
| La Crosse airport | 5.15 |
| West Salem | 4.98 |
| Readstown | 4.6 |
| La Crescent | 4.75 |
| Bangor | 4.50 |
| Winona | 4.50 |
| Sparta | 4.38 |
| Hokah | 3.89 |
| Houston | 2.37 |
| Black River Falls | 1.57 |