Even though there's no betting on the IDBF World Championship Dragon Boat Races in China, Lori Freit-Hammes of West Salem got a different view of over-under — both coming and going — from the boat of Team USA's Senior A mixed crew.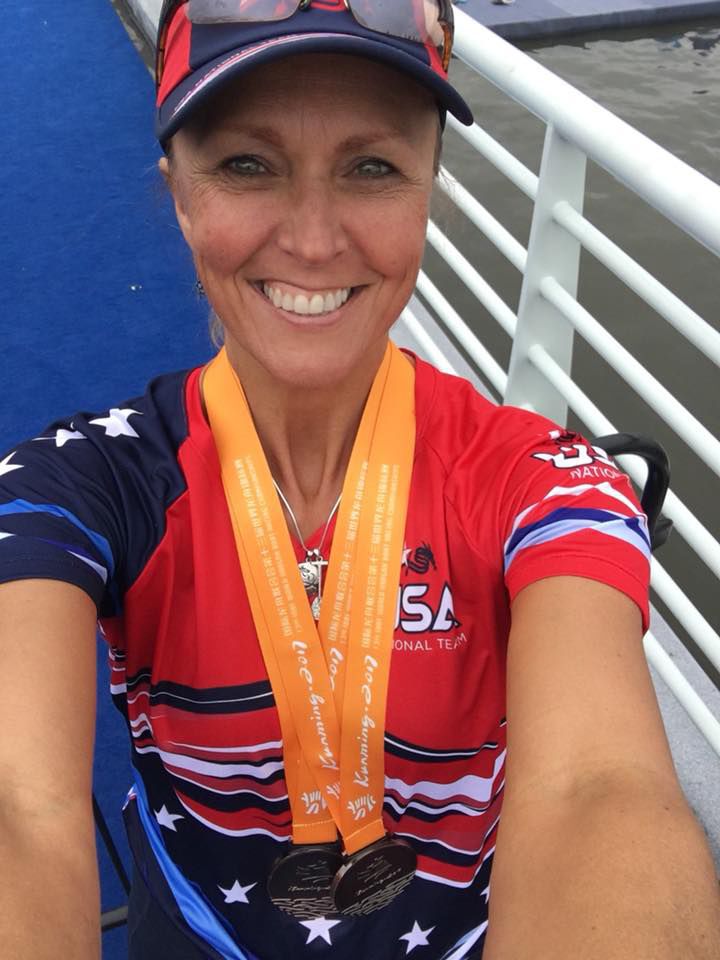 "My mixed crew had our 500-meter today," Freit-Hammes said. "It was cutthroat. We're always chasing down Canada and Australia — and our goal today was to medal."
Canada would be the over, in its geographic relationship to the United States, while Australia obviously is the (down) under — and the concept of no betting on the races is an assumption.
"We got bronze, but in our last heat race, we were able to cross the finish line first, even with having the shallow slow lane," she said.
"As much as we would've liked to have placed higher, we ended our day on a high note — knowing that we beat the top two teams," Freit-Hammes said. "That was a great feeling, and we proved to ourselves and others what we had inside of ourselves."
The competition was so relentless that the time differences between second, third and fourth places in the team's heats were tenth of seconds and, sometimes, just hundredths of seconds, said Freit-Hammes, health promotion director at Mayo Clinic Health System-Franciscan Healthcare in La Crosse.
"That is the difference between gold and not medaling," the 47-year-old mother of three said.
The bronze raised Freit-Hammes' total to five medals — a silver and four bronzes — in the races in Dianchi Lake in the city of Kunming in the Yunnan Province, where the championships began Wednesday and will end Sunday.
Women's teams did not race Friday, so Sue Karpinski of Trempealeau is holding steady at two bronze medals, with more races set for this weekend.
However, the lack of races didn't mean that the 51-year-old Karpinski was idle. In China, where the time difference from Wisconsin is 13 hours, she has been sticking to the strict regimen she follows most other days back home, rising at 3 a.m.
Instead of exercising in the middle of the night like she does at home, she said, "I get up early but I don't exercise. I use the time in the fitness center to meditate on my yoga mat, saving my energy for on the water. I go to the fitness center to keep my normal schedule."
Karpinski won't rest long on her laurels when she's back in the Badger State.
"I will resume training once I get back after taking two weeks off for active play before hitting it hard again to get ready for World (Dragon Boat) Club Crew Championship in Hungary" in July, said Karpinski, Mayo-Franciscan's health promotion coordinator.
She finds the international competition exhilarating, she said, adding, "I'm enjoying this unbelievable experience that is shared across so many nations among so many athletes."