Talk about a wild Irish Rose — Mary Monks of La Crosse will have a much younger man, Brady Hoeth, on her arm for St. Patrick's Day festivities this week.
Monks, a 64-year-old native of the Emerald Isle, is the Irish Rose of the Greater La Crosse Shamrock Club, with the 27-year-old Fountain City lad tapped as the Irishman to escort her.
She takes teasing about the age difference in stride, noting that her husband, Barrie, was Irishman in 2010 — even though the bloke is English. He was paired that year with Pam Smith, an Irish Rose of German, Norwegian and English descent who claimed a wee drop of Irish blood and whose Irish husband, Rod, gave her cred.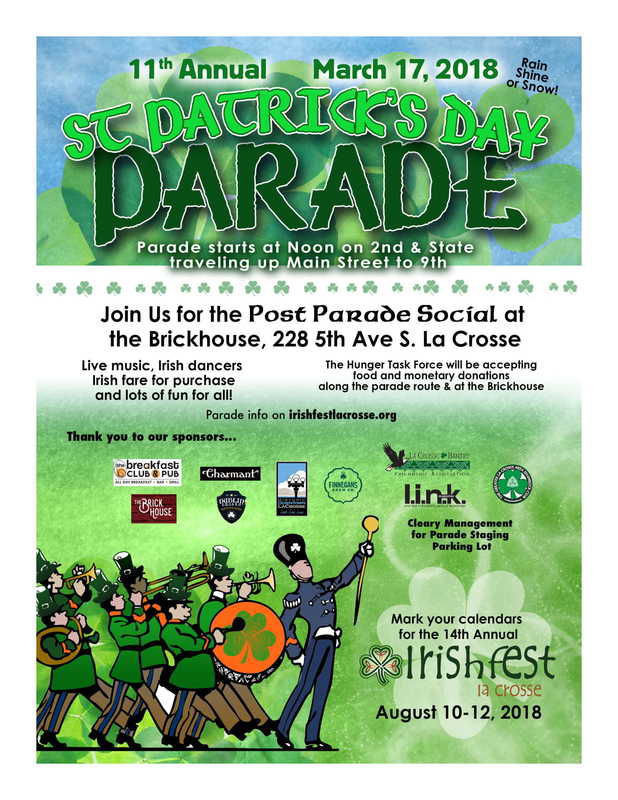 Mary, a leprechaun-size woman whose lilting brogue attests to her Dublin roots, insists her DNA tests support her claim to being 100 percent Irish. Hoethe, said the results of his mail-in DNA test aren't back yet, but he appears as Irish as "Danny Boy" — especially wearin' his tweed paddy cap.
"I'm mighty proud of Dublin and being Irish, but I hated" the Northern Ireland war and its religious basis, Mary said. "Don't get me started."
Hoethe and the Monks get along as if they lived up the street from each other in a village in County Kilkenny, trading pleasantries, laughing and tweaking each other about their warring soccer teams. The Monks favor Manchester, while Hoethe embraces Liverpool — or vice-versa. It's so hard to keep those rivalries straight, and, after all, the pursuit isn't anything like American football.
Barrie says he isn't a bit jealous that Mary will have a young escort during the royalty bus tour of nursing homes and schools Friday and on the Shamrock Club's float for the St. Patrick's Day Parade at noon Saturday in La Crosse.
Mary, a retiree from Gundersen Health System, and her family moved to England when she was 3, meeting Barrie, a Protestant, when he was 17 and she a 15-year-old Catholic.
"He pursued me," she said.
In answer to a question about pulling off an interfaith romance with an older man, Mary said with a grin, "We didn't tell my mother."
The couple became engaged when Mary was 17 and married when she was 18 — after Barrie converted to Catholicism.
"We lived in Manchester through some of the Troubles," Barrie said.
Asked whether Mary ever flashes signs of an Irish temper, Barrie demurred with a roll of his eyes.
The Monks moved to the U.S. in 1980 and have lived in Wisconsin for two decades. North Siders, the Monks have two sons and a daughter, and have been Shamrock Club members since they came to La Crosse.
"Catholics and Irish people stick together, and finding Irish people" in La Crosse was a delight, Mary said, adding that she obviously is "tolerant of English."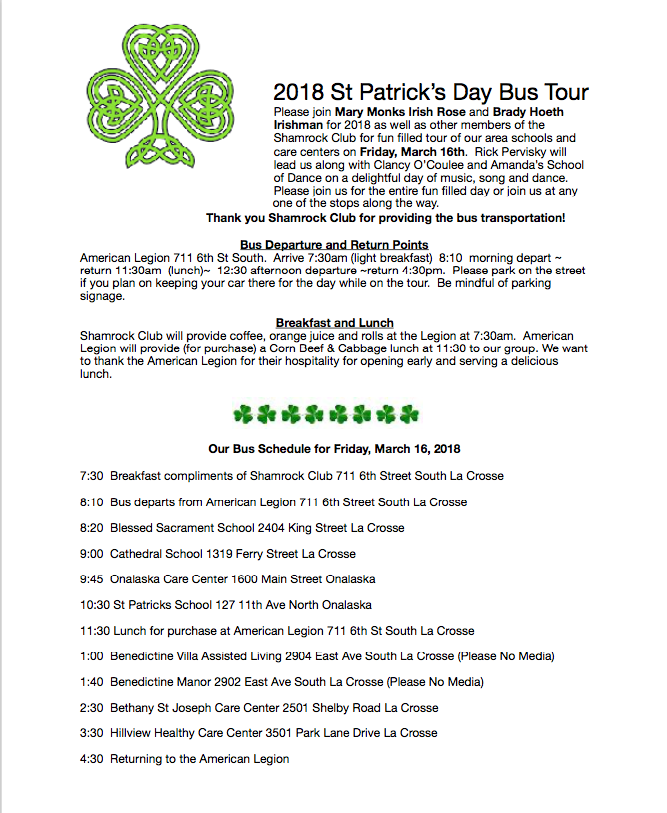 Hoethe, a graduate of Central High School in La Crosse, also has been a Shamrock Clubber for years, saying he enjoys its activities and hanging out with other members.
Hoethe's day job is with Crown Lift Trucks, but he's got a nighttime gig in the latest feature of The Monarch Public House next to where he lives.
John Harrington, who was the Shamrock Club's Irishman in 2016, and his wife, Lori, bought the tavern — the longest operating bar in the Badger State — in 1995. In addition to décor dating to its founding in 1894, the Harringtons have spent more than two decades infusing it with more Irish accoutrements, including several dragons ranging from small to huge.
Most recently, they converted the basement, which had been a coal bin, into Schmitty's Fountain Brew Draught House, a friendly, cozy bar with its original bluff stone floor and hand-hewn, beamed ceiling. Open on weekends offerings include beers from the Monarch's Fountain City Brewery.
"He's been working on it for 20 years," said Hoethe, who tends bar in Schmitty's on weekend evenings.
As for the May-December relationship of Irish Rose and Irishman, Mary said with her Irish eyes a-smiling, "I'm supposed to keep him in line. He's more likely to keep me in line."
---