Laura Mausolf was depressed, and she didn't know why.
At 14, she had caring parents, a happy home life and a carefree childhood, and yet the sadness hovered, a weight compounded by her guilt for feeling down when she had so much to be thankful for.
Depression, she discovered, does not discriminate. For nearly two decades Mausolf, 33, has carried the burden of persistent depression and anxiety, a battle she chronicles in her first book.
"The Battle," released in March, is an honest look at the challenges the Holmen mom has faced — and the coping skills and mindset shifts that helped her become a source of support and wisdom for others in her shoes.
Part memoir, workbook and pep talk, Mausolf began writing in January, self-publishing just two months later and jump-starting her mission to bring mental health and postpartum depression into the conversation.
"In our society, we just sweep it under the rug," said Mausolf, a part-time nurse in the cardiac cath lab at Gundersen Health System. "We need to let other mothers know they're not alone. It was really important to me to share with other moms you don't have to be perfect — we put so much pressure on ourselves."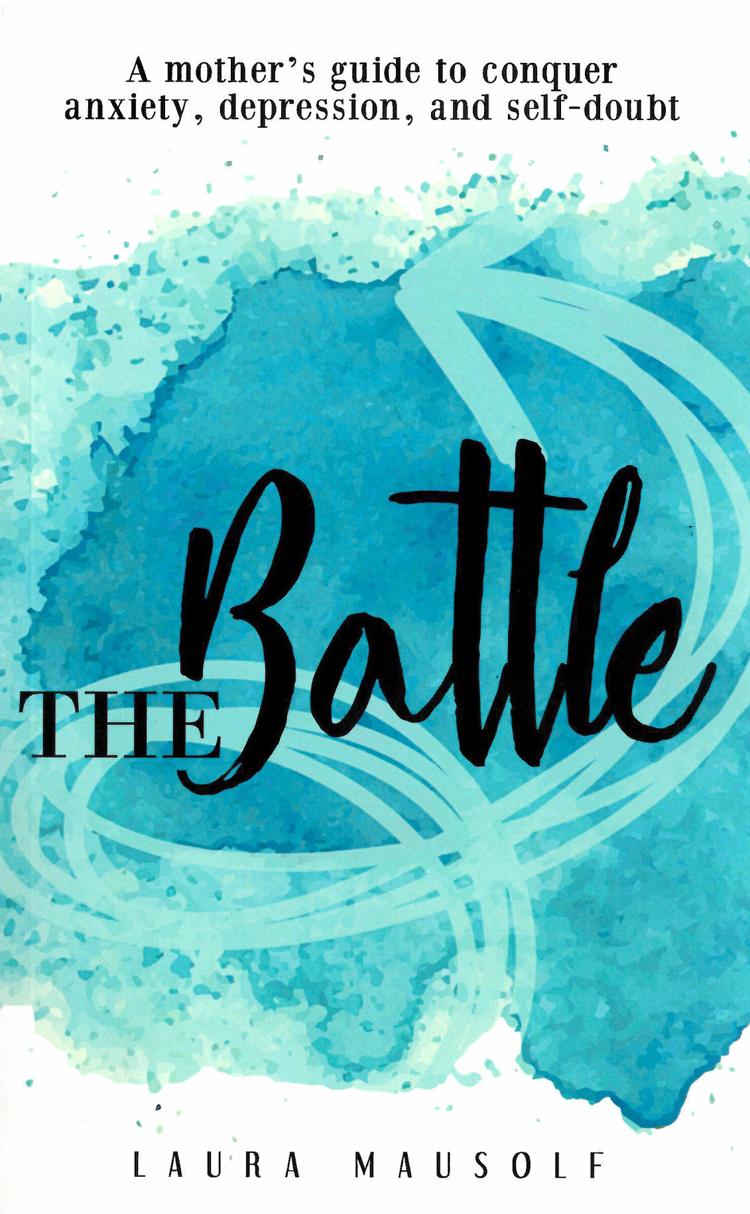 A proponent of self-reflection, positive mindset and letting go of guilt, Mausolf has, with the help of medication, developed an arsenal of skills to keep her depression and anxiety under control, but not without some missteps along the way.
Mausolf was a young teen when she was first prescribed antidepressants, a complex process of trial and error as medications were added and taken away in an effort to find an effective combination and dosage. The process was disheartening at times.
Upon entering college, Mausolf dabbled in illicit drugs and turned to alcohol to numb her mental anguish. Finding herself in jail her freshman year after driving under the influence was a wakeup call of sorts.
"I realized I've got to find a different way to deal with this," Mausolf said. She set her sights on being a nurse, the career goal a catalyst for some self-examination, and met Bob, now her husband, who was understanding of her mental health struggles. When Mausolf became pregnant with first son, Easton, now 7, "Postpartum depression wasn't even on my radar," she says. "The sneaky thing with depression is you don't realize it until you're in the thick of it."
Compounding Mausolf's despondency were Easton's difficult first months, when an undiagnosed milk protein allergy led to constant wailing.
"It was miserable," Mausolf says in her book. "I didn't want visitors because I didn't want to worry that he was going to start screaming and not stop. ... People would tell me to relax and go take a nap ... but I was so overcome with anxiety that I couldn't."
Sleeping poorly and barely eating, Mausolf continued to feel anxious after returning to work, and her husband felt helpless.
"I think it broke his heart that I couldn't enjoy this time," Mausolf said. "Looking back, I wish I had something to reference, something to read from someone who's been there."
Digging into research, she made a conscious decision to focus on her mindset, learning to accept help from friends and family, meditating and cutting herself some slack when the house was messy or the kids acted up in public. "Let it go" became a mantra, and Mausolf stresses having a purpose, living intentionally, being open to opportunities and believing in oneself. Using antidepressants, she adds, is not a sign of weakness.
When Parker, now 4, came along, Mausolf's postpartum symptoms returned, but she was better prepared, reaching out when she needed a break, expressing appreciation for the positive and working to cut negative thoughts before they became overwhelming.
"Anxiety and depression start when we develop irrational thoughts and draw conclusions from these thoughts," Mausolf states in her book. "... During times of serious and prolonged stress, the brain develops neuropathways in which our thoughts and feelings are fired repeatedly along the same roads ... The good news is that we can actually 'reroute' those pathways."
Doing so, Mausolf says, takes effort, determination and moving outside the comfort zone. Wallowing and comparisons help no one, Mausolf believes, and leaving behind the baggage is crucial. Change, she concedes, is difficult, and doesn't happen quickly.
"There will be a mental war, and the universe will ask how badly you really want it," Mausolf noted. "It will be up to you if you want to battle on and win, or give up and stay stuck where you are."
This isn't your mother's postpartum depression — in fact, the terminology has changed, and health officials and therapists acknowledge that me…
Mausolf's sympathetic but proactive approach to mental wellness has resonated with readers and those who participated in her Facebook Transformation Challenge to live a more positive and fulfilling life.
Danielle Harvieux, a mother of two, experienced postpartum depression herself and found she related to Mausolf's struggles and advice.
"You learn why you are the way you are, and I've been able to use some of the exercises in my daily life," said Harvieux, who extends the tips to conquering stress and mom guilt. "I'm trying to be more mindful."
A mother of three, Kirah Heiden also dealt with persistent sadness after her daughters' births, and found "The Battle" encouraging and engaging, appreciative of the jokes and even occasional swear word peppered throughout.
"It's like she's talking to you," said Heiden, who also participated in the challenge. The meditation exercises recommended proved particularly enlightening, with individuals guided to "meet their future selves."
"I saw myself confident, strong, successful, a fun mama," said Heiden. "Then you work back to see how you can get there."
Mausolf concedes that the battle is never fully over but believes struggles needn't define or consume oneself.
"I am here to tell you," Mausolf says, "that you are worth it and you can do this."