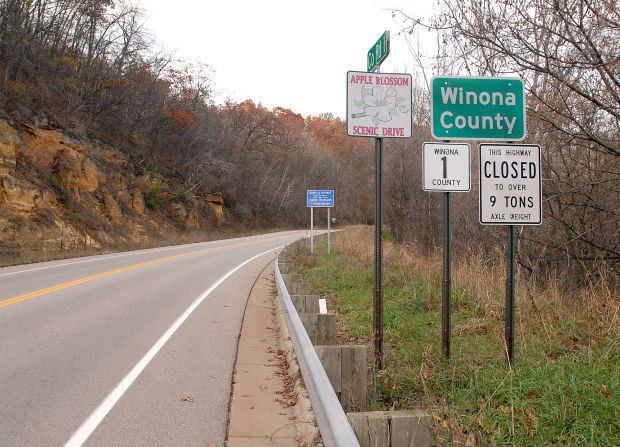 You might be forgiven if you refer to this iconic stretch of roadway less by its formal name — Winona County Hwy. 1 — and more by its familiar, state-designated moniker: the Apple Blossom Scenic Drive.
This 17-mile route isn't so much a way to reach your next destination as it is a destination unto itself. Though you're allowed to travel 55 mph, you'd be missing so much if you did. Often, you'll find vehicles slowing — or stopping completely — to take in the breathtaking views of the Mississippi River that dot the stretch of byway that begins in La Crescent and concludes between Dakota and Nodine.
Apple Blossom Scenic Drive is rated — understandably — as Minnesota's second most scenic drive, behind only the North Shore portion of Hwy. 61. But don't tell that to the locals, as they'll tout the majesty that only tall bluffs and the curvy Big Muddy can provide.
Once home to more than 40 orchards, only a handful remain today. But apples don't have all the fun on the ridge, as a vineyard and winery recently opened, allowing visitors to taste another locally made product and gaze at the river vistas below.
Apple Blossom Scenic Drive received its designation from the state of Minnesota in 1972, and at that time, an article in the La Crosse Tribune, dated July 28, read in part, "It's one of the prettiest stretches of roadway in our Coulee Region, which is no faint praise. The view of the Mississippi, the river islands and the varied landscape across the river on the Wisconsin side is magnificent."
The nationally known overlook is a key piece to drawing people back to La Crescent.
"It's important to anybody's economy to keep people coming back," La Crescent Chamber of Commerce executive directive Eileen Krenz said. "We have four seasons in Minnesota, and each one of those seasons on the bluff is completely different."