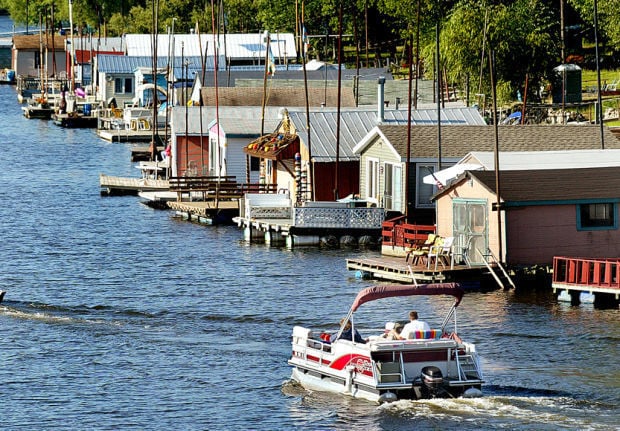 It could be a mere boat slip, or a floating cabin with the comforts of home — save for running water.
A little living room on the river is how one owner described his boathouse.
They trace their origins to the 19th century, when people made a living on the Mississippi River — either transporting lumber, clamming for pearls, hunting, fishing and trapping.
Boathouses were common in La Crosse at the turn of the century, but it was the modernization of the Mississippi River shipping channel in the 1930s that apparently led to a surge in their popularity.
During the Great Depression, they sometimes served as homes.
A 1941 Tribune article indicated the houses had spread. "Practically the entire west bank of Copeland Park is lined with boathouses and houseboats, people maintaining residences in the latter."
Shorter work weeks, outboard motors and vast pools of backwaters led to a boom in river recreation in the post-World War II era.
As of 2014, there were 102 boathouses within the city of La Crosse, the majority in the waters off Copeland Park.
Because they are on public waters, the boathouses are regulated by the Department of Natural Resources, which limits what owners can do with them. Repairs are allowed, but not improvements.
The federal Water Resources Development Act of 1986 prohibited the construction of new ones, though it permitted existing ones to be sold. In the 1970s, the DNR imposed restrictions that severely limited repairs, but there was an exemption for those designated as historic.
About half of those in La Crosse are designated historic structures, owing to their role in the city's social history.
 "They're part of the history of the city," boathouse owner Jerome Gundersen said in 2007. "As long as the city's been here, the boathouses have been. Eliminating these is erasing a part of our history."