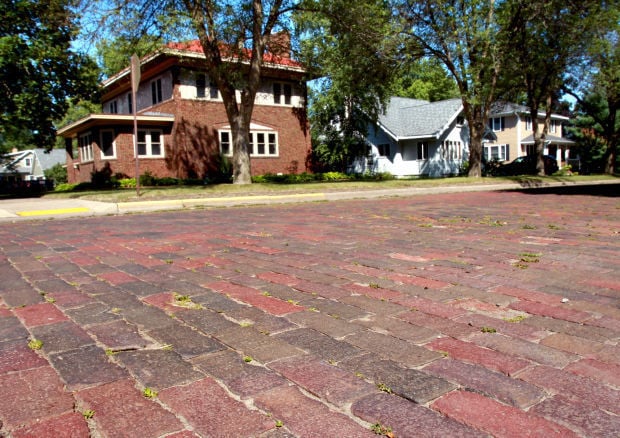 Streets have always been an essential part of any city's transportation system. Before the turn of the 20th century in La Crosse, street paving — if any — was macadam (compacted layers of small stones), which was dusty and turned into mud when it rained. Rutted surfaces caused by wagon wheels were common.
But a major civic road improvement project was undertaken in 1900 and 1901 when some 40 blocks of the downtown area was converted to red brick paving. "The people of the city took great pride in what they considered their fine streets," the La Crosse Morning Chronicle declared in its Nov. 24, 1901, edition.
It was part of a national trend that began in the late 1800s. One estimate said the city of Philadelphia had an estimated 135 miles of brick-paved streets. Bricks remained the preferred street paving method until concrete and bituminous asphalt took over in the 1920s. Asphalt cost less to install and the streets were easier to maintain, especially during the snowplowing season.
Most of the La Crosse brick streets are long gone, but a few remain. The sections of 20th Street and 17th Place between Main and Cass streets are still paved with bricks, which were laid in 1924 when that section of the city was being built. Those streets are on the local register of historic places. There is also one block of brick street remaining on Ferry between Ninth and 10th streets and about 100 feet on Redfield near Gundersen Health Care.
The whole history of the La Crosse street and alley paving is contained in the La Crosse Public Library archives in the "Guide to the La Crosse, Wisconsin Committee on Streets and Alleys, Resolutions and Reports Relating to Streets and Alleys, 1852-1932."
The reports are contained in 46 boxes and amount to 19-cubic feet — enough to pave part of a street.