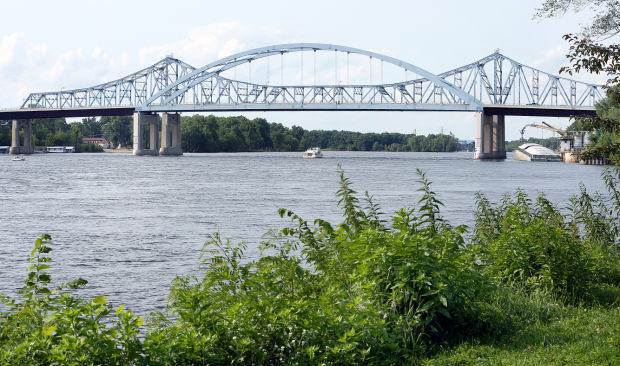 Today more than 17,500 vehicles cross the Mississippi River every day traveling across the two bridges that link La Crosse to Barron Island.
But getting across the Mississippi River was no small feat when La Crosse was first settled in the 1850s. The first ferry service was called Wild Kate, a treadmill powered by two horses that began in 1853. It was replaced with a faster steam ferry called the Honeyoye in 1854 that could carry 20 teams of horses and passengers from the foot of Main Street to what is now Shore Acres. A ferry syndicate provided service until 1890 when the city's Wagon Bridge — which spanned the river from just below what is now the La Crosse Center to Pettibone Park — opened.
The bridge was not designed for heavy auto traffic, and there was a push starting in 1935 for a replacement, which was accelerated when the west span of the Wagon Bridge collapsed in an auto accident in August 1935.
Federal funds for a new $1.5 million bridge were approved in 1936, and the High Bridge — or Main Channel Bridge — opened Sept. 23, 1939, in a colorful event attended by an estimated 15,000 people that included a parade, a fireworks display and a parade of boats .
Over the years the bridge has assumed the Cass Street Bridge moniker and has changed colors from gray to blue. It was placed under 24-hour guard during World War II. The slippery residue from a massive mayfly hatch closed the bridge for an hour in 1950, and at least seven people have been killed in traffic accidents on the bridge.
In 1983. the concrete roadway was replaced with a metal deck, in part so that the dead mayflies would fall through the grating. But the decision was wrapped in some controversy. Developer Russ Cleary complained about the noise in the 1990s when his Marriott Courtyard hotel opened just beneath the bridge.
The metal decking was replaced as part of a $5.7 million rehabilitation project in 2005 when its companion arch — the $31 million Cameron Avenue Bridge — opened. Today the Cass Street Bridge — also called Big Blue — carries two lanes of westbound traffic.