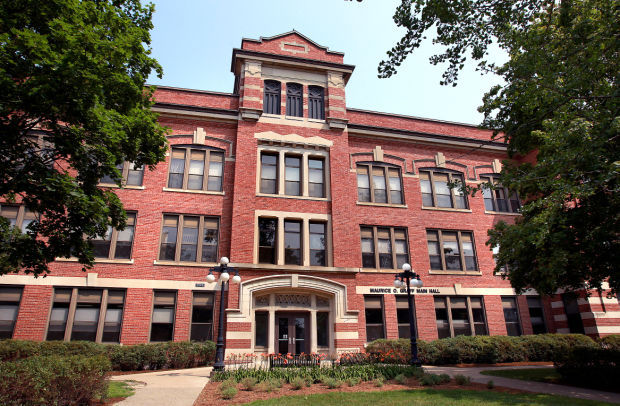 In the early years of the 20th century the Wisconsin Legislature authorized the location of a normal school in La Crosse and allocated $10,000 for the purchase of property.
The La Crosse Normal School was the eighth such school in the state when it opened with 176 students on Sept. 7, 1909. Main Hall as it was later called was the school's only academic building until Wittich Hall opened in 1920. According to "Celebrate 75: A Time to Reflect" a history of UW-L, Main Hall was "a model of modern construction" that included a library, gymnasiums, auditorium offices and a Model School – all built with the purpose of training teachers.
Located on what was then the edge of the city, Main Hall was built in the Neo-Classical style shared by many other education buildings during that era. Designed by the architectural firm Van Ryn & Gelleke, the three-story red brick building is accented with cut limestone around the windows, roof and the base. The building features a central bay with a decorative arched entry and an octagonal tower.
Floyd Bartels, class of 1913, penned a short tribute to the building. "Towering high, its reddish walls; Look o'er all the land: Beckoning to the hungry mind. The home of knowledge stands."
Main Hall was renamed Maurice O. Graff Main Hall in 1997 after a longtime professor, dean and vice chancellor at the school, which became the La Crosse State Teachers College in 1927, La Crosse State College in 1951, La Crosse State University in 1964 and the University of Wisconsin-La Crosse in 1971.
The building was designated as a historic site by the city of La Crosse in 1984 and is on the National Register of Historic Places. Graff Main Hall has undergone several renovations over the years, but they have been sympathetic to the original character of the building. The auditorium was remodeled in 1979 but is again being overhauled as part of a $1.3 million project that will include new seats, a new ceiling and new lighting.
Today it houses much of the university's administration and other programs, including the school of education, true to the school's humble beginnings.