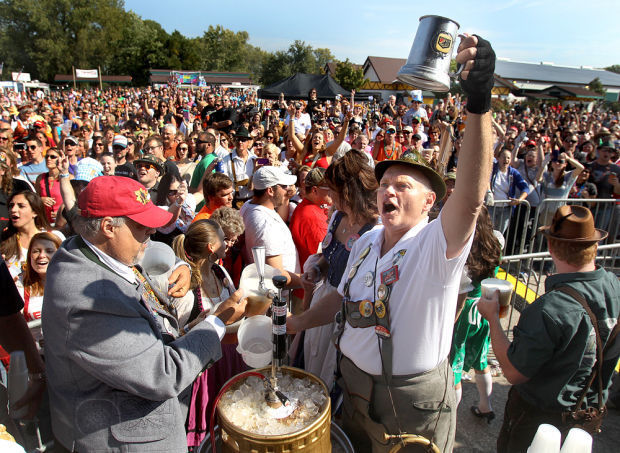 The brainchild of four community leaders — Ray Ping of Erickson's Bakery, Roy Kumm of G. Heileman Brewing, John Coleman of Western Technical College and Don Rice of the former Exchange State Bank — the festival began as a way to breathe life and fun into an economically depressed city and blossomed into the biggest party this side of the Mississippi, drawing more than 100,000 to La Crosse and pumping millions of dollars into the local economy.
There was no festmaster at the first Oktoberfest in 1961, but there was a cow-chip throwing contest, greased-pig catching and "the biggest parade La Crosse had ever seen," said Duane Moore, 1997 festmaster and editor of the Oktoberfest 50th anniversary book, "The Fest of Times."
The celebration expanded after the first year, adding events and Royal Family positions and drawing big name entertainers including jazz musician Louis Armstrong. 
"Those days, you could really get top names from across the country," Moore said.
G. Heileman Brewing Co. had a strong presence in the Chicago market, which helped Oktoberfest attract traditional German singing groups. After they performed as an ensemble, the singers would break up into smaller groups and serenade festgoers on the street corners of downtown La Crosse.
And after the festival was over, employees from the brewery were released from their regular workday to clean up the streets, Moore said. Now, the city charges Oktoberfest a cleanup fee.
Oktoberfest nearly went broke in the late 1960s because the festival spent so much on big-name entertainment, and the La Crosse Common Council came within one vote of cancelling the event, Moore said. The La Crosse Chamber of Commerce, the original Oktoberfest organizer, passed the event on to the newly formed nonprofit, La Crosse Festivals, Inc.
In the years that followed, Oktoberfest became La Crosse's signature event, earning the city national and international recognition for its fun, authentic festival. 
La Crosse's other festivals — Riverfest, Irishfest, Weinerfest, Rotary Lights — were all in some way inspired and shaped by the original Oktoberfest ideas, Moore said. "The way to make it work is to rely on volunteers," he said.