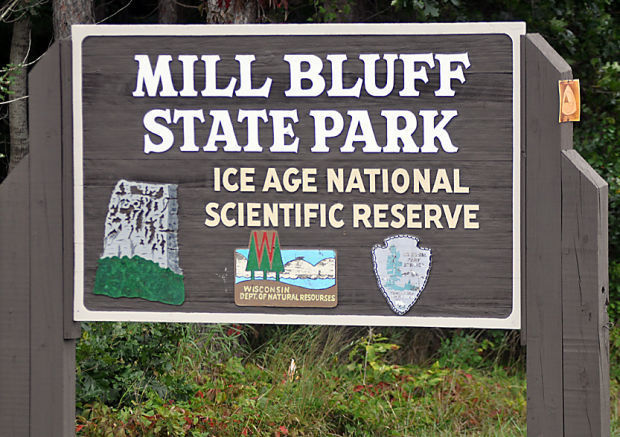 Motorists at the border of Juneau and Monroe counties need only look at Mill Bluff and Bee Bluff that bracket the west and east side of Interstate 90/94 near Camp Douglas to see a reminder of Wisconsin's last Ice Age.
A finger of ice dammed up what now is the Wisconsin River tens of thousands of years ago and created a vast glacial lake in central Wisconsin dotted with stone islands and underwater reefs. When the ice and water receded, the wind took over further sculpting the sandstone into monument-like formations that reach 80 to 200 feet through the forests.
Designated a state park in 1936, Mill Bluff — named for the former sawmill that stood at the base — boasts a host of prominent rock features such as Ragged Rock, Camels Bluff, Devil's Monument and Cleopatra's Needle. Several, including Mill Bluff, have carvings shaped like bird tracks from ancient Native American cultures.
But only Mill Bluff lets park visitors ascend to its summit, on a path built as a public works projects during the Great Depression. It became a part of the Ice Age National Scientific Reserve in 1971. The campgrounds are open from Memorial Day weekend to the end of September, but those who stay here must be willing to forego some amenities — the park has only pit toilets, no showers and only six of the 21 sites have electrical hook-ups.
"It's one of Wisconsin's more rustic parks," said Kathy Stanek, who works in visitors services at Mill Bluff. Yet the rest of the park is open year-round and remains a popular stop, especially for those traveling between Chicago and the Twin Cities looking for a halfway point to pull over and stretch their legs, she said. "It's little," Stanek said, "but we're here."