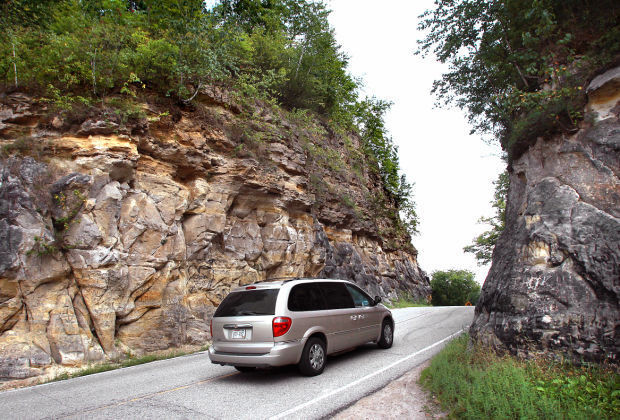 If you believe politics are connected to everything, then the story of the Mindoro Cut — the second-deepest hand-hewn cut in the Western Hemisphere — is straight forward.
In the early 1900s Gov. Robert La Follette, the father of the Progressive Movement, pushed the "Good Roads Movement." It was an effort to improve transportation to help farmers get their products to market.
Farmers in the northern part of La Crosse County seized the opportunity to find a better way to get their milk from the West Salem side of Phillips Ridge to the creamery in Mindoro and then back to West Salem to the train station. Thus began the impetus to construct the Mindoro Cut, the shortcut between the two communities where Hwy. 108 winds up and down the ridge.
The cut measures 74 feet deep, 25 feet wide and 86 feet long and was accomplished without the aid of machinery. There was dynamite involved in the construction, probably after workers discovered what they thought was a sandstone ridge was actually hard rock underneath. When work began the ridge was too steep for even horses and workers hauled away rocks in wheelbarrows balanced on wood planks. Horses and sleds were later used. Wages were $1.25 a day and meals from the cook shanty were extra.
Work on the cut began in 1907 and was completed at a cost of $11,241.29 to La Crosse County, the equivalent of about $287,000 today. With the exception of pavement in the 1920s and guardrails, the winding roadway through the cut remains the same today. It's a favorite destination for motorcyclists and car enthusiasts and was added — with the cut — to the National Register of Historic Places in 2007.
The cut today can probably lay-claim to being the deepest remaining unaltered cut in the nation. Another cut that was supposedly deeper was in either West Virginia or Ohio, but cannot be verified.