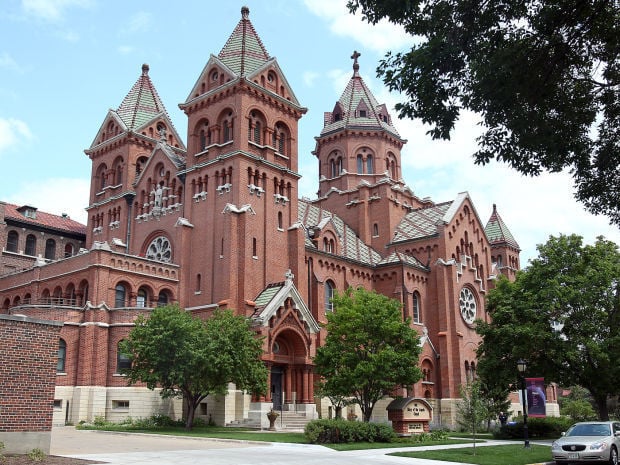 St. Rose Convent has been the physical and spiritual home of the Franciscan Sisters of Perpetual Adoration since it opened on July 10, 1871, when the sisters' move from Jefferson, Wis., to La Crosse was completed.
The ornate Romanesque-style house of worship is home to Mary of the Angels Chapel and Perpetual Adoration Chapel that opened in 1906. It is in the latter where day and night since Aug. 1, 1878, there has been constant prayer for the community, church, city and the world. It is the longest nonstop prayer in the United States. Not even a major convent fire on Dec. 2, 1923, failed to disrupt the vigil.
Mary of Angels Chapel fulfilled a promise made to God by Mother Antonia Herb, who vowed in 1865 at the order's first motherhouse in Jefferson that if God would favor the sisters and their work, they would someday build a chapel "beautiful as their means would allow."
The chapels feature Corinthian pillars and windows of Bavarian stained glass. Altars of Italian marble are decorated with gold bronze, onyx pillars, and inlaid mosaics of Venetian glass and mother of pearl.
The chapels were restored in 1992 and the convent was modernized and renovated in 1997. The chapels are open for tours Monday through Saturday from 9 to 10:45 a.m. and 1 to 3 p.m. More than 4,500 visitors tour the chapels annually.
St. Rose Convent, 912 Market St., includes administrative offices and is also home for some of the congregation's retired sisters. Rose, the patron of St. Rose Convent and Viterbo University, was born in Viterbo, Italy in 1235.