Dale Olson held the golden ticket Thursday evening, clutching an oversized pair of blue scissors as a crowd of hundreds counted down from three.
Given the honors at the SpringBrook Village ribbon cutting, Olson, 80, appeared misty as he kicked off the grand opening celebration of the 80-unit senior facility in scenic La Crescent.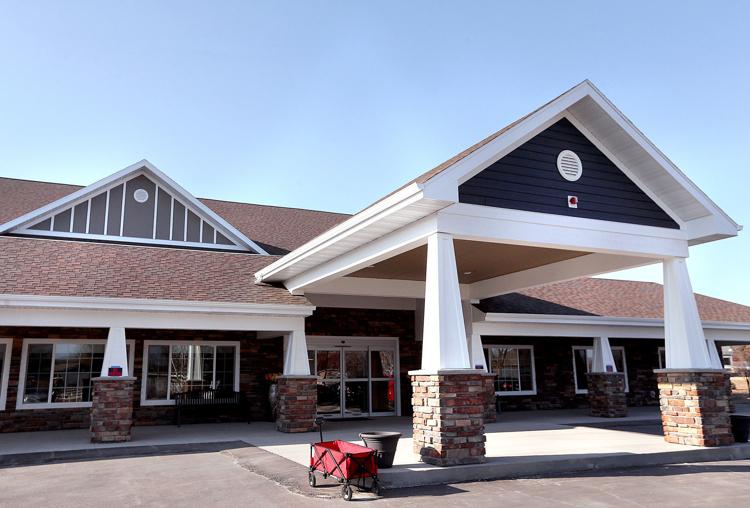 "It's like blowing out the candle on your birthday cake, you know," Olson said. "It's a great feeling."
The 6.5-acre, $13 million continuous care facility at 1384 Hwy. 25, has been years in the making, with initial discussions starting a decade ago and planning initiated around 2013. After breaking ground in October 2016, progress was delayed by inclement weather. The building was finished in December 2017 and residents able to move in last month.
"We were slowed down by the forces of nature," said Tina Antony, housing and community outreach specialist for SpringBrook, which has an assisted-living location in Onalaska. "But we rose to the challenge, and we're looking forward to a long, wonderful working relationship with the La Crescent community."
The window-lined structure, designed to take advantage of "the sunniest spot in La Crescent," was a collaboration between contractor Schoeppner Inc., AIA-MBA Architects and Apex Management, with multiple investors, including Olson, a 45-year resident of La Crescent, who was a driving force behind the project and recruited five other local investors. Currently in phase one, SpringBrook Village consists of 11 one- and two-bedroom independent living apartments, 25 assisted-living units, and 44 memory care units, along with individual garages for residents.
Communal amenities include a spacious dining area, theater, chapel, salon and spa, courtyard, patio, sundeck, lounge and a general store. A life enrichment team organizes daily social activities, and pets are allowed. Care is offered on a continuum, providing residents with more in-depth services as needed.
SpringBrook Village has a staff of about 40 mainly part-time employees, with 30 occupied residential units and more moving in on a "steady basis." When the facility nears capacity, the estimated $20 million phase two expansion will begin.
"We've had people on a waiting list for two years," Antony said. "There is such a huge need — this is the only (facility) of its kind in the area."
Olson was adamant about the La Crescent location, distressed over the the number of seniors forced to leave the community they grew up in for advanced care. Before SpringBrook, the closest offerings for the aging population required leaving the city of 4,822.
"All this time I've been seeing La Crescent folks leaving town," said Olson, who dropped in daily to oversee the building's construction. "There (was) no choice .... many of the people here can now stay in the community — they shaped the community."
Mavis Knutson, 87, moved in last month from her La Crescent home and said she was adjusting well, appreciative of "the safety, the food and the staff."
"It's nice to stay here," Knutson said.
Dining mate Larry Stockman, 75, had similar praise, saying, "I think it's a wonderful place. The food is wonderful."
Antony sees SpringBrook Village having a positive impact on the community as a whole, with the for-profit facility contributing taxes to the city, supplying jobs and increasing foot traffic in local stores, and, most important, offering residents and their families peace of mind.
"Everyone's grateful; everyone's happy," Antony said. "They're relieved to have a safe place they can call home."
SpringBrook Village will hold a public grand opening from 10 a.m. to 3 p.m. Saturday, with refreshments and guided tours each hour.