Imagine how ridiculous Dallas Mavericks owner Mark Cuban would look, acting like a hooked bass leaping into the air and tail-walking across the water — as he did on ABC's "Shark Tank" Sunday night.
A bizarre scene it was, too — much to the delight of "Shark Tank" fans and even more so for Aquinas High School grad Susie Nuttall, whose fiance, James Arcaro, had just hooked Cuban into a deal. Arcaro and his business partner, Steven Markley, had cast a line at Cuban and the other self-made multimillionaires who star on the show to lure one into investing in their company to the tune of $75,000, in exchange for 25 percent of Reely Hooked Fish Co.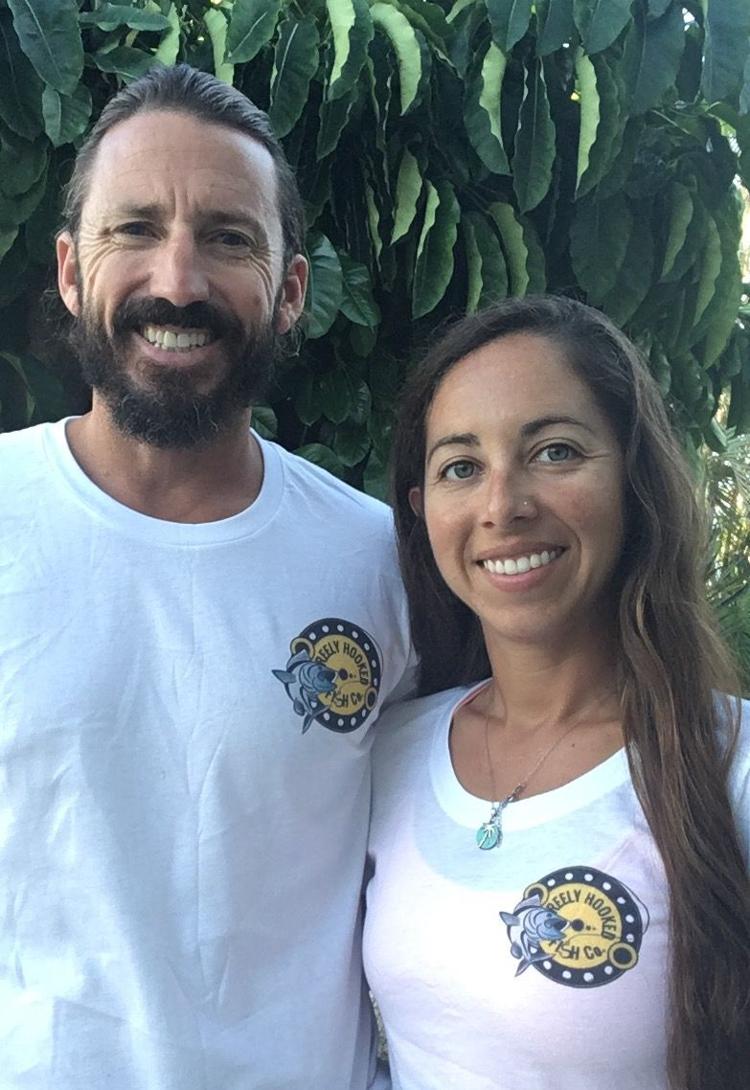 The bait was a smoked fish dip that is the company's sole product. The main ingredient is king mackerel because of its oiliness (helpful in mixing) and reputation as a healthy food. Arcaro and Markley eschewed the bases of mayonnaise and/or cream cheese that other brands use for spreadability, opting instead for yogurt to achieve their goal of a healthy, high-protein product without a lot of calories.
At the end of their spiel, Markley pretended to cast a line, and Arcaro leaped into his hooked holy mackerel act, jumping high on the stage a couple of times before they gave the sharks samples.
Several of the sharks complimented the dip with relish. Cuban pronounced it the "best ever," while sharkette and QVC Channel queen Lori Greiner deemed it "incredibly delicious."
Most of the sharks spit the hook for various reasons, with FUBU founder and CEO Daymond John shying away from the dip's lack of scale — narrow distribution — so far.
Meanwhile, The Learning Company founder and investor Kevin O'Leary again proved himself to be the meanest shark, despite his nickname of "Mr. Wonderful."
"Let's face it, boys," O'Leary said with disdain, "you threw a shark in a blender and called it a dip."
When all appeared lost, Cuban said, "I'm gonna make you a sharky deal," which is typical Sharkspeak for "I'm gonna lowball you, swallow your company and mount you on the wall as another trophy fish."
"I'll offer you $75,000 for 25 percent of the company," Cuban said, to the surprise of the other sharks, especially O'Leary, who were amazed that Cuban had swallowed the hook for their original proposal without trying to negotiate a lower price and higher percentage of ownership.
A jazzed-up Markley, apparently feeling the need for another jerk on the line, started to give another example of the product's potential when Cuban cut him off like a bass angler cuts a line with a dogfish on it.
"The best way to get a deal is to shut up," Cuban barked.
Markley quit talking, and he, Arcaro and Cuban celebrated with high-fives and more hooked leaps from Arcaro.
Cuban apparently couldn't resist the fish-out-of-water shtick after Arcaro had employed it to leap high and wriggle. Unlike the limber movements of the more practiced Arcaro, Cuban looked stiff and out of his element.
Arcaro and Nuttall, a 35-year-old marine biologist with the Florida Fish and Wildlife Conservation Commission, live in Key Largo, the base for Reely Hooked in partnership with Key Largo Fisheries. Arcaro has family in Clearwater, so that's where friends and family gathered to watch the episode, because they had not been able to reveal the results in advance, Nuttall said.
"There were at least 50 people there, and everybody erupted" when Cuban bought into the deal, said Nuttall, who wasn't able to go to the filming of the episode because she had to stay home to care for their menagerie of four cats and a dog.
"It's been a crazy, wonderful, fun time, with the support of family and friends," she said in a phone interview Monday.
Arcaro and Markley, who plan to use the $75,000 on equipment and ramping up production, met while training to be Florida Native Wildland Firefighters. They founded Reely Hooked in August 2016, and Arcaro has since quit that job to work on the business full time. Nuttall handles bookkeeping and related duties.