Coulee Region cardiac survival rates in a specific category far outstrip the national average, underscoring the fact that lifesaving is a team sport, according to Gundersen Health System officials.
"The message is that anyone in the community can be a lifesaver," Gundersen Tri-State Ambulance executive director Tom Tornstrom said.
Tornstrom was commenting Tuesday on Tri-State statistics showing that 54 percent of the cardiac arrest patients in the ambulance system's service area last year survived when someone witnessed the condition, responded with CPR and paramedics arrived to continue treatment en route to a hospital, compared with a national rate of 33.9 percent. The Tri-State rate compared with 41 percent in 2013, 47 percent in 2014 and 39 percent in 2015.
Tri-State's service area includes most of La Crosse County, and parts of Trempealeau and Vernon counties in Wisconsin, as well as parts of Houston and Winona counties in Minnesota.
The national average comes from the Cardiac Arrest Registry to Enhance Survival, also known by the acronym CARES, in which all facilities in 13 states and some communities in another 23 states share data in a quest to improve emergency response procedures to save more lives.
Although La Crosse County and the Coulee Region are not in the registry, efforts are underway to join, and Tri-State's stats are parallel to CARES'.
The figures are even better within La Crosse County, where bystanders performed CPR in 59 percent of the cases and survival was 75 percent, according to Tri-State figures. In the city of La Crosse, although there were only four cases, 100 percent survived.
Dane County, where the state capital of Madison is located, is in CARES and had a 39.6 percent survival rate in the likely survival category, also beating the national average. Dane had 45.8 percent in the bystander CPR classification, compared with the national figure of 39.6 percent. Milwaukee County trailed the national rate by several points in both cases.
The category covers cases in which someone witnessed the attack, called 911 and began CPR while awaiting first responders such as from fire and police departments while ambulances were en route, with the final element being that the person's heart could be shocked back into functioning.
"These patients have the best chance of survival," Tornstrom said. "Those are people who 15 minutes ago were essentially dead."
Survival odds drop when nobody sees the arrest, so the time of unconsciousness cannot be determined and shocking is considered less effective. In those cases, medications and other means are used.
Bystanders' willingness to perform CPR and being trained to use an automated external defibrillator are keys to covering the gap until paramedics arrive to perform advanced procedures, said Nick Eastman, Tri-State's clinical operations supervisor.
That saves several minutes of paramedics' time, speeding the ability to transport patients to hospitals, Eastman said.
"The really important thing is really early basic life support," he said.
"The response system depends on good bystander CPR," action by first responders such as firefighters, police or sheriff's deputies, and "highly trained and highly utilized paramedics," he said.
"We've seen a huge increase in CPR," Eastman said, "partly because of the (previous) hesitancy to mouth-to-mouth (resuscitation) — people didn't want to do any of it," as well as collapsing the training time.
People are more willing to step up with the more recent conventional wisdom that CPR can be accomplished with chest compressions instead of both compressions and mouth to mouth, Eastman said, adding, "as long as I don't have to put my mouth on anybody."
Some people still balk at getting involved, he said, noting that he had lost a cousin to drowning because people stood around and watched instead of acting.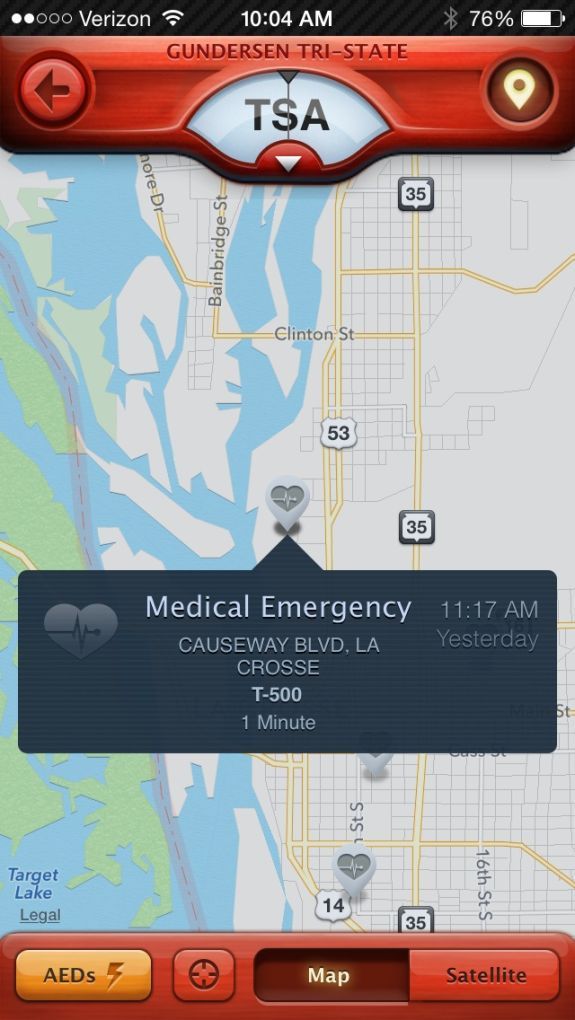 Survival chances can be expected to increase with the expansion of PulsePoint, a free phone app that Gundersen introduced in November 2014 that alerts subscribers to emergency situations and pinpoints the nearest AED in case they can respond, said Dr. Chris Eberlein, a Gundersen emergency room doctor who also is medical director for Tri-State and the La Crosse Fire Department. PulsePoint, which has 1,740 signed up through Gundersen, can be obtained free at the California nonprofit's website.
"I would like to see neighborhood AEDs," Eberlein said. "They are not as expensive as they used to be."
Refurbished AEDs can be obtained for less than $1,000, and the prices of new ones also have declined, with some varieties available at Amazon and other online sources.
"We have a great system," Eberlein said. "If we can have the first response with CPR, and get the AED to the scene, the advance care is icing on the cake.
"It shows the health of the system, the fact that we are always ready for that rare but critical event," he said. "Patients went home. We closed the loop."